Dorothea Lange (Photojournalist)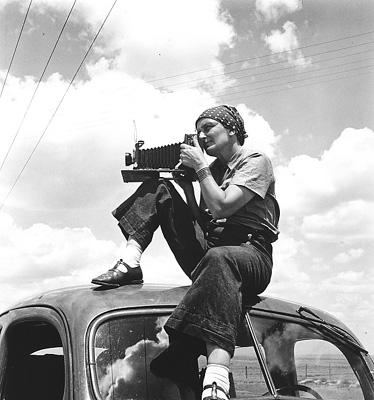 Dorothea Lange (May 26, 1895 – October 11, 1965) was an influential American documentary photographer and photojournalist, best known for her Depression-era work for the Farm Security Administration (FSA).
Lange's photographs humanized the tragic consequences of the Great Depression and profoundly influenced the development of documentary photography.
Born of second generation German immigrants on May 26, 1895, in Hoboken, New Jersey, Dorothea Lange was named Dorothea Margaretta Nutzhorn at birth. She dropped her middle name and assumed her mother's maiden name after her father abandoned the family when she was 12 years old, one of two traumatic incidents in her early life.
The other was her contraction of polio at age seven which left her with a weakened right leg and a permanent limp. "It formed me, guided me, instructed me, helped me and humiliated me," Lange once said of her altered gait. "I've never gotten over it, and I am aware of the force and power of it."
Lange was educated in photography in New York City, in a class taught by Clarence H. White. She was informally apprenticed to several New York photography studios, including that of the famed Arnold Genthe. In 1918, she moved to San Francisco, and by the following year she had opened a successful portrait studio. She lived across the bay in Berkeley for the rest of her life. In 1920, she married the noted western painter Maynard Dixon, with whom she had two sons. One, born in 1925, was named Daniel Rhoades Dixon. The second child, born in 1929, was named John Eaglesfeather Dixon.

With the onset of the Great Depression, Lange turned her camera lens from the studio to the street. Her studies of unemployed and homeless people captured the attention of local photographers and led to her employment with the federal Resettlement Administration (RA), later called the Farm Security Administration (FSA).

In December 1935, she divorced Dixon and married agricultural economist Paul Schuster Taylor, Professor of Economics at the University of California, Berkeley. Taylor educated Lange in social and political matters, and together they documented rural poverty and the exploitation of sharecroppers and migrant laborers for the next five years — Taylor interviewing and gathering economic data, Lange taking photos.

From 1935 to 1939, Lange's work for the RA and FSA brought the plight of the poor and forgotten — particularly sharecroppers, displaced farm families, and migrant workers — to public attention. Distributed free to newspapers across the country, her poignant images became icons of the era.
Related Articles