Barbara Walters (Journalist)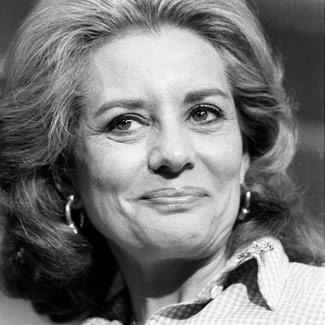 Barbara Jill Walters (born September 25, 1929) is an American broadcast journalist and author
She has hosted morning television shows (Today and The View), the television newsmagazine (20/20), and co-anchor of the ABC Evening News and correspondent on ABC World News (then ABC Evening News).
Walters was first known as a popular TV morning news anchor for over 10 years on NBC's Today, where she worked with Hugh Downs and later hosts Frank McGee and Jim Hartz.

Walters later spent 25 years as co-host of ABC's newsmagazine 20/20. She was the first female co-anchor of network evening news, working with Harry Reasoner on the ABC Evening News and was later a correspondent for ABC World News Tonight with Charles Gibson.
Walters was born in Boston, MA to Louis "Lou" Walters and his wife, Dena Seletsky, both of whom were Jewish and descendants of refugees from the former Russian Empire, now Eastern Europe. Walters' paternal grandfather, Isaac Abrahams, was from what is now Łódź, Poland, and first immigrated to England, changing his name to Abraham Walters. Walters' father was born there c. 1896, and moved to the United States with his family in 1900. In 1937, her father opened the New York version of the Latin Quarter; he also was a Broadway producer (he produced the Ziegfeld Follies of 1943).
Walters' brother, Burton, died in 1922 of pneumonia. Walters' elder sister, Jacqueline, was born developmentally disabled and died of ovarian cancer in 1985.

According to Walters, being surrounded by celebrities when she was young kept her from being "in awe" of them. When he was a young man, Walters' father lost his nightclubs and the family's penthouse on Central Park West. As Walters recalled, "He had a breakdown. He went down to live in our house in Florida, and then the Government took the house, and they took the car, and they took the furniture." Of her mother, she said, "My mother should have married the way her friends did, to a man who was a doctor or who was in the dress business."

After attending Ethical Culture Fieldston School and Birch Wathen Lenox School private schools in New York City, Walters graduated from Miami Beach High School in 1947. In 1951 she received a B.A. in English from Sarah Lawrence College.

After a brief period as a publicist with Tex McCrary Inc. and a job as a writer at CBS News, Walters joined NBC's The Today Show as a writer and researcher in 1961. She moved up to become that show's regular "Today Girl," handling lighter assignments and the weather. In her autobiography, she describes this era before the Women's Movement as a time when it was believed that nobody would take a woman seriously reporting "hard news". Previous "Today Girls" (whom Walters called "tea pourers") included Florence Henderson, Helen O'Connell, Estelle Parsons and Lee Meriwether.
Within a year she had become a reporter-at-large developing, writing, and editing her own reports and interviews. When Frank McGee was named host, he refused to do joint interviews with Walters unless he was given the first question. She was not named co-host of the show until McGee's death in 1974, when NBC officially designated Walters as the program's first female co-host.

Walters has seldom minced words when describing the visible, on-the-air disdain her co-anchor, Harry Reasoner, displayed for her when she was teamed up with him on the ABC Evening News in 1976-78. Reasoner had a difficult relationship with Walters because he disliked having a co-anchor, even though he worked with former CBS colleague Howard K. Smith nightly on ABC for several years.
In 1981, five years after the start of their short-lived ABC partnership and well after Reasoner returned to CBS News, Walters and her former co-anchor had a memorable (and cordial) 20/20 interview on the occasion of Reasoner's new book release.

Walters is also known for her years on the ABC newsmagazine 20/20 where she joined host Hugh Downs in 1979. Throughout her career at ABC, Walters has appeared on ABC news specials as a commentator, including presidential inaugurations and the coverage of 9/11.
She was also chosen to be the moderator for the third and final debate between candidates Jimmy Carter and Gerald Ford, held at Phi Beta Kappa Memorial Hall in Williamsburg, Virginia, during the 1976 Presidential Election. In 1984, she moderated a Presidential debate held at the Dana Center for the Humanities at Saint Anselm College in Manchester, New Hampshire. Many of her regular and special programs are syndicated around the world. As of 2004, she is in semi-retirement as a broadcast journalist, but remains a correspondent for ABC News as well as a host of ABC's special programs.

On June 14, 2007, Walters received a star on the Hollywood Walk of Fame. She has won Daytime and Prime Time Emmy Awards, a Women in Film Lucy Award, and a GLAAD Excellence in Media award. Her impact on the popular culture is illustrated by Gilda Radner's "Baba Wawa" impersonation of her on Saturday Night Live, featuring her idiosyncratic speech with its rounded "R."

In the fall of 2008, she was honored with the Disney Legends award, an award given to those who made an outstanding contribution to The Walt Disney Company, which owns the network ABC. That same year, she received the Lifetime Achievement Award from the New York Women's Agenda.

On September 21, 2009, Barbara was honored with a Lifetime Achievement Award at the 30th Annual News and Documentary Emmy Awards at New York City's Lincoln Center.
Related Articles