Katie Couric (Journalist/Correspondent)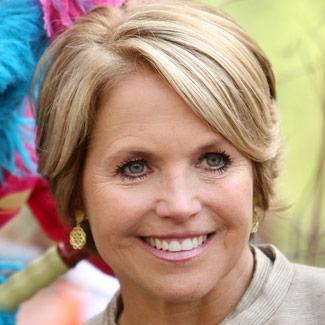 Katherine Anne "Katie" Couric (born January 7, 1957) is an American journalist and author.
She serves as Special Correspondent for ABC News, contributing to ABC World News, Nightline, 20/20, Good Morning America, This Week and primetime news specials.
She hosts Katie, a syndicated daytime talk show produced by Disney-ABC Domestic Television. She's also a single Mom.
She has anchored the CBS Evening News, reported for 60 Minutes, and hosted Today and reported for Dateline NBC. She was the first solo female anchor of a weekday evening news program on one of the three traditional U.S. broadcast networks. Couric's first book, The Best Advice I Ever Got: Lessons from Extraordinary Lives was a New York Times best-seller.
Couric was born in Arlington, Virginia, the daughter of Elinor Tullie (née Hene), a homemaker and part-time writer, and John Martin Couric Jr., a public relations executive and news editor at The Atlanta Journal-Constitution and the United Press in Washington, D.C.
Her mother was Jewish, but Couric was raised Episcopalian. Couric's maternal grandparents, Bert Hene and Clara L. Froshin, were the children of Jewish immigrants from Germany. In a report for Today, she traced her paternal ancestry back to a French orphan who immigrated to the U.S. in the nineteenth century and became a broker in the cotton business.
Couric attended Arlington, Virginia public schools: Jamestown Elementary, Williamsburg Junior High, and Yorktown High School and was a cheerleader. As a high school student, she was an intern at Washington, DC all-news radio station WAVA. She enrolled at her father's alma mater, the University of Virginia, in 1975 and was a Delta Delta Delta sorority sister.
Couric served in several positions at UVA's award-winning daily newspaper, The Cavalier Daily. During her third year at UVA, Couric was chosen to live as Head Resident of The Lawn, the heart of Thomas Jefferson's academical village. She graduated in 1979 with a bachelor's degree in English with a focus on American Studies.
Couric's first job was at the ABC News bureau in Washington, D.C., later joining CNN as an assignment editor. Between 1984 and 1986, she worked as a general-assignment reporter for WTVJ in Miami, Florida. During the following two years, she reported for WRC-TV, the NBC owned-and-operated station in Washington, D.C., work which earned her an Associated Press award and an Emmy.
Couric joined NBC News in 1989 as Deputy Pentagon Correspondent. From 1989 to 1991, Couric was an anchor substitute and filled in for Bryant Gumbel as host of Today, Jane Pauley, and Deborah Norville as co-anchor of Today, Garrick Utley, Mary Alice Williams, and Maria Shriver as co-host of Sunday Today, and John Palmer, Norville, and Faith Daniels as anchor of the former NBC News program NBC News at Sunrise. She also subbed for Daniels, Norville, and John Palmer as the news anchor on Today'.
In 1989, Couric joined Today as national political correspondent, becoming a substitute co-host in February 1991 when Norville had a baby. Norville did not return and Couric became permanent co-anchor on April 5, 1991. In 1994, she became co-anchor of Now with Tom Brokaw and Katie Couric—an evening time weekly TV newsmagazine with Tom Brokaw—which was later canceled and folded into part of Dateline NBC, where her reports appeared regularly and she was named contributing anchor.
She remained at Today and NBC News until May 31, 2006, when she announced that she would be going to CBS to anchor the CBS Evening News, becoming the first solo female anchor of the "big three" weekday nightly news broadcasts.
Katie Couric has filled in for Tom Brokaw on NBC Nightly News. Couric has also filled in for Maria Shriver on the Sunday Edition of NBC Nightly News from 1989-1993.
Couric hosted or worked on a number of news specials, like Everybody's Business: America's Children in 1995. Similar entertainment specials were Legend to Legend Night: A Celebrity Cavalcade in 1993, and Harry Potter: Behind the Magic in 2001. Couric has also co-hosted the opening ceremonies of the Olympic Games. She has broadcast with Bob Costas, beginning with the 2000 Summer Olympics. She did not co-host the 2006 Winter Olympics opening ceremony in Turin, Italy because of a scheduling conflict with a live taping of Today. Brian Williams co-hosted with Bob Costas instead.
Couric has interviewed many international political figures and celebrities during her career, including Presidents Gerald R. Ford, Jimmy Carter, George H. W. Bush, Bill Clinton and George W. Bush, and First Lady Barbara Bush. John F. Kennedy Jr. gave Couric his first and last interviews. Couric has won multiple television reporting awards through her career, including the prestigious Peabody Award for her series Confronting Colon Cancer. Couric has also interviewed former British Prime Minister Tony Blair, Senator Hillary Clinton (her first television interview), Harry Potter author J.K. Rowling, and Laura Bush.
On May 28, 2008, Couric made a return visit to Today since leaving almost two years to the very day back on May 31, 2006. She made this appearance alongside her evening counterparts, NBC Nightly News' Brian Williams & ABC World News' Charles Gibson, to promote an organization called Stand Up to Cancer and raise cancer awareness on all three major television networks; ABC, CBS & NBC. Couric, Gibson and Williams made appearances together on all three major network morning shows, first on CBS's Early Show, then on NBC's Today and finally on ABC's Good Morning America.
Couric announced on April 5, 2006 that she would be leaving the Today Show. CBS officially confirmed later the same day that Couric would become the new anchor and managing editor of CBS Evening News with her first broadcast set for September 5, 2006. Couric would also contribute to 60 Minutes and anchor prime time news specials for CBS. Couric would remain the highest-paid news anchor at $15 million per year.
Couric made her first broadcast as anchor and managing editor of the CBS Evening News with Katie Couric on September 5, 2006. The program featured a new set, new graphics, and a new theme (composed by prolific movie score composer James Horner, and featuring a voice over from Walter Cronkite). It was the first evening newscast to be simulcast live on the Internet and local radio stations.
CBS had heavily hyped Couric's arrival at the network, hoping to revive the evening news format, but there were suggestions that it had backfired. Although there was much interest during her first week as anchor, CBS Evening News has remained a distant third in viewership, behind ABC World News and NBC Nightly News. While Couric improved over Bob Schieffer, ABC's Charles Gibson has since been widening World News' lead over Evening News.
The CBS Evening News with Katie Couric has won the 2008 and 2009 Edward R. Murrow Award for best newscast. On March 29, 2009, Couric was awarded with the Emmy Governor's Award for her broadcasting career.
She has interviewed the likes of President George W. Bush, Secretary of State Condoleezza Rice, John Edwards just after their announcement that Mrs. Edwards' cancer had returned, Israeli Foreign Prime Minister Tzipi Livni, Norah Jones and Michael J. Fox.
Couric led CBS News' coverage of the 2008 Presidential election and anchored live for five hours on election night. Couric was the first network anchor on the ground in Port au Prince after the 2010 Haiti Earthquake. After the BP oil spill Couric anchored from the Gulf Coast weekly and brought much attention to the disaster.
Couric was the only solo female evening news anchor in the United States, until December 21, 2009, when she was joined by Diane Sawyer, who succeeded the retiring Charles Gibson for ABC World News. Couric and Sawyer were previous rivals as the hosts of Today and Good Morning America, respectively, with Sawyer retaining World News' ratings second place in her debut.
Related Articles