Nellie Bly (Journalist/Adventurer)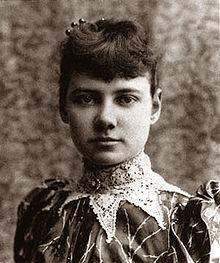 Nellie Bly (May 5, 1864 – January 27, 1922) was the pen name of pioneer female journalist Elizabeth Jane Cochran.
She remains notable for two feats: a record-breaking trip around the world in emulation of Jules Verne's character Phileas Fogg, and an exposé in which she faked insanity to study a mental institution from within.
In addition to her writing, she was also an industrialist and charity worker.
Born on May 5, 1864 as Elizabeth Jane Cochran in Cochran's Mills, Armstrong County, Pennsylvania, 40 miles northeast of Pittsburgh, she was nicknamed "Pink" for wearing that color as a child. Her father, a wealthy former associate justice, died when she was six. Her mother remarried three years later, but sued for divorce when Cochran was 14.
Cochran testified in court against her allegedly drunken, violent stepfather. As a teenager she changed her surname to Cochrane, apparently adding the "e" for sophistication. She attended boarding school for one term, but dropped out because of a lack of funds. In 1880, Cochran and her family moved to Pittsburgh.

A sexist column in the Pittsburgh Dispatch prompted her to write a fiery rebuttal to the editor with the pen name "Lonely Orphan Girl". He was so impressed with her earnestness and spirit he asked her to join the paper. Female newspaper writers at that time customarily used pen names, and for Cochran the editor chose "Nellie Bly", adopted from the title character in the popular song "Nelly Bly" by Stephen Foster.

Nellie Bly focused her early work for the Dispatch on the plight of working women, writing a series of investigative articles on female factory workers. But editorial pressure pushed her to the women's pages to cover fashion, society, and gardening, the usual role for female journalists of the day. Dissatisfied with these duties, she took the initiative and traveled to Mexico to serve as a foreign correspondent.

Still only 21, she spent nearly half a year reporting the lives and customs of the Mexican people; her dispatches were later published in book form as Six Months in Mexico. In one report, she protested the imprisonment of a local journalist for criticizing the Mexican government, then a dictatorship under Porfirio Díaz. When Mexican authorities learned of Bly's report, they threatened her with arrest, prompting her to leave the country. Safely home, she denounced Díaz as a tyrannical czar suppressing the Mexican people and controlling the press.

In 1888, Nellie suggested to her editor at the New York World that she take a trip around the world, attempting to turn the fictional Around the World in Eighty Days into fact for the first time. A year later, at 9:40 a.m. on November 14, 1889, and with two days' notice, she boarded the Augusta Victoria, a steamer of the White Star Line, and began her 24,899-mile journey.

She brought with her the dress she was wearing, a sturdy overcoat, several changes of underwear and a small travel bag carrying her toiletry essentials. She carried most of her money (200 £ in English bank notes and gold in total as well as some American currency) in a bag tied around her neck.

The New York newspaper Cosmopolitan sponsored its own reporter, Elizabeth Bisland, to beat the time of both Phileas Fogg and Bly. Bisland would travel the opposite way around the world.

To sustain interest in the story, the World organized a "Nellie Bly Guessing Match" in which readers were asked to estimate Bly's arrival time to the second, with the Grand Prize consisting at first of (only) a free trip to Europe and, later on, spending money for the trip.

On her travels around the world, she went through England, France (where she met Jules Verne in Amiens), Brindisi, the Suez Canal, Colombo (Ceylon), Hong Kong, the Straits Settlement of Penang and Singapore, and Japan. The development of efficient submarine cable networks and the electric telegraph allowed Bly to send short progress reports, though longer dispatches had to travel by regular post and were thus often delayed by several weeks.

She travelled using steamships and the existing railroad systems, which caused occasional setbacks, particularly on the Asian leg of her race. During these stops, she visited an Asian torture garden, a leper colony in China and she bought a monkey in Singapore.

Due to rough weather on her Pacific crossing, she arrived in San Francisco on January 12, two days behind schedule. However, World owner Pulitzer chartered a private train to bring her home, and she arrived back in New Jersey on January 25, 1890, at 3:51 p.m.

"Seventy-two days, six hours, eleven minutes and fourteen seconds after her Hoboken departure" Bly was back in New York. She had circumnavigated the globe almost unchaperoned. At the time, Bisland was still going around the world. Like Bly, she had missed a connection and had to board a slow, old ship called the "Bothina" in the place of a fast ship called the "Etruria". Bly's journey, at the time, was a world record, though it was bettered a few months later by George Francis Train, who completed the journey in 67 days. By 1913, Andre Jaeger-Schmidt, Henry Frederick and John Henry Mears had improved on the record, the latter completing the journey in less than 36 days.
Related Articles