Gloria Steinem (Feminist/Journalist)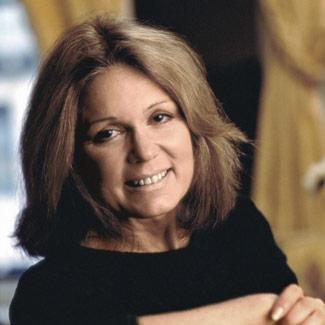 Gloria Marie Steinem (born March 25, 1934) is an American feminist, journalist, and social and political activist.
She became nationally recognized as a leader of, and media spokeswoman for, the Women's Liberation Movement in the late 1960s and 1970s.
A prominent writer and political figure, Steinem has founded many organizations and projects and has been the recipient of many awards and honors. She co-founded Ms. Magazine and was a columnist for the New York magazine in the 1960s and also worked there as a columnist.
In 1969, she published an article, "After Black Power, Women's Liberation" which, along with her early support of abortion rights, catapulted her to national fame as a feminist leader.
In 2005, Steinem worked alongside Robin Morgan and Jane Fonda to co-found the Women's Media Center, an organization that works to amplify the voices of women in the media through advocacy, media and leadership trainining, and the creation of original content. Steinem currently serves on the board of the organization. She continues to involve herself in politics and media affairs as a commentator, writer, lecturer, and organizer, campaigning for candidates and reforms and publishing books and articles.
Steinem was born in Toledo, Ohio to Leo and Ruth Steinem. Leo was the son of Jewish immigrants from Germany and Poland. Ruth was of part German descent. The Steinems lived and traveled about in the trailer from which Leo carried out his trade as a traveling antiques dealer.
When Steinem was only a few years old, her mother Ruth, then aged 34, had a "nervous breakdown" that left her an invalid, trapped in delusional fantasies that occasionally turned violent. She changed "from an energetic, fun-loving, book-loving" woman into "someone who was afraid to be alone, who could not hang on to reality long enough to hold a job, and who could rarely concentrate long enough to read a book."
Ruth spent long periods in and out of sanatoriums for the mentally disabled. Steinem was only ten years old when her parents finally split in 1944. Her father went to California to find work, while she and her mother continued to live together in Toledo.
While her parents divorced as a result of her mother's illness, it was not a result of chauvinism on the father's part, and Steinem claims to have "understood and never blamed him for the breakup." Nevertheless, the impact of these events had a formative effect on her personality: while her father, a travelling salesman, had never provided much financial stability to the family, his exit aggravated their situation.
Steinem interpreted her mother's inability to hold on to a job as evidence of general hostility towards working women. She also interpreted the general apathy of doctors towards her mother as emerging from some similar anti-woman animus. Years later, Steinem described her mother's experiences as having been pivotal to her understanding of social injustices. These perspectives convinced Steinem that women lacked social and political equality. She early resolved to remedy the situation.
Steinem attended Waite High School in Toledo and Western High School in Washington, D.C., from where she graduated. She then attended Smith College, an institution with which she continues to remain engaged. In 1960, she was hired by Warren Publishing as the first employee of Help! magazine.
Steinem actively campaigned for the Equal Rights Amendment, in addition to other laws and social reforms that promoted equality between women and men, helping to strike down many long-standing sex discriminatory laws, such as those that gave men superior rights in marriage and denied women equal economic opportunities. She also founded and co-founded many groups, including the Women's Action Alliance, on which she served as chair of the board throughout the 1970s, the NWPC, the Coalition of Labor Union Women, the Ms. Foundation for Women, Choice USA, and Women's Media Center
After conducting a series of celebrity interviews, Steinem eventually got a political assignment covering George McGovern's presidential campaign. Steinem became politically active in the Feminist movement, as the media seemed to appoint Steinem as a leader of feminism. Steinem brought other notable feminists to the fore and toured the country with lawyer Florynce Rae "Flo" Kennedy.
In 1970 Gloria Steinem established herself as a leader of the Women's Movement with her impassioned Senate testimony in favor of the Equal Rights Amendment and her essay on a utopia of equality, "What It Would Be Like If Women Win", in Time magazine. While Steinem would clash with both the older generation of women's rights leaders, most prominently Betty Friedan, as well as the younger, more militant Women's Liberation activists, she would gain a large, diverse, and multi-partisan following and become, alongside Friedan, the Women's Rights Movement's most prominent and influential spokesperson and leader.
In 1970 she led the New York City march of the nation-wide Women's Strike for Equality alongside Friedan and then-Congressional candidate Bella Abzug. As the postergirl of the Feminist Movement Steinem was a frequent guest on the news and news shows, television talk shows and specials, and on the covers of newspapers and other publications, including magazines Newsweek, Time, McCall's, People, New Woman, Ms., and Parade. On July 10, 1971, Steinem, along with other feminist leaders (including Betty Friedan, Fannie Lou Hamer, Myrlie Evers, and several U.S. Representatives, including Shirley Chisholm and Bella Abzug) founded the National Women's Political Caucus (NWPC).
An influential co-convener of the Caucus, she delivered her memorable "Address to the Women of America." The next year Steinem became the founding editor and publisher of Ms. magazine, which speedily became a success, bringing feminist issues to the forefront of society and the media, quickly becoming the movement's most influential publication. In 1972, she also played a prominent role at the Democratic National Convention where she supported Shirley Chisholm's candidacy. That year Steinem and the NWPC had successfully organized bipartisan efforts to increase the representation of women at both major party conventions. In the early 1970s Steinem became the first woman to address the National Press Club.
In May 1975, Redstockings, a radical feminist group, raised the question of whether Steinem had continuing ties with the Central Intelligence Agency (CIA). Though she admitted to having worked for a CIA-financed foundation in the late 1950s and early 1960s, Steinem denied any continuing involvement. Steinem was also a member of Democratic Socialists of America. In 1984 Steinem was arrested along with Mrs. King, Amy Carter, over twenty members of Congress, and other civil rights activists for protesting the apartheid in South Africa.
Steinem co-founded the Coalition of Labor Union Women in 1974, and participated in the National Conference of Women in Houston, Texas in 1977. She became Ms. magazine's consulting editor when it was revived in 1991, and she was inducted into the National Women's Hall of Fame in 1993.
Steinem played a variety of roles within The Women's Action Alliance, an organization whose initial mission was "to stimulate and assist women at the local level to organize around specific action projects aimed at eliminating concrete manifestations of economic and social discrimination.". She chaired the board from 1971-1978.
In recent years, Steinem has been an outspoken supporter of animal rights, including writing letters to the National Institutes of Health Office of Research on Women's Health urging the office director to end the "cruelty, fraud, and waste" of NIH-funded experiments on animals purportedly conducted in the name of advancing women's health. She played a significant supporting role in the 2008 Presidential campaign as a supporter of the Democratic front-runner, Senator Hillary Rodham Clinton, in the primaries, and Senator Barack Obama, the eventual Democratic nominee, in the general election.
Steinem spoke out against perceived misogyny in the media, something that women of all political affiliations largely agreed was a problem, but attracted controversy with her controversial New York Times article Women Are Never Front-Runners, in which she expressed her belief that sex was a bigger roadblock to Hillary than race was to Obama, and her Los Angeles Times editorial Wrong Woman, Wrong Message, in which she gave her less-than-positive views on the Republican Vice Presidential nominee, Governor Sarah Palin, and called for a more inclusive Republican Party.
Steinem was also active in working for civil rights for African Americans, Hispanics, and other minorities, working alongside civil rights leaders like Coretta Scott King and César Chávez, and took a public stance in opposition to the Vietnam War and in favor of gay rights. In more recent years she has been involved in international women's issues such as the campaign against female genital mutilation in Eastern countries and human trafficking.
Contrary to popular belief, Steinem did not coin the feminist slogan "A woman needs a man like a fish needs a bicycle." The phrase is actually attributable to Irina Dunn.
Related Articles