Lara Logan Journalist/War Correspondent)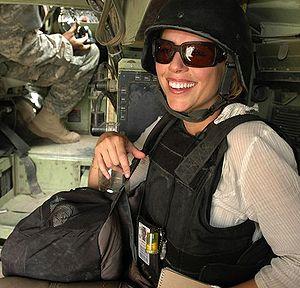 Lara Logan (born 29 March 1971) is a South African television and radio journalist and war correspondent.
She is currently the Chief Foreign Affairs Correspondent for CBS News, a correspondent for 60 Minutes and appears in segments for CBS Evening News. She has covered conflicts around the world.
Logan was born in Durban, South Africa. She attended high school at Durban Girls' College, and later attended the University of Natal in Durban, graduating in 1992. Logan was promoted to the position of the Chief Foreign Correspondent for CBS News in February 2006.
In late January 2007, Logan filed a report about fighting along Haifa Street in Baghdad. When CBS News refused to run the report on the nightly news because the footage was "a bit strong," Logan tried to win public support to reverse this decision. Logan said, "I would be very grateful if any of you have a chance to watch this story and pass the link on to as many people you know as possible.
It should be seen. And people should know about this." Logan went on to use some of the Haifa Street material during a 60 Minutes report about life in Baghdad under the surge.
In June 2010, Rolling Stone magazine published an article written by Michael Hastings which quoted four-star Army General Stanley A. McChrystal and his staff contemptuously criticizing civilian government officials and leading to his retirement. Logan criticized Hastings on CNN's Reliable Sources, saying there must have been ground rules that would have limited Hastings' reporting on what she characterized as "insults and banter".
She said there is an "unspoken agreement" involving "an element of trust" where you don't "blindside" the military and described the general tenor of the article as sensationalistic. In support of Logan's skepticism, ABC News reported that the military said the comments were thought to have been off the record. Rolling Stone contended that all ground rules had been followed.
Matt Taibbi, another journalist for Rolling Stone, criticized Logan for what he characterized as a fundamental misunderstanding of the role of journalism. Glenn Greenwald of Salon.com said that Hastings was "exposing the relevant secrets of the powerful" whereas Logan was protecting them. However, Logan defended her record for balanced reporting, citing her report of hand grenades killing troops. A column in The Week argued that in one way Logan was right, quoting Max Fisher of The Atlantic that the military will now "shy away from reporters," making it more difficult to report to the public about the war.
CNN's former chief military correspondent, Jamie McIntyre, weighed in both criticizing and praising Logan and Hastings. He thought it irrelevant that Hastings had never served, as highlighted by Logan, and said the problem involved more than just "insults and banter."
On 3 February 2011, Time magazine reported that while covering the Egyptian Revolution, Logan and her crew were arrested by the Egyptian army in Cairo on suspicion of being Israeli spies. Logan later said of the incident: "We were not attacked by crazy people in Tahrir Square. We were detained by the Egyptian army. Arrested, detained, and interrogated.
Blindfolded, handcuffed, taken at gunpoint, our driver beaten. It's the regime that arrested us. They arrested [our producer] just outside of his hotel, and they took him off the road at gunpoint, threw him against the wall, handcuffed him, blindfolded him. Took him into custody like that."
On 15 February 2011, CBS News released a statement revealing that some four days earlier, Logan had been beaten and sexually assaulted while covering the celebrations in Tahrir Square following the resignation of then President Hosni Mubarak. CBS News indicated that she was overwhelmed along with her camera crew and security staff: "It was a mob of more than 200 people whipped into frenzy. In the crush of the mob, she was separated from her crew. She was surrounded and suffered a brutal and sustained sexual assault and beating before being saved by a group of women and an estimated 20 Egyptian soldiers."
Logan returned to her hotel after the assault and was flown out of the country within hours on a chartered network jet. She reportedly wasn't taken to a local hospital because the "network didn't trust local security there" and didn't report the assault to Egyptian authorities because they "couldn't trust them, either." Upon returning to the United States, Logan was admitted into a hospital for recovery. A person familiar with the incident told the Wall Street Journal that the assault "was not rape." Her injuries were described as "serious."
Six days after the assault, Logan was discharged from the hospital and is recuperating at home with her family. She vows to return to work within weeks.
Lara Logan was a swimsuit model while attending college. Her husband is a U.S. Federal Government defense contractor from Texas, whom she met in Iraq. They had a son in January, 2009. Her previous husband, Jason Siemon, was a professional basketball player in the United Kingdom. Logan once complained to Howard Kurtz of the Washington Post that her personal life had been, "tabloid fodder." Joe Burkett's former wife Kimberly Burkett, accused Lara Logan of breaking up their marriage. She was also said to have been courting Michael Ware, another reporter, at the same time as she became involved with Joe Burkett which was said to have resulted in a brawl between the two men.
Related Articles