Nadia al-Sakkaf (Journalist/Editor)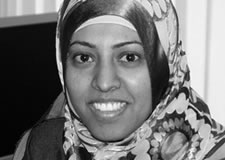 Nadia al-Sakkaf is the editor-in-chief of the "Yemen Times," the most widely read English-language newspaper in Yemen.

Nadia Al-Sakkaf became the chief editor of the Yemen Times in March 2005.
She has quickly become a leading voice in Yemen and worldwide media on issues of media, gender, development and politics.
During the May 2011 leadership crisis in Yemen, Al-Sakkaf and her organization were vital in reporting the news and putting the crisis in context for the world.
Under her leadership several publications were created especially those for the advocacy of women's participation in politics such as "Breaking the Stereotype," a book on Yemeni women's experience as political candidates in elections.

In this video interview, at the International Women in Media Forum earlier this year, Al-Sakkaf talks about the role of women in Yemen today (unfortunately, the interviewer didn't have a microphone, so you really have to listen hard for the questions):

Related links:
yementimes.com
Twitter: @NadiaAlsakkaf
Twitter: @theyementimes
Facebook
The 21 Amazing TEDWomen Speakers Of TEDGlobal 2011
Related Articles