Hanna Rosin (Journalist/Author)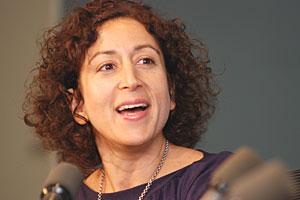 Hanna Rosin is a co-founder of DoubleX, a women's site connected to Slate. She is also a contributing editor at the Atlantic. She has written for the Washington Post, The New Yorker, GQ and New York after beginning her career as a staff writer for The New Republic.
Rosin has also appeared on Comedy Central's The Daily Show and The Colbert Report.. A character portrayed by actress Chloë Sevigny in the movie Shattered Glass about Rosin's colleague at The New Republic, Stephen Glass, was loosely based on Rosin.
Rosin is writing a book based on her 2010 Atlantic story, "The End of Men". In the past she has specialized in writing about religious-political issues, in particular the influence of evangelical Christians on the 2004 U.S. presidential campaign.
Several years ago, she and her husband conducted an interesting experiment in proximity - here's the video:
She is the author of God's Harvard: A Christian College on a Mission to Save America (ISBN 978-0-15-101262-6), published in September 2007. Based on a New Yorker story, the book follows several young Christians at Patrick Henry College, a new evangelical institution that teaches its students to "shape the culture and take back the nation."
Rosin's portrayals of the students are part of a larger attempt to chronicle the cultural and political history of the modern Christian right.
In 2009, she published a controversial article in The Atlantic with the provocative title "The Case Against Breast-Feeding," questioning whether current social pressures in favor of breastfeeding were appropriate, and whether the science in support of the practice was conclusive.
Rosin graduated from Stuyvesant High School in 1987, where she won a number of competitions on the debate team. She is married to journalist David Plotz; they live in Washington, D.C. with their three children.
Related Links:
Hanna Rosin on Wikipedia
DoubleX