Margaret Mead (Anthropologist/Women's Rights Activist)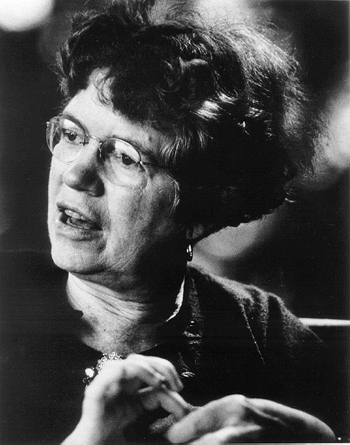 Margaret Mead (December 16, 1901 – November 15, 1978) was an American cultural anthropologist, who was frequently a featured writer and speaker in the mass media throughout the 1960s and 1970s.
She was both a popularizer of the insights of anthropology into modern American and Western culture, and also a respected, if controversial, academic anthropologist.
Her reports about the attitudes towards sex in South Pacific and Southeast Asian traditional cultures amply informed the 1960s sexual revolution. Mead was a champion of broadened sexual mores within a context of traditional western religious life.
An Anglican Christian, she played a considerable part in the drafting of the 1979 American Episcopal Book of Common Prayer.
She was a recognizable figure in academia, usually wearing a distinctive cape and carrying a tall, forked walking stick.
Mead was the first of five children, born into a Quaker family, and raised in Doylestown, Pennsylvania. Her father, Edward Sherwood Mead, was a professor of finance at the Wharton School of the University of Pennsylvania, and her mother, Emily Fogg Mead, was a sociologist who studied Italian immigrants.
Her sister Katharine (1906–1907) died at the age of nine months. This was a traumatic event for Mead, who had named this baby, and thoughts of her lost sister permeated her daydreams for many years. Her family moved frequently, so her early education alternated between home-schooling and traditional schools. Margaret studied one year, 1919, at DePauw University, then transferred to Barnard College where she earned her Bachelor's degree in 1923.
She studied with Professor Franz Boas and Dr. Ruth Benedict at Columbia University before earning her Master's in 1924. Mead set out in 1925 to do fieldwork in Polynesia. In 1926, she joined the American Museum of Natural History, New York City, as assistant curator. She received her Ph.D. from Columbia University in 1929.
Both of Mead's surviving sisters were married to well-known men. Elizabeth Mead (1909–1983), an artist and teacher, married cartoonist William Steig, and Priscilla Mead (1911–1959) married author Leo Rosten. Mead also had a brother.
Mead was married three times. All her husbands were anthropologists. Her first husband (1923–1928) was Luther Cressman, a theology student at the time who eventually became an anthropologist. Mead dismissively characterized their union as "my student marriage" in Blackberry Winter, a sobriquet with which Cressman took vigorous issue.
Her second husband was New Zealander Reo Fortune, a Cambridge graduate (1928–1935). As an anthropologist, his Sorcerers of Dobu remains the locus classicus of eastern Papuan anthropology, but he is best known instead for his Fortunate number theory. She described her second marriage as more passionate than the first, embarked upon when she was told that she could not have children and abandoned when she was given hope by another physician that childbearing might indeed be possible.
Her third and longest-lasting marriage (1936–1950) was to Englishman Gregory Bateson, also a Cambridge graduate, with whom she had a daughter, Mary Catherine Bateson, who would also become an anthropologist. Her pediatrician was Benjamin Spock early in his career. Spock's subsequent writings on child rearing incorporated some of Mead's own practices and beliefs acquired from her ethnological field observations which she shared with him; in particular, breastfeeding on the baby's demand rather than a schedule.
She readily acknowledged that Gregory Bateson was the husband she loved the most. She was devastated when he left her, and she remained his loving friend ever after, keeping his photograph by her bedside wherever she traveled, including beside her hospital deathbed.
Mead also had an exceptionally close relationship with Ruth Benedict, one of her instructors. In her memoir about her parents, With a Daughter's Eye, Mary Catherine Bateson implies that the relationship between Benedict and Mead was partly sexual. While Margaret Mead never openly identified herself as lesbian or bisexual, the details of her relationship with Benedict have led others to so identify her. In her writings she proposed that it is to be expected that an individual's sexual orientation may evolve throughout life.
She spent her last years in a close personal and professional collaboration with anthropologist Rhoda Metraux, with whom she lived from 1955 until her death in 1978. Letters between the two published in 2006 with the permission of Mead's daughter clearly express a romantic relationship.
During World War II, Mead served as executive secretary of the National Research Council's Committee on Food Habits. She served as curator of ethnology at the American Museum of Natural History from 1946 to 1969. She taught at The New School and Columbia University, where she was an adjunct professor from 1954 to 1978. She was a professor of anthropology and chair of the Division of Social Sciences at Fordham University's Lincoln Center campus from 1968 to 1970, founding their anthropology department.
Following the Ruth Benedict's example, Mead focused her research on problems of child rearing, personality, and culture. She served as President of the American Anthropological Association in 1960. She held various positions in the American Association for the Advancement of Science, notably president in 1975 and chair of the executive committee of the board of directors in 1976.
Mead was featured on two record albums published by Folkways Records. The first, released in 1959, An Interview With Margaret Mead, explored the topics of morals and anthropology. In 1971, she was included in a compilation of talks by prominent women, But the Women Rose, Vol.2: Voices of Women in American History.
In later life, Mead was a mentor to many young anthropologists and sociologists, including Jean Houston.
Mead died of pancreatic cancer on November 15, 1978. She was buried at Trinity Episcopal Church in Buckingham, Pennsylvania.
Related Articles