Nawal El Saadawi (Feminist/Writer/Activist/Physician/Psychiatrist)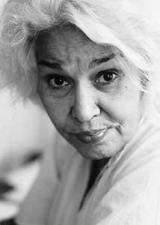 Nawal El Saadawi (Arabic: ???? ?????????) (born October 27, 1931) is an Egyptian feminist writer, activist, physician and psychiatrist. She has written many books on the subject of women in Islam, paying particular attention to the practice of female genital mutilation in her society.
Saadawi was born in the small village of Kafr Tahla, the eldest of nine children. Her father was a government official in the Ministry of Education, who had fought against the rule of the King and the British in the revolution of 1919.
As a result he was exiled to a small town in Nile Delta and the government punished him by not promoting him for 10 years. He was relatively progressive and taught her self-respect and to speak her mind. He also encouraged her to study the Arabic language.
Both her parents died at a young age leaving Saadawi with the sole burden of providing for a large family. Saadawi graduated as a medical doctor in 1955 from Cairo University.
Through her medical practice she observed women's physical and psychological problems and connected them with oppressive cultural practices, patriarchal oppression, class oppression and imperialist oppression.
While working as a doctor in her birthplace of Kafr Tahla, she observed the hardships and inequalities faced by rural women. After attempting to protect one of her patients from the domestic violence, Saadawi was summoned back to Cairo.
She eventually became the Director of Public Health and met her third husband, Sherif Hetata, while sharing an office in the Ministry of Health. Hetata, also a medical doctor and writer, had been a political prisoner for 13 years. They married in 1964 and have a son and a daughter.
In 1972 she published Al-Mar'a wa Al-Jins (Woman and Sex), confronting and contextualising various aggressions perpetrated against women's bodies, including female circumcision, which became a foundational text of second-wave feminism. As a consequence of the book as well as her political activities, Saadawi was dismissed from her position at the Ministry of Health.
Similar pressures cost her a later position as chief editor of a health journal and as Assistant General Secretary in the Medical Association in Egypt. From 1973 to 1976 she worked on researching women and neurosis in the Ain Shams University's Faculty of Medicine. From 1979 to 1980 she was the United Nations Advisor for the Women's Programme in Africa (ECA) and Middle East (ECWA).
Long viewed as controversial and dangerous by the Egyptian government, Saadawi was imprisoned in September 1981, along with many other objectors to the Jerusalem Peace Treaty, by President Anwar al-Sadat. She was released later that year, one month after his assassination. Of her experience she wrote: "Danger has been a part of my life ever since I picked up a pen and wrote. Nothing is more perilous than truth in a world that lies."
Saadawi was one of the women held at Qanatir Women's Prison. Her incarceration formed the basis for her memoir, Mozakerati fi signel nissa/Memoirs from the Women's Prison (1983). Her contact with a prisoner at Qanatir served as inspiration for an earlier work, a novel titled Emra'a enda noktat el sifr/A Woman at Point Zero (1975).
In 1988, when her life was threatened by Islamists and political persecution, Saadawi was forced to flee Egypt. She accepted an offer to teach at Duke University's Asian and African Languages Department in North Carolina as well as the University of Washington in Seattle.
She has since held positions at a number of prestigious colleges and universities including Cairo University, Harvard, Yale, Columbia, the Sorbonne, Georgetown, Florida State University, and the University of California, Berkeley. In 1996, she moved back to Egypt.
She has continued her activism and considered running in the 2005 Egyptian presidential election, before stepping out due to stringent requirements for first-time candidates.
She was awarded the 2004 North-South Prize by the Council of Europe.
Saadawi began writing early in her career. Her earliest writings include a selection of short stories entitled I Learned Love (1957) and the novel Memoirs of a Woman Doctor (1958). She has since written numerous novels and short stories. Saadawi has been published in a number of anthologies, and translated into over 20 languages.
In 1972, she published her first work of non-fiction, Women and Sex, which evoked the antagonism of highly placed political and theological authorities and led to a dismissal at the Ministry of Health. Other works include The Hidden Face of Eve, God Dies by the Nile, The Circling Song, Searching, The Fall of the Imam and Woman at Point Zero.
Nawal has said that elements of the Hajj, such as kissing the Black Stone, had pre-Islamic pagan roots.
At a young age, Saadawi underwent the process of female genital mutilation. As an adult she has written about and criticized this practice. She responded to the death of a 12-year old girl, Bedour Shaker, during a genital circumcision operation by writing: "Bedour, did you have to die for some light to shine in the dark minds? Did you have to pay with your dear life a price ... for doctors and clerics to learn that the right religion doesn't cut children's organs."
Related Links:
Nawal El Saadawi on Wikipedia