Ntozake Shange (Playwright/Poet/Feminist)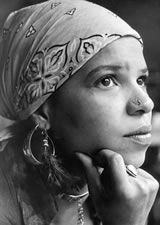 Ntozake Shange born October 18, 1948, is an American playwright, and poet.
As a self proclaimed black feminist, much of the content of her work addresses issues relating to race and feminism.
Shange is best-known for the Obie Award-winning play For Colored Girls Who Have Considered Suicide When the Rainbow Is Enuf.
She also wrote Betsey Brown, a novel about an African American girl who runs away from home. Among her honors and awards are fellowships from the Guggenheim Foundation and the Lila Wallace-Reader's Digest Fund, and a Pushcart Prize. Shange lives in Brooklyn.
Shange was born Paulette L. Williams in Trenton, New Jersey to an upper-middle-class family. Her father, Paul T. Williams, was an Air Force surgeon, and her mother, Eloise Williams, was an educator and a psychiatric social worker.
When she was 8, Shange's family moved to the racially segregated city of St. Louis. As a result of the Brown v. Board of Education court decision, Shange was bused to a white school where she endured racism and racist attacks.
Shange's family had a strong interest in the arts and encouraged her artistic education. Among the guests at their home were Dizzy Gillespie, Miles Davis, Chuck Berry, and W. E. B. Du Bois.
When Shange was 13, she returned to New Jersey, where she completed high school. In 1966 Shange enrolled at Barnard College. She graduated cum laude in American Studies, then earned a master's degree in the same field from the University of Southern California in Los Angeles.
However, Shange's college years were not all pleasant. She married during her first year in college, but the marriage did not last long. Depressed over her separation and with a strong sense of bitterness and alienation, Shange attempted suicide.
In 1971, having come to terms with her depression and alienation, Shange changed her name. Ntozakhe means she who has her own things (literally things that belong to her in Xhosa) and shange means he/she who walks/lives with lions (meaning the lion's Pride in Zulu).
In 1975, Shange moved to New York City, where in that year her first and most well-known play was produced—For Colored Girls Who Have Considered Suicide When the Rainbow is Enuf.
First produced Off-Broadway, the play soon moved on to Broadway at the Booth Theater and won a number of awards, including the Obie Award, Outer Critics Circle Award, and the AUDELCO Award.
This play, her most famous work, was a 20-part poem that chronicled the lives of Black women in the United States. The poem was eventually made into the stage play, was then published in book form in 1977, then made into a movie in 2010 (For Colored Girls, directed by Tyler Perry).
Since then, Shange has written a number of successful plays, including an adaptation of Bertolt Brecht's Mother Courage and Her Children (1980), which won an Obie Award.
In 2003, Shange wrote and oversaw the production of Lavender Lizards and Lilac Landmines: Layla's Dream while serving as a visiting artist at the University of Florida, Gainesville.
Individual poems, essays, and short stories of hers have appeared in numerous magazines and anthologies, including The Black Scholar, Yardbird, MS, Essence Magazine, The Chicago Tribune, VIBE, and Third-World Women.
Related Links:
Ntozake Shange on Wikipedia<