Dr. Faiha Abdulhadi (Writer/Poet/Feminist)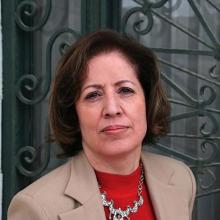 Dr. Faiha Abdulhadi is a writer, poet, research consultant, feminist, community and human rights activist and lecturer.

She was born in Nablus in 1951, and was arrested in 1969 at the age of 15, together with her mother, Issam Abdul Hadi, who, at the time, was the President of the General Union of Palestinian Women. She was then deported from Palestine, and lived in exile for 27 years.

Dr. Abdulhadi earned a BA in Arabic Literature from Jordan University, Amman; a BA in Theater Criticism from the Institute of Advanced Theatrical Art, Cairo; and an MA and PhD in Arabic Literature, Cairo University.

Related Articles