Elizabeth Cady Stanton (Social Activist/Abolitionist/Feminist)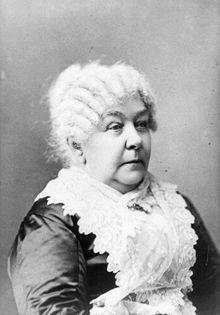 Elizabeth Cady Stanton (November 12, 1815 – October 26, 1902) was an American social activist, abolitionist, and leading figure of the early woman's movement.
Her Declaration of Sentiments, presented at the first women's rights convention held in 1848 in Seneca Falls, New York, is often credited with initiating the first organized woman's rights and woman's suffrage movements in the United States.
Before Stanton narrowed her political focus almost exclusively to women's rights, she had been an active abolitionist together with her husband, Henry Brewster Stanton and cousin, Gerrit Smith.
Unlike many of those involved in the woman's rights movement, Stanton addressed a number of issues pertaining to women beyond voting rights.
Her concerns included women's parental and custody rights, property rights, employment and income rights, divorce laws, the economic health of the family, and birth control. She was also an outspoken supporter of the 19th-century temperance movement.
After the American Civil War, Stanton's commitment to female suffrage caused a schism in the woman's rights movement when she, together with Susan B. Anthony, declined to support passage of the Fourteenth and Fifteenth Amendments to the United States Constitution.
She opposed giving added legal protection and voting rights to African American men while women, black and white, were denied those same rights. Her position on this issue, together with her thoughts on organized Christianity and women's issues beyond voting rights, led to the formation of two separate women's rights organizations that were finally rejoined, with Stanton as president of the joint organization, approximately 20 years later.
Prior to living in Seneca Falls, Stanton had become an admirer and friend of Lucretia Mott, the Quaker minister, feminist, and abolitionist whom she had met at the International Anti-Slavery Convention in London, England in the spring of 1840 while on her honeymoon. The two women became allies when the male delegates attending the convention voted that women should be denied participation in the proceedings, even if they, like Mott, had been nominated to serve as official delegates of their respective abolitionist societies.
After considerable debate, the women were required to sit in a roped-off section hidden from the view of the men in attendance. They were soon joined by the prominent abolitionist, William Lloyd Garrison, who arrived after the vote had been taken and, in protest of the outcome, refused his seat, electing instead to sit with the women.
Mott's example and the decision to prohibit women from participating in the convention strengthened Stanton's commitment to women's rights. By 1848, her early life experiences, together with the experience in London and her initially debilitating experience as a housewife in Seneca Falls, galvanized Stanton.
In 1848, acting on these feelings and perceptions, Stanton joined Mott, Mott's sister Martha Coffin Wright, and a handful of other women in Seneca Falls. Together they organized the first women's rights convention held in Seneca Falls on July 19 and 20. Over 300 people attended. Stanton drafted a Declaration of Sentiments, which she read at the convention.
Modeled on the United States Declaration of Independence, Stanton's declaration proclaimed that men and women are created equal. She proposed, among other things, a then-controversial resolution demanding voting rights for women. The final resolutions, including female suffrage, were passed, in no small measure, because of the support of Frederick Douglass, who attended and informally spoke at the convention.
Soon after the convention, Stanton was invited to speak at a second women's rights convention in Rochester, New York, solidifying her role as an activist and reformer. Paulina Kellogg Wright Davis invited her to speak at the first National Women's Rights Convention in 1850, but because of pregnancy, Stanton chose instead to lend her name to the list of sponsors and send a speech to be read in her stead.
In 1851, Stanton was introduced to Susan B. Anthony on a street in Seneca Falls by Amelia Bloomer, a feminist and mutual acquaintance who had not signed the Declaration of Sentiments and subsequent resolutions despite her attendance at the Seneca Falls convention.
Although best known for their joint work on behalf of women's suffrage, Stanton and Anthony first joined the temperance movement. Together, they were instrumental in founding the short-lived Woman's State Temperance Society (1852–1853). During her presidency of the organization, Stanton scandalized many supporters by suggesting that drunkenness be made sufficient cause for divorce. Stanton and Anthony's focus, however, soon shifted to female suffrage and women's rights.
Single and having no children, Anthony had the time and energy to do the speaking and traveling that Stanton was unable to do. Their skills complemented each other; Stanton, the better orator and writer, scripted many of Anthony's speeches, while Anthony was the movement's organizer and tactician. Writing a tribute that appeared in the New York Times when Stanton died, Anthony described Stanton as having "forged the thunderbolts" that she (Anthony) "fired."
Unlike Anthony's relatively narrow focus on suffrage, Stanton wanted to push for a broader platform of women's rights in general. While their opposing viewpoints led to some discussion and conflict, no disagreement threatened their friendship or working relationship; the two women remained close friends and colleagues until Stanton's death some 50 years after their initial meeting.
While always recognized as movement leaders whose support was sought, Stanton and Anthony's voices were soon joined by others who began assuming leadership positions within the movement. These women included, among others, Matilda Joslyn Gage.
After the American Civil War, both Stanton and Anthony broke with their abolitionist backgrounds and lobbied strongly against ratification of the Fourteenth and Fifteenth Amendments to the US Constitution, which granted African American men the right to vote.
Believing that African American men, by virtue of the Thirteenth Amendment, already had the legal protections, except for suffrage, offered to white male citizens and that so largely expanding the male franchise in the country would only increase the number of voters prepared to deny women the right to vote, both Stanton and Anthony were angry that the abolitionists, their former partners in working for both African American and women's rights, refused to demand that the language of the amendments be changed to include women.
Eventually, Stanton's oppositional rhetoric took on racial overtones. Arguing on behalf of female suffrage, Stanton posited that women voters of "wealth, education, and refinement" were needed to offset the effect of former slaves and immigrants whose "pauperism, ignorance, and degradation" might negatively affect the American political system.
She declared it to be "a serious question whether we had better stand aside and see 'Sambo' walk into the kingdom [of civil rights] first." Some scholars have argued that Stanton's emphasis on property ownership and education, opposition to black male suffrage, and desire to hold out for universal suffrage fragmented the civil rights movement by pitting African-American men against women and, together with Stanton's emphasis on "educated suffrage," in part established a basis for the literacy requirements that followed in the wake of the passage of the fifteenth amendment.
Stanton's position caused a significant rift between herself and many civil rights leaders, particularly Frederick Douglass, who believed that white women, already empowered by their connection to fathers, husbands, and brothers, at least vicariously had the vote.
According to Douglass, their treatment as slaves entitled the now liberated African-American men, who lacked women's indirect empowerment, to voting rights before women were granted the franchise. African-American women, he believed, would have the same degree of empowerment as white women once African-American men had the vote; hence, general female suffrage was, according to Douglass, of less concern than black male suffrage.
Disagreeing with Douglass, and despite the racist language she sometimes resorted to, Stanton firmly believed in a universal franchise that empowered blacks and whites, men and women. Speaking on behalf of black women, she stated that not allowing them to vote condemned African American freedwomen "to a triple bondage that man never knows," that of slavery, gender, and race. She was joined in this belief by Anthony, Olympia Brown, and most especially Frances Gage, who was the first suffragist to champion voting rights for freedwomen.
Thaddeus Stevens, a Republican congressman from Pennsylvania and ardent abolitionist, agreed that voting rights should be universal. In 1866, Stanton, Anthony, and several other suffragists drafted a universal suffrage petition demanding that the right to vote be given without consideration of sex or race. The petition was introduced in the United States Congress by Stevens. Despite these efforts, the Fourteenth Amendment was passed, without adjustment, in 1868.
By the time the Fifteenth Amendment was making its way through Congress, Stanton's position had led to a major schism in the women's rights movement itself. Many leaders in the women's rights movement, including Lucy Stone, Elizabeth Blackwell, and Julia Ward Howe, strongly argued against Stanton's "all or nothing" position. By 1869, disagreement over ratification of the Fifteenth Amendment had given birth to two separate women's suffrage organizations.
The National Woman Suffrage Association (NWSA) was founded in May 1869 by Anthony and Stanton, who served as its president for 21 years. The NWSA opposed passage of the Fifteenth Amendment without changes to include female suffrage and, under Stanton's influence in particular, championed a number of women's issues that were deemed too radical by more conservative members of the suffrage movement.
The better-funded, larger, and more representative woman suffragist vehicle American Woman Suffrage Association (AWSA), founded the following November and led by Stone, Blackwell, and Howe, supported the Fifteenth Amendment as written. Following passage of that Amendment the AWSA preferred to focus only on female suffrage rather than advocate for the broader women's rights espoused by Stanton: gender-neutral divorce laws, a woman's right to refuse her husband sexually, increased economic opportunities for women, and the right of women to serve on juries.
Believing that men should not be given the right to vote without women also being granted the franchise, Sojourner Truth, a former slave and feminist, affiliated herself with Stanton and Anthony's organization. Stanton, Anthony, and Truth were joined by Matilda Joslyn Gage, who later worked on The Woman's Bible with Stanton. Despite Stanton's position and the efforts of her and others to expand the Fifteenth Amendment to include voting rights for all women, this amendment also passed, as it was originally written, in 1870.
In the decade following ratification of the Fifteenth Amendment, both Stanton and Anthony increasingly took the position, first advocated by Victoria Woodhull, that the Fourteenth and Fifteenth Amendments actually did give women the right to vote. They argued that the Fourteenth Amendment, which defined citizens as "all persons born or naturalized in the United States and subject to the jurisdiction thereof," included women and that the Fifteenth Amendment provided all citizens with the right to vote.
Using this logic, they asserted that women now had the constitutional right to vote and that it was simply a matter of claiming that right. This constitutionally-based argument, which came to be called "the new departure" in women's rights circles because of its divergence from earlier attempts to change voting laws on a state-by-state basis, led to first Anthony (in 1872), and later Stanton (in 1880), going to the polls and demanding to vote. Despite this, and similar attempts made by hundreds of other women, it would be nearly 50 years before women obtained the right to vote throughout the United States.
During this time, Stanton maintained a broad focus on women's rights in general rather than narrowing her focus only to female suffrage in particular. After passage of the Fifteenth Amendment in 1870 and its support by the Equal Rights Association and prominent suffragists such as Stone, Blackwell, and Howe, the gap between Elizabeth Cady Stanton and other leaders of the women's movement widened as Stanton took issue with the fundamental religious leanings of several movement leaders.
Unlike many of her colleagues, Stanton believed organized Christianity relegated women to an unacceptable position in society. She explored this view in the 1890s in The Woman's Bible, which elucidated a feminist understanding of biblical scripture and sought to correct the fundamental sexism Stanton believed was inherent to organized Christianity. Likewise, Stanton supported divorce rights, employment rights, and property rights for women, issues in which the American Women's Suffrage Association (AWSA) preferred not to become involved.
Her more radical positions included acceptance of interracial marriage. Despite her opposition to giving African-American men the right to vote without enfranchising all women and the derogatory language she had resorted to in expressing this opposition, Stanton had no objection to interracial marriage and wrote a congratulatory letter to Frederick Douglass upon his marriage to Helen Pitts, a white woman, in 1884.
Anthony, fearing public condemnation of the National Woman Suffrage Association (NWSA) and wanting to keep the demand for female suffrage foremost, pleaded with Stanton not to make her letter to Douglass or support for his marriage publicly known.
Stanton went on to write some of the most influential books, documents, and speeches of the women's rights movement. Starting in 1876, Stanton, Anthony, and Gage collaborated to write the first volume of History of Woman Suffrage, a seminal, six-volume work containing the full history, documents, and letters of the woman's suffrage movement.
The first two volumes were published in 1881 and the third in 1886; the work was eventually completed in 1922 by Ida Harper. Stanton's other major writings included the two-part The Woman's Bible, published in 1895 and 1898; Eighty Years & More: Reminiscences 1815–1897, her autobiography, published in 1898; and The Solitude of Self, or "Self-Sovereignty," which she first delivered as a speech at the 1892 convention of the National American Women's Suffrage Association in Washington, D.C..
In 1868 Stanton, together with Susan B. Anthony and Parker Pillsbury, a leading male feminist of his day, began publishing a weekly periodical, Revolution, with editorials by Stanton that focused on a wide array of women's issues. In a view different from many modern feminists, Stanton, who supported birth control and likely used it herself, believed that abortion was infanticide, a position she discussed in Revolution.
At this time, Stanton also joined the New York Lyceum Bureau, embarking on a 12-year career on the Lyceum Circuit. Traveling and lecturing for eight months every year provided her both with the funds to put her two youngest sons through college and, given her popularity as a lecturer, with a way to spread her ideas among the general population, gain broad public recognition, and further establish her reputation as a pre-eminent leader in the women's rights movement.
Among her most popular speeches were "Our Girls", "Our Boys", "Co-education", "Marriage and Divorce", "Prison Life", and "The Bible and Woman's Rights". Her lecture travels so occupied her that Stanton, although president, presided at only four of 15 conventions of the National Women's Suffrage Association during this period.
In addition to her writing and speaking, Stanton was also instrumental in promoting women's suffrage in various states, particularly New York, Missouri, Kansas, where it was included on the ballot in 1867, and Michigan, where it was put to a vote in 1874.
She made an unsuccessful bid for a U.S. Congressional seat from New York in 1868, and she was the primary force behind the passage of the "Woman's Property Bill" that was eventually passed by the New York State Legislature. She worked toward female suffrage in Wyoming, Utah, and California, and in 1878, she convinced California Senator Aaron A. Sargent to introduce a female suffrage amendment using wording similar to that of the Fifteenth Amendment passed some eight years previously.
Stanton was also active internationally, spending a great deal of time in Europe, where her daughter and fellow feminist Harriot Stanton Blatch lived. In 1888, she helped prepare for the founding of the International Council of Women. In 1890, Stanton opposed the merger of the National Woman's Suffrage Association with the more conservative and religiously based American Woman Suffrage Association.
Over her objections, the organizations merged, creating the National American Woman Suffrage Association (NAWSA). Despite her opposition to the merger, Stanton became its first president, largely because of Susan B. Anthony's intervention. In good measure because of The Woman's Bible and her position on issues such as divorce, she was, however, never popular among the more religiously conservative members of the "National American".
On January 18, 1892, approximately ten years before she died, Stanton joined Anthony, Stone, and Isabella Beecher Hooker to address the issue of suffrage before the United States House Committee on the Judiciary. After nearly five decades of fighting for female suffrage and women's rights, it was Elizabeth Cady Stanton's final appearance before members of the United States Congress.
Using the text of what became The Solitude of Self, she spoke of the central value of the individual, noting that value was not based on gender. As with the Declaration of Sentiments she had penned some 45 years earlier, Stanton's statement expressed not only the need for women's voting rights in particular, but the need for a revamped understanding of women's position in society and even of women in general:
"The isolation of every human soul and the necessity of self-dependence must give each individual the right to choose his own surroundings. The strongest reason for giving woman all the opportunities for higher education, for the full development of her faculties, her forces of mind and body; for giving her the most enlarged freedom of thought and action; a complete emancipation from all forms of bondage, of custom, dependence, superstition; from all the crippling influences of fear — is the solitude and personal responsibility of her own individual life. The strongest reason why we ask for woman a voice in the government under which she lives; in the religion she is asked to believe; equality in social life, where she is the chief factor; a place in the trades and professions, where she may earn her bread, is because of her birthright to self-sovereignty; because, as an individual, she must rely on herself [...]."
Lucy Stone was so impressed with the brilliance of Stanton's speech that she published The Solitude of Self in its entirety in the Woman's Journal, leaving out her own speech to the committee.
Related Articles