Germaine Greer (Feminist / Author)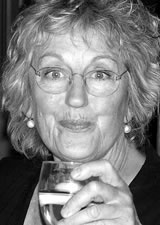 Germaine Greer (born 29 January 1939) is an Australian writer, academic, journalist and scholar of early modern English literature, widely regarded as one of the most significant feminist voices of the later 20th century.
Greer's ideas have created controversy ever since her book The Female Eunuch became an international best-seller in 1970, turning her into a household name and bringing her both adulation and opposition.
She is also the author of many other books including, Sex and Destiny: The Politics of Human Fertility (1984); The Change: Women, Ageing and the Menopause (1991) and Shakespeare's Wife (2007). She is Professor Emeritus of English Literature and Comparative Studies at the University of Warwick.
Here she is in a 2011 interview:
Greer has defined her goal as 'women's liberation' as distinct from 'equality with men', She asserts that women's liberation meant embracing gender differences in a positive fashion, a struggle for the freedom for women to define their own values, order their own priorities and determine their own fates. In contrast, Greer sees equality as mere assimilation and "settling" to live the lives of "unfree men".
Germaine Greer was born in Melbourne in 1939, growing up in the bayside suburb of Mentone. Her father was a newspaper advertising rep' who served in the wartime RAAF. After attending a private convent school, Star of the Sea College, in Gardenvale, she won a teaching scholarship in 1956 and enrolled at the University of Melbourne.
After graduating with a degree in English and French language and literature, she moved to Sydney, where she became involved with the Sydney Push social milieu and the anarchist Sydney Libertarians at its centre. Christine Wallace, in her unauthorised biography, describes Greer at this time:
"For Germaine, [the Push] provided a philosophy to underpin the attitude and lifestyle she had already acquired in Melbourne. She walked into the Royal George Hotel, into the throng talking themselves hoarse in a room stinking of stale beer and thick with cigarette smoke, and set out to follow the Push way of life – 'an intolerably difficult discipline which I forced myself to learn'.
The Push struck her as completely different from the Melbourne intelligentsia she had engaged with in the Drift, 'who always talked about art and truth and beauty and argument ad hominem; instead, these people talked about truth and only truth, insisting that most of what we were exposed to during the day was ideology, which was a synonym for lies – or bullshit, as they called it.'
Her Damascus turned out to be the Royal George, and the Hume Highway was the road linking it. 'I was already an anarchist,' she says. 'I just didn't know why I was an anarchist. They put me in touch with the basic texts and I found out what the internal logic was about how I felt and thought."
By 1972 Greer would identify as an anarchist communist, close to Marxism.
In her first teaching post, Greer lectured at the University of Sydney, where she also earned a first class MA in romantic poetry in 1963 with a thesis titled The Development of Byron's Satiric Mode.
A year later, the thesis won her a Commonwealth Scholarship, which she used to fund her doctorate at the University of Cambridge in England, where she became a member of the all-women's Newnham College.
Professor Lisa Jardine, who was at Newnham at the same time, recalled the first time she met Greer, at a formal dinner in college: "The principal called us to order for the speeches.
As a hush descended, one person continued to speak, too engrossed in her conversation to notice, her strong Australian accent reverberating around the room.
At the graduates' table, Germaine was explaining that there could be no liberation for women, no matter how highly educated, as long as we were required to cram our breasts into bras constructed like mini-Vesuviuses, two stitched white cantilevered cones which bore no resemblance to the female anatomy.
The willingly suffered discomfort of the Sixties bra, she opined vigorously, was a hideous symbol of male oppression ... [We were] astonished at the very idea that a woman could speak so loudly and out of turn and that words such as "bra" and "breasts' – or maybe she said "tits" – could be uttered amid the pseudo-masculine solemnity of a college dinner.
Greer joined the student amateur acting company, the Cambridge Footlights, which launched her into the London arts and media scene. Using the pen name Rose Blight, she also wrote a gardening column for the satirical magazine Private Eye, and as Dr. G, became a regular contributor to the underground London magazine Oz, owned by the Australian writer Richard Neville.
The 29 July 1970 edition was guest-edited by Greer, and featured an article of hers on the hand-knitted Cock Sock, "a snug corner for a chilly prick." She also posed nude for Oz on the understanding that the male editors would do likewise: they did not.
Greer was also editor of the Amsterdam underground magazine Suck, which published a full-page photograph of Greer: "stripped to the buff, looking at the lens through my thighs." Greer has said that "Cunt" is one of the few remaining words in the English language with a genuine power to shock."
In 1968 she received her Ph.D. on the topic of Elizabethan drama with a thesis titled The Ethic of Love and Marriage in Shakespeare's early comedies, and accepted a lectureship in English at the University of Warwick in Coventry.
The same year, in London, she married British carpenter and remodeler Paul du Feu, but the marriage lasted only three weeks, during which, as she later admitted, Greer was unfaithful several times. The marriage ended in divorce in 1973.
Following the success of The Female Eunuch, Greer resigned her post at Warwick University in 1972 after travelling the world to promote her book.
She co-presented a Granada Television comedy show called Nice Time with Kenny Everett and Jonathan Routh, bought a house in Italy, wrote a column for The Sunday Times, then spent the next few years travelling through Africa and Asia, which included a visit to Bangladesh to investigate the situation of women who had been raped during the conflict with Pakistan.
On the New Zealand leg of her tour in 1972, Greer was arrested for using the words "bullshit" and "fuck" during her speech, which attracted major rallies in her support.
In the mid-1970s, Greer appeared on conservative William F. Buckley's Firing Line. In his memoir, Buckley recalled that Greer had "trounced him" during the debate. He wrote, "Nothing I said, and memory reproaches me for having performed miserably, made any impression or any dent in the argument.
She carried the house overwhelmingly." In 1979 Greer was appointed to a post in the University of Tulsa, Oklahoma, as the director for the Center of the Study of Women's Literature. She was also the founding editor of Tulsa Studies in Women's Literature, an academic journal, during 1981–82.
In 1989, Greer was appointed as a special lecturer and fellow at Newnham College, Cambridge. Greer unsuccessfully opposed the election to a fellowship of her transsexual colleague Rachael Padman. Greer argued that Padman had been born male, and therefore should not be admitted to Newnham, a women's college.
Greer resigned in 1996 after the case attracted negative publicity. An article concerning the incident was published on 25 June 1997 by Clare Longrigg of The Guardian. Entitled "A Sister with No Fellow Feeling"; it disappeared from websites after print publication, on the instruction of the newspaper's lawyers.
Greer appeared alongside Daniel O'Donnell, the popular Irish crooner, on an RTE chat show in 2006. While O'Donnell spoke about love, cooking and his mother's pancakes, Greer mocked him by making faces to camera behind his back. The normally unflappable O'Donnell confronted her and some bitter words were exchanged.
Over the years Greer has continued to self-identify as an anarchist or Marxist. In her books she has dealt very little with political labels of this type, but has reaffirmed her position in interviews.
She stated on ABC Television in 2008 that "I ought to confess I suppose that I'm a Marxist. I think that reality comes first and ideology comes second," and elaborated later in the program to a question on whether feminism was the only successful revolution of the 20th century saying:
"The difficulty for me is that I believe in permanent revolution. I believe that once you change the power structure and you get an oligarchy that is trying to keep itself in power, you have all the illiberal features of the previous regime. What has to keep on happening is a constant process of criticism, renewal, protest and so forth."
Speaking on an interview for 3CR (an Australian community radio station), also in 2008, she described herself as "an old anarchist" and reaffirmed that opposition to "hierarchy and capitalism" were at the centre of her politics.
Related Articles