Bette Midler (Singer/Actress/Comedian)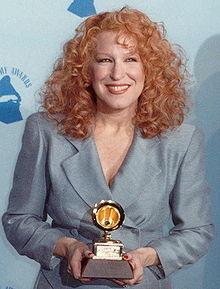 Bette Midler (born December 1, 1945) is an American singer, actress and comedian, also known (by her informal stage name) as The Divine Miss M.
She has starred in live-action films such as Ruthless People and Hocus Pocus, and featured in animated films such as Oliver & Company and Fantasia 2000.
During her 40-plus-year career, Midler has been nominated for two Academy Awards; she has won three Grammy Awards, four Golden Globes, three Emmy Awards, and a special Tony Award.
Here she sings her Grammy-award-winning song Wind Beneath My Wings for Her Majesty Queen Elizabeth at The Royal Variety Performance in 2009:
Midler was born in Honolulu, Hawaii. She is the daughter of seamstress/housewife Ruth (née Schindel) and house painter Fred Midler, who worked at a Navy base in Hawaii. Her parents were from Paterson, New Jersey and moved to Honolulu before Midler was born. She was named after the actress Bette Davis, though Davis pronounced her first name in two syllables, and Midler uses one, /?b?t/. Midler's family was one of the few Jewish families in a mostly Asian neighborhood.
She was raised in Aiea and attended Radford High School in Honolulu. She was voted "Most Talkative" in the 1961 school Hoss Election and in her Senior Year (Class of 1963) "Most Dramatic". She majored in drama at the University of Hawaii (though she only attended for three semesters) and earned money in the film Hawaii (released in 1966) as an extra, playing a seasick passenger named Mrs David Buff in the film.
Midler married Martin Von Haselberg on December 16, 1984, roughly 6 weeks after meeting him for the first time. Their daughter Sophie was born on November 14, 1986.
In the summer of 1965, Midler relocated to New York City, using the money from having worked as an extra in the film Hawaii. She landed her first professional onstage role in Tom Eyen's Off-Off-Broadway plays in 1965, Miss Nefertiti Regrets and Cinderella Revisited, a children's play by day and an adult show by night. From 1966 to 1969, she played the role of Tzeitel in Fiddler on the Roof on Broadway; tragically, during this period, her sister Judith, visiting New York to see her perform, was killed by a taxi cab. She also joined the cast of Salvation.
In the summer of 1970, Midler began singing in the Continental Baths, a gay bathhouse in the city, where she became close to her piano accompanist, Barry Manilow. He later produced her first album, 1972's The Divine Miss M. It was during her time at the Continental Baths that she built up a core following.
In 1971, Midler starred in the first professional production of The Who's rock opera Tommy with director Richard Pearlman and the Seattle Opera. It was during the run of Tommy that Midler was asked to appear on The Tonight Show. She proved to be so popular that her career immediately skyrocketed.
Midler released her debut album The Divine Miss M on Atlantic Records in December 1972. It streaked into Billboard's Top 10 and became a million-selling Platinum-certified album, making her a star in the process and earning Midler the 1973 Grammy Award for Best New Artist. It featured three hit singles with "Do You Want To Dance?", "Friends", and "Boogie Woogie Bugle Boy" which became Bette's first #1 Adult Contemporary hit.
Bette's self titled follow-up album was released at the end of 1973. It also zoomed into Billboard's Top 10 and eventually sold close to a million copies in the United States alone. Midler returned to recording with the 1976 and 1977 albums, Songs for the New Depression and Broken Blossom, which confirmed her position as one of the most diversified and versatile talents in the industry.
In 1974, she received a Special Tony Award for her contribution to Broadway with Clams on the Half Shell Revue playing at the Minskoff Theater. From 1975–1978, she also provided the voice of Woody the Spoon on the PBS educational series Vegetable Soup.
In 1977, Midler's first television special, Ol' Red Hair is Back, premiered, featuring guest stars Dustin Hoffman and Emmett Kelly. It went on to win the Emmy Award for Outstanding Special - Comedy-Variety or Music.
In 1979, Midler made her first motion picture, starring in the 1960s-era rock and roll tragedy The Rose, as a drug-addicted rock star modeled after Janis Joplin. That year she also released her fifth studio album; Thighs and Whispers. Midler's first foray into disco was a commercial and critical failure and went on to be her all-time lowest charting album, peaking at #65 on the Billboard album chart. Soon afterward she left to go on a world concert tour, with one of the shows (in Pasadena) being filmed and released as the concert film Divine Madness.
Also in 1980, she was nominated for the Academy Award for Best Actress for The Rose, for which she won the Golden Globe for Best Actress (Comedy or Musical). The film's acclaimed soundtrack album sold over two million copies in the United States alone, earning a Double Platinum certification. The single version of the song held the #1 position on Billboard's Adult Contemporary chart for five consecutive weeks and reached #3 on Billboard's Hot 100. It earned Midler her first Gold single and won the Grammy award for Best Pop Vocal Performance, Female.
In 1981, Midler worked on the troubled project Jinxed! It was a comedy, but during its production, she did not get along with her co-star (Ken Wahl) or the film's director (veteran Don Siegel). Released in 1982, the film was a major flop. Midler would appear in no other films till 1986, and during those four years, she concentrated on her music career. In 1983 she released the album No Frills, produced by Chuck Plotkin, best known for his work with Bob Dylan and Bruce Springsteen.
The album included three single releases: the ballad "All I Need To Know", a cover of Detroit native Marshall Crenshaw's "My Favorite Waste of Time" - which Midler fell in love with after flipping his 45 of "Someday Someway" - and Midler's take on the Rolling Stones cover "Beast of Burden". The rock and New Wave album went on to become Midler's third lowest charting album in the US, yet surprisingly went on to become her highest selling album to date in Continental Europe and Scandinavia, as well as West Germany.
In 1985, she was a performer on USA for Africa's fund-raising single "We Are the World," and participated at the 'Live Aid' event at JFK stadium in Philadelphia. Also in 1985, she signed a multi-picture deal with Touchstone Pictures. She was subsequently cast by director Paul Mazursky in Down and Out in Beverly Hills, beginning a successful comedic acting career. She followed that with Ruthless People (1986), Outrageous Fortune (1987), and Big Business (1988).
She scored a hit with the 1988 tearjerker Beaches, co-starring Barbara Hershey. The accompanying soundtrack remains Bette's all-time biggest selling disc, reaching #2 on Billboard's album chart and with US sales of four million copies. It featured her biggest hit, "Wind Beneath My Wings", which went to #1 on Billboard's Hot 100, achieved Platinum status, and won Midler her third Grammy Award - for Record of the Year - at the 1990 telecast.
Related Articles