Umm Kulthum (Singer/Songwriter/Actress)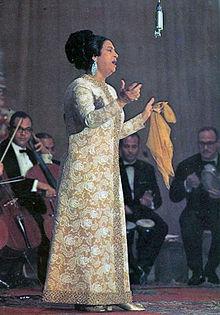 Umm Kulthum (circa 1900-February 3, 1975).
Various spellings include Om Koultoum, Om Kalthoum, Oumme Kalsoum, Umm Kolthoum and Ümmü Gülsüm . She was an Egyptian singer, songwriter, and actress. Born in Tamay ez-Zahayra village that belongs to El Senbellawein, she is known as the Star of the East (kawkab el-sharq).
More than three decades after her death, she is still recognized as one of the Arab world's most famous and distinguished singers of the 20th century. Umm Kulthum is widely regarded as the greatest female singer in Arab music history.
Umm Kulthum was born in Tamay ez-Zahayra village in El Senbellawein, Dakahlia Governorate, Egypt, in Dakahlia, in the Nile Delta, near the Mediterranean Sea.
Here she is performing live:
Her birth date is unconfirmed as birth registration was not enforced throughout the Arab world. The Egyptian Ministry of Information seems to have given either December 31, 1898, or December 31, 1904. She likely was born some time between these two dates.
At a young age, she showed exceptional singing talent. Her father, an Imam, taught her to recite the Qur'an, and she is said to have memorized the entire book. When she was 12 years old, her father disguised her as a young boy and entered her in a small performing troupe that he directed.
At the age of 16 she was noticed by Abol Ela Mohamed, a modestly famous singer, who taught her the old classical repertoire. A few years later, she met the famous composer and oudist Zakariyya Ahmad, who invited her to come to Cairo. Although she made several visits to Cairo in the early 1920s, she waited until 1923 before permanently moving there.
She was invited on several occasions to the house of Amin Beh Al Mahdy, who taught her how to play the oud (lute). She developed a very close relationship to Rawheya Al Mahdi, daughter of Amin, and became her closest friend. Kulthum even attended Rawheya's daughter's wedding, although she always tried to avoid public appearances.
Amin Al Mahdi introduced her to the cultural circles in Cairo. In Cairo, she carefully avoided succumbing to the attractions of the bohemian lifestyle, and indeed throughout her life stressed her pride in her humble origins and espousal of conservative values. She also maintained a tightly managed public image, which undoubtedly added to her allure.
At this point in her career, she was introduced by a friend Robert McClure to the famous poet Ahmad Rami, who wrote 137 songs for her. Rami also introduced her to French literature, which he greatly admired from his studies at the Sorbonne, Paris, and eventually became her head mentor in Arabic literature and literary analysis.
Furthermore, she was introduced to the renowned oud virtuoso and composer Mohamed El Qasabgi. El Qasabgi introduced Umm Kulthum to the Arabic Theatre Palace, where she would experience her first real public success. In 1932, her fame increased to the point where she embarked upon a large tour of the Middle East, touring such cities as Damascus, Syria; Baghdad, Iraq; Beirut and Tripoli, Lebanon.
Umm Kulthum's establishment as one of the most famous and popular Arab singer was driven by several factors. During her early career years, she faced staunch competition from two prominent singers: Mounira El-Mahdiya and Fathiyya Ahmad, who had equally beautiful and powerful voices. However, Mounira had poor control over her voice and Fathiyya lacked the emotive vocal impact that Umm Kulthum's voice had.
The presence of all these enabling vocal characteristics attracted the most famous composers, musicians, and lyricists to work with Umm Kulthum. In the mid 1920s, Mohammad el Qasabgi, who was the most virtuosic oud player and one of the most accomplished yet understated Arab composers of the 20th century, formed her small orchestra (takht) composed of the most virtuosic instrumentalists.
Furthermore, unlike most of her contemporary artists who held private concerts, Umm Kulthum's performances were open to the general public, which contributed to the transition from classical and often elitist to popular Arabic music. By 1934, Umm Kulthum must have been one of the most famous singers in Egypt to be chosen as the artist to inaugurate Radio Cairo with her voice on May 31.
Over the second half of the 1930s, two initiatives will seal the fate of Umm Kulthum as the most popular and famous Arab singer: her appearances in musical movies and the live broadcasting of her concerts performed on the first Thursday of each month of her musical season from October to June. Her influence kept growing and expanding beyond the artistic scene: the reigning royal family would request private concerts and even attend her public performances.
In 1944, King Farouk I of Egypt decorated her with the highest level of orders (nishan el kamal), a decoration reserved exclusively to members of the royal family and politicians. Despite this recognition, the royal family rigidly opposed her potential marriage with the King's uncle, a rejection that deeply wounded her pride and led her to distance herself from the royal family and embrace grassroots causes, such as her answering the request of the Egyptian legion trapped in Falujah during the 1948 Arab-Israeli conflict to sing a particular song.
Among the army men trapped were the figures who were going to lead the bloodless revolution of July 23, 1952, prominently Gamal Abdel Nasser, arguably he was a fan of Umm Kulthum and who would later become the president of Egypt.
Early after the revolution, the Egyptian musicians guild of which she became a member (and eventually president) rejected her because she had sung for the then-deposed king, Farouk of Egypt. When Nasser discovered that her songs were forbidden from being aired on the radio, he reportedly said something to the effect of "What are they? Crazy? Do you want Egypt to turn against us?"
It was his favor that made the musicians' guild accept her back into the fold. But it is uncertain if that happened. In addition, Umm Kulthum was a dedicated Egyptian patriot since the time of King Farouk. Some claim that Umm Kulthum's popularity helped Nasser's political agenda. For example, Nasser's speeches and other government messages were frequently broadcast immediately after Umm Kulthum's monthly radio concerts.
Umm Kulthum was also known for her continuous contributions to charity works for the Egyptian military efforts. Umm Kulthum's monthly concerts took place on the first Thursday of every month and were renowned for their ability to clear the streets of some of the world's most populous cities as people rushed home to tune in.
Her songs deal mostly with the universal themes of love, longing and loss. They are nothing short of epic in scale, with durations measured in hours rather than minutes. A typical Umm Kulthum concert consisted of the performance of two or three songs over a period of three to four hours. In the late 1960s, due to her age and weakened vocal abilities, she began to shorten her performances to two songs over a period of two and a half to three hours.
These performances are in some ways reminiscent of the structure of Western opera, consisting of long vocal passages linked by shorter orchestral interludes. However, Umm Kulthum was not stylistically influenced by opera and she sang solo most of her career.
During the 1930s, her repertoire took the first of several specific stylistic directions. Her songs were virtuosic, as befit her newly trained and very capable voice, and romantic and modern in musical style, feeding the prevailing currents in Egyptian popular culture of the time. She worked extensively with texts by romantic poet Ahmad Rami and composer Mohammad El-Qasabgi, whose songs incorporated European instruments such as the violoncello and double bass as well as harmony.
Umm Kulthum's musical directions in the 1940s and early 1950s and her mature performing style caused this period to be popularly called the "golden age" of Umm Kulthum. In keeping with changing popular taste as well as her own artistic inclinations, in the early 1940s she requested songs from composer Zakariya Ahmad and colloquial poet Bayram al-Tunisi cast in styles considered to be indigenously Egyptian.
This represented a dramatic departure from the modernist romantic songs of the 1930s, mainly led by Mohammad El-Qasabgi, whom Umm Kulthum abstained from singing his music since the early 1940s, their last stage song collaboration being "Raq el habib" (The lover's heart softens), one of her most popular, intricate and high caliber songs (1941). The reason for this abstinence is not clear. It is speculated that this was due in part to the popular failure of the movie Aida, in which Umm Kulthum sings mostly Qasabgi's compositions, including the first part of the opera.
Qasabgi was experimenting with Arabic music, under the influence of classical European music, and was composing a lot to Asmahan, a singer who immigrated to Egypt from Lebanon and was the only serious competitor for Umm Kulthum before her tragic death in a car accident in 1944. Simultaneously, Umm Kulthum started to rely heavily on a younger composer who joined her artistic team a few years earlier: Riad El-Sombati.
While Sombati was evidently influenced by Qasabgi in those early years, the melodic lines he composed were more beautiful and more acceptable by Umm Kulthum's audience. The result of collaborations with Rami/Sombati and al-Tunisi/Ahmad was a populist and popular repertoire that had lasting appeal for the Egyptian audience. In 1946, Umm Kulthum defied all odds by presenting during her monthly concerts a religious poem in classical Arabic, "salou qalbi" (ask my heart), written by Ahmad Shawqi (the prince of poets) and composed by Sombati.
The success was immediate and huge; it also reconnected Umm Kulthum with her early singing years, defined Sombati's unique style in composing and established him as the best composer of music for poems in classical Arabic, toppling Mohammad Abd el Wahab. Similar poems written by Shawqi were subsequently composed by Sombati and sung by Umm Kulthum, including "woulida el Houda" (the Prophet is born; 1949), in which she raised eyebrows of royalists by singing a verse that describes the Prophet Mohammad as "the Imam of Socialists".
At the peak of her career, in 1950, Umm Kulthum sang Sombati's composition of excerpts of what Ahmad Rami considered the accomplishment of his career: the translation into classical Arabic of Omar Khayyam's quartets (Rubayyiat el Khayyam). The song included quartets that dealt with both epicurism and redemption. Ibrahim Nagy's poem Al-Atlal (the Ruins), composed by Sombati and premiered in 1966, is considered by many as Umm Kulthum's best song.
While this is debatable as Umm Kulthum vocal abilities had regressed considerably by then, the song can be viewed as the last example of genuine Arabic music at a time when even Umm Kulthum had started to compromise by singing Western-influenced pieces composed by her old rival Mohammad Abd el Wahab.
The duration of Umm Kulthum's songs in performance was not fixed, but varied based on the level of emotive interaction between the singer and her audience and Umm Kulthum's own mood for creativity. An improvisatory technique, which was typical of old classical Arabic singing and that she wonderfully executed for as long as she could have (both her regressing vocal abilities with age and the increased Westernization of Arabic music became an impediment to this art), was to repeat a single line or stance over and over, subtly altering the emotive emphasis and intensity and exploring one or various musical modal scales (maqam) each time to bring her audiences into a euphoric and ecstatic state. "
For example, the available live performances (about 30) of "ya zalemni", one of her most popular songs, varied in length from 45 to 90 min, depending on both her creative mood for improvisations and the audience request for more repetitions, illustrating the dynamic relationship between the singer and the audience as they fed off each other's emotional energy.
The spontaneous creativity of Umm Kulthum as a singer is most impressive when, upon listening to these many different renditions of the same song over a time span of 5 years (1954–1959), the listener is offered a totally unique and different experience. This intense, highly personalized relationship was undoubtedly one of the reasons for Umm Kulthum's tremendous success as an artist. Worth noting though that the length of a performance did not necessarily reflect either its quality or the improvisatory creativity of Umm Kulthum.
Some of her best performances were 25-45 min in duration, such as the three available renditions, including the commercial version of El Awwila fi'l gharam (first in love), and ana fi intizarak (commercial and 3-3-1955 performance). On the other hand, her songs as of the mid 1960s would extend sometimes over a duration of two hours (premiere of Enta Omri, Enta el Hobb, etc.); however, the repetitions, mostly executed upon the request of the audience, were often devoid of creative musical improvisations and limited to vocal colorful variations on a syllable, letter or word.
Umm Kulthum has been a significant influence on a number of musicians, both in the Arab World and beyond. Among others, Jah Wobble has claimed her as a significant influence on his work. Bob Dylan has been quoted as saying, "She's great. She really is. Really great." Maria Callas, Jean-Paul Sartre, Marie Laforêt, Salvador Dalí, Nico, Bono, Farin Urlaub, and Led Zeppelin are also known to be admirers of Kulthum's music.
Youssou N'Dour, a fan of hers since childhood, recorded his 2004 album Egypt with an Egyptian orchestra in homage to her legacy. One of her best known songs, "Enta Omri," has been the basis of many reinterpretations, including one 2005 collaborative project involving Israeli and Egyptian artists.
She was referred to as "The Lady" by Charles de Gaulle, and is regarded as "The Incomparable Voice" by Maria Callas. Umm Kulthum is remembered in Egypt, the Middle East, and the Arab world as one of the greatest singers and musicians to have ever lived. It is difficult to accurately measure her vocal range at its peak, as most of her songs were recorded live, and she was careful not to strain her voice due to the extended length of her songs.
Even today, she has retained a near-mythical status among young Egyptians. She is also notably popular in Israel among Jews (of Mizrahi/Arab background) and Arabs alike, and her records continue to sell about a million copies a year. In 2001, the Egyptian government opened the Kawkab al-Sharq (Star of the East) Museum in the singer's memory. Housed in a pavilion on the grounds of Cairo's Manesterly Palace, the collection includes a range of Umm Kulthum's personal possessions, including her trademark sunglasses and scarves, along with photographs, recordings, and other archival material.
Kulthum had a contralto vocal range. It is known that she had the ability to sing as low as the second octave, as well as the ability to sing as high as between the seventh and the eighth octaves at her vocal peak; yet she also could easily sing over a range surpassing two octaves near the end of her career.
Her remarkable ability to produce approximately 14,000 vibrations per second with her vocal cords, her unparalleled vocal strength (no commercial microphone utilized for singing could withstand its strength, forcing her to stand at a 1- to 3-meter radius away from one), and her voice surpassed convention arguably made her the one of the most incomparable voices of the Arab world.
Her ability and capability to sing every single Arabic scale made her one of only five women in the history of the Arab world to be able to do this, along with Asmahan, Fairouz, Sabah, and the late Thekra. In her final years, recordings show a slight coarsening of her voice and a loss of the silken golden thread of coloratura that, in her earlier years, in songs such as Bairam al-Tunsi's "Beredaak," she displayed with ease.
Related Links:
Umm Kulthum on Wikipedia