Nicki Minaj (Singer/Rapper/Performer)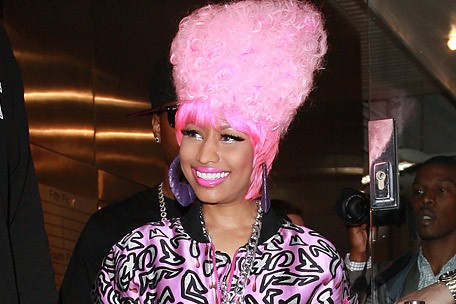 Onika Tanya Maraj (born December 8, 1982), better known by her stage name Nicki Minaj is a Trinidadian born American recording artist signed to Young Money Entertainment.
She was born in Saint James, Trinidad and Tobago, but moved to the Queens borough of New York City at age five. This October 2011 surprise visit on Ellen had 20 million views within one month (the Manaj's wannabes are almost as amazing...):
Minaj began her music career in 2007 after she released her first mixtape Playtime Is Over. The mixtape was followed by the mixtapes Sucka Free and Beam Me Up Scotty which were released in 2008 and 2009, respectively.
Minaj had her first label success after fellow American rapper, Lil Wayne discovered and secured a record deal with her with Young Money Entertainment with distribution from Universal Motown Records In August 2009.
Her 2010 debut album, Pink Friday, quickly became a commercial success, peaking at the top of the U.S. Billboard 200 and being certified Platinum by the Recording Industry Association of America (RIAA) a month after its release. She became the first artist ever to have seven singles on the Billboard Hot 100 at the same time.
Her second single, "Your Love", reached #1 on the Billboard Hot Rap Songs chart, making Minaj the first female artist to top the chart unaccompanied since Missy Elliott accomplished it with Work It in 2002. She also became the first female artist to be included on MTV's Annual Hottest MC List.
Maraj was born in 1982 in Saint James, (a suburb of Trinidad and Tobago's capital city Port of Spain). Her parents were of mixed Indian and Afro-Trinidadian ancestry and she lived in Saint James with her grandmother until age five, because her parents were looking for a place to live in the Queens borough of New York City at the time.
Her mother would occasionally visit, and one day, when Minaj was five, her mother picked her up to move to Queens. According to Minaj, her father drank heavily, took drugs, and once tried to kill her mother by setting the house on fire.
She attended Elizabeth Blackwell Middle School 210, where she played the clarinet. She graduated from LaGuardia High School. At LaGuardia, a school specializing in music and the visual and performing arts, Minaj participated in the drama program. She had initially planned to sing at LaGuardia, but lost her voice on the day of the audition.
Related Articles