Janis Joplin (Singer/Songwriter)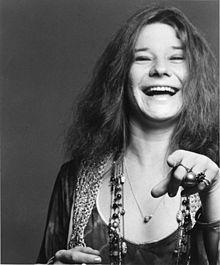 Janis Lyn Joplin (January 19, 1943 - October 4, 1970) was an American singer, songwriter and music arranger. She rose to prominence in the late 1960s as the lead singer of Big Brother and the Holding Company and later as a solo artist.
Rolling Stone magazine ranked Joplin number 46 on its list of the 100 Greatest Artists of All Time in 2004, and number 28 on its 2008 list of 100 Greatest Singers of All Time.
Here's a rare raw studio recording of her singing Me and Bobby McGee. It is stunning, truly:
Janis Joplin was born in Port Arthur, Texas, on January 19, 1943(1943-01-19), to Dorothy (née East) Joplin (1913–1998), a registrar at a business college, and her husband, Seth Joplin (1910–1987), an engineer at Texaco.
She had two younger siblings, Michael and Laura. The family attended the Church of Christ. The Joplins felt that Janis always needed more attention than their other children, with her mother stating, "She was unhappy and unsatisfied without [receiving a lot of attention]. The normal rapport wasn't adequate."
As a teenager, she befriended a group of outcasts, one of whom had albums by African-American blues artists Bessie Smith and Leadbelly, whom Joplin later credited with influencing her decision to become a singer. She began singing in the local choir and expanded her listening to blues singers such as Odetta and Big Mama Thornton.
Primarily a painter while still in school, she first began singing blues and folk music with friends. While at Thomas Jefferson High School, she stated that she was mostly shunned. Joplin was quoted as saying, "I was a misfit. I read, I painted, I didn't hate niggers."
As a teen, she became overweight and her skin broke out so badly she was left with deep scars which required dermabrasion. Other kids at high school would routinely taunt her and call her names like "pig," "freak" or "creep." Among her classmates was future Dallas Cowboys coach Jimmy Johnson.
Joplin graduated from high school in 1960 and attended Lamar State College of Technology in Beaumont, Texas, during the summer and later the University of Texas at Austin, though she did not complete her studies. The campus newspaper ran a profile of her in 1962 headlined "She Dares To Be Different."
Cultivating a rebellious manner, Joplin styled herself in part after her female blues heroines and, in part, after the Beat poets. Her very first song recorded on tape, at the home of a fellow student in December 1962, was "What Good Can Drinkin' Do". She left Texas for San Francisco in January of 1963, living in North Beach and later Haight-Ashbury.
In 1964, Joplin and future Jefferson Airplane guitarist Jorma Kaukonen recorded a number of blues standards, further accompanied by Margareta Kaukonen on typewriter (as percussion instrument). This session included seven tracks: "Typewriter Talk," "Trouble In Mind," "Kansas City Blues," "Hesitation Blues", "Nobody Knows You When You're Down and Out", "Daddy, Daddy, Daddy" and "Long Black Train Blues," and was later released as the bootleg album The Typewriter Tape.
Around this time her drug use increased, and she acquired a reputation as a "speed freak" and occasional heroin user. She also used other psychoactive drugs and was a heavy drinker throughout her career; her favorite beverage was Southern Comfort.
In the spring of 1965, Joplin's friends, noticing the physical effects of her amphetamine habit (she was described as "skeletal" and "emaciated"), persuaded her to return to Port Arthur, Texas. In May 1965, Joplin's friends threw her a bus-fare party so she could return home.
Back in Port Arthur, she changed her lifestyle. She avoided drugs and alcohol, began wearing relatively modest dresses, adopted a beehive hairdo, and enrolled as a sociology major at Lamar University in nearby Beaumont, Texas.
During her year at Lamar University, she commuted to Austin to perform solo, accompanying herself on guitar. One of her performances was reviewed in the Austin American-Statesman. Joplin became engaged to a man who visited her, wearing a blue serge suit, to ask her father for her hand in marriage, but the man terminated plans for the marriage soon afterwards.
Joplin's death in October, 1970 at the age of 27 stunned her fans and shocked the music world. Her death was coupled with the fact that another rock icon Jimi Hendrix had died earlier in September. Music historian Tom Moon wrote that Joplin had "a devastatingly original voice." Music columnist Jon Pareles of the New York Times wrote Joplin as an artist was "overpowering and deeply vulnerable." Author Megan Terry claimed the Joplin was the female version of Elvis Presley in the ability to captivate an audience.
Joplin's extraordinary success as a pioneer in a male-dominated rock industry of the late 1960s was unprecedented. Joplin, along with Grace Slick of the Jefferson Airplane, opened opportunities into the rock music business for future female singers. Stevie Nicks commented that after seeing Joplin perform, "I knew that a little bit of my destiny had changed. I would search to find that connection that I had seen between Janis and her audience. In a blink of an eye she changed my life."
Joplin's body decoration, with a wristlet and a small heart on her left breast, by the San Francisco tattoo artist Lyle Tuttle, is taken as a seminal moment in the tattoo revolution and was an early moment in the popular culture's acceptance of tattoos as art. Another trademark was her flamboyant hair styles, often including colored streaks and accessories such as scarves, beads and feathers.
Leonard Cohen's 1974 song "Chelsea Hotel #2" is about Joplin. Likewise, lyricist Robert Hunter has commented that Jerry Garcia's "Birdsong" from his first solo album, Garcia, is about Joplin and the end of her suffering through death. Mimi Fariña's song "In the Quiet Morning" is about Joplin's death.
The 1979 film The Rose was loosely based on Joplin's life. Originally titled Pearl, after Joplin's nickname, and the title of her last album, it was fictionalized after her family declined to allow the producers the rights to her story. Bette Midler earned a nomination for the Academy Award for Best Actress for her performance.
In 1988, the Janis Joplin Memorial, with an original bronze, multi-image sculpture of Joplin by Douglas Clark, was dedicated in Port Arthur, Texas.
Joplin was inducted into the Rock and Roll Hall of Fame in 1995, and was given a Grammy Lifetime Achievement Award in 2005. In November 2009, the Hall of Fame and museum honored her as part of its annual American Music Masters Series.
Among the artifacts at the Rock and Roll Hall of Fame Museum Exhibition are Joplin's scarf and necklaces, her 1965 Porsche 356 Cabriolet with psychedelically designed painting, and a sheet of LSD blotting paper designed by Robert Crumb, designer of the Cheap Thrills cover. She was the honoree at the Rock Hall's American Music Master concert and lecture series for 2009.
In the late 1990s, the musical play Love, Janis was created with input from Janis's younger sister Laura plus Big Brother guitarist Sam Andrew, with an aim to take it to Off Broadway. Opening in the summer of 2001 and scheduled for only a few weeks of performances, the show won acclaim and packed houses and was held over several times, the demanding role of the singing Janis attracting rock vocalists from relative unknowns to pop stars Laura Branigan and Beth Hart. A national tour followed.
At the 2009 Edinburgh Festival Fringe, Janis, a one-woman show by Nicola Haydn, which imagined the last hour of Joplin's life, gained its first substantial run. It was nominated for 'Best Solo Performance' in The Stage Awards for Acting Excellence. The production tour bus also used a recreation of Joplin's Porsche by Brighton graffiti artist Req — on a VW Polo for budgetary reasons.
There have been many attempts at making a film about Joplin. On June 13, 2010, producer Wyck Godfrey said Amy Adams starred in director Fernando Meirelles' biographical drama, titled Janis Joplin: Get It While You Can. Previous attempts have included Piece Of My Heart, which was to star Renée Zellweger or Brittany Murphy; The Gospel According To Janis, with director Penelope Spheeris and starring either Zooey Deschanel or P!nk; and an untitled film thought to be an adaptation of Laura Joplin's Off-Broadway play about her sister, with the show's star, Laura Theodore, attached.
Related Articles