Barbra Streisand (Singer/Actress)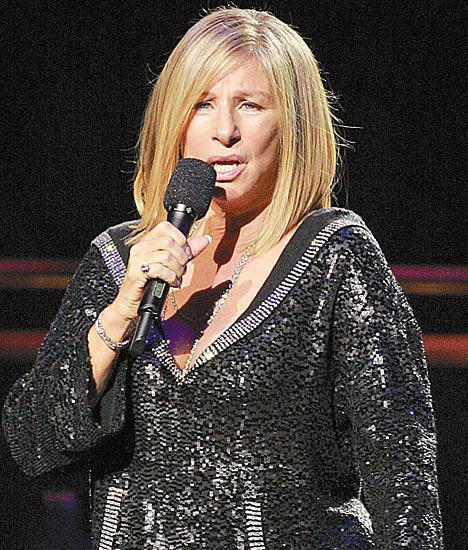 Barbra Streisand (born Barbara Joan Streisand, April 24, 1942) is an American singer, actress, director, and songwriter.
She has won two Academy Awards, eight Grammy Awards, four Emmy Awards, a Special Tony Award, an American Film Institute award, and a Peabody Award.
She is one of the most commercially and critically successful entertainers in modern entertainment history.
Streisand is the best-selling female artist on the Recording Industry Association of America's (RIAA) Top Selling Artists list, the only female recording artist in the top ten, and the only artist outside of the rock and roll genre. She has more than 71.5 million albums shipped in the United States and 140 million albums sold worldwide.
Here's one of the reasons why:

Along with Frank Sinatra, Cher, and Shirley Jones, she shares the distinction of being awarded an acting Oscar and also recording a number-one single on the U.S. Billboard Hot 100 chart.
According to the RIAA, Streisand holds the record for the most top ten albums of any female recording artist - a total of 31 since 1963. Streisand also has the widest span (46 years) between first and latest top ten albums of any female recording artist.
With her 2009 album, Love Is the Answer, she became the only artist to achieve number-one albums in five consecutive decades. According to the RIAA, she has released 51 Gold albums, 30 Platinum albums, and 13 Multi-Platinum albums in the United States.
No wonder:

Streisand was born to a Jewish family,the daughter of Emmanuel and Diana (née Rosen) Streisand, on April 24, 1942, in Brooklyn, New York. She was the second of three children. Fifteen months later, Emmanuel died of a cerebral hemorrhage and the family went into near-poverty. She attended Erasmus Hall High School in Brooklyn and joined the Freshman Chorus and Choral Club.
Streisand became a nightclub singer while in her teens. She wanted to be an actress and appeared in summer stock and in a number of Off-Off-Broadway productions, including Driftwood (1959), with the then-unknown Joan Rivers. (In her autobiography, Rivers wrote that she played a lesbian with a crush on Streisand's character, but this was later refuted by the play's author.) Driftwood ran for only six weeks.
When her boyfriend, Barry Dennen, helped her create a club act—first performed at The Lion, a popular gay nightclub in Manhattan's Greenwich Village in 1960—she achieved success as a singer. While singing at The Lion for several weeks, she changed her name to Barbra. One early appearance outside of New York City was at Enrico Banducci's hungry i nightclub in San Francisco. In 1961, Streisand appeared at the Town and Country nightclub in Winnipeg, Manitoba, Canada, but her appearance was cut short; the club owner did not appreciate her singing style.
Streisand's first television appearance was on The Tonight Show, then hosted by Jack Paar, in 1961, singing Harold Arlen's A Sleepin' Bee. Orson Bean, who substituted for Paar that night, had seen the singer perform at a gay bar and booked her for the telecast. (Her older brother Sheldon paid NBC for a kinescope film so she could use it in 1961 to promote herself. Decades later the film was preserved through digitizing and is available for viewing on a website.)
Streisand became a semi-regular on PM East/PM West, a talk/variety series hosted by Mike Wallace, in late 1961. Westinghouse Broadcasting, which aired PM East/PM West in a select few cities (Boston, New York, Baltimore, Washington, DC, Pittsburgh, Cleveland, Chicago and San Francisco), has since wiped all the videotapes because of the cost of videotape at the time. Audio segments from some episodes are part of the compilation CD Just for the Record, which went platinum in 1991. The singer said on 60 Minutes in 1991 that thirty years earlier Mike Wallace had been "mean" to her on PM East/PM West. He countered that she had been "self-absorbed." 60 Minutes included the audio of Streisand saying to him in 1961, "I like the fact that you are provoking. But don't provoke me."
In 1962, after several appearances on PM East/PM West, Streisand first appeared on Broadway, in the small but star-making role of Miss Marmelstein in the musical I Can Get It for You Wholesale. Her first album, The Barbra Streisand Album, won two Grammy Awards in 1963. Following her success in I Can Get It for You Wholesale, Streisand made several appearances on The Tonight Show in 1962. Topics covered in her interviews with host Johnny Carson included the empire-waisted dresses that she bought wholesale, to her "crazy" reputation at Erasmus Hall High School. It was at about this time that Streisand entered into a long and successful professional relationship with Lee Solters and Sheldon Roskin as her publicists with the firm Solters/Roskin (later Solters/Roskin/Friedman).
Streisand returned to Broadway in 1964 with an acclaimed performance as entertainer Fanny Brice in Funny Girl at the Winter Garden Theatre. The show introduced two of her signature songs, "People" and "Don't Rain on My Parade". Because of the play's overnight success she appeared on the cover of Time. In 1966, she repeated her success with Funny Girl in London's West End at the Prince of Wales Theatre. From 1965 to 1967 Barbra appeared in her first four Solo Television Specials.
Streisand has recorded 35 studio albums, almost all with the Columbia Records label. Her early works in the 1960s (her debut The Barbra Streisand Album, The Second Barbra Streisand Album, The Third Album, My Name Is Barbra, etc.) are considered classic renditions of theater and cabaret standards, including her slow version of the normally uptempo Happy Days Are Here Again. She performed this in a duet on The Judy Garland Show. Garland referred to her on the air as one of the last great belters. They also sang There's No Business Like Show Business with Ethel Merman joining them.
Beginning with My Name Is Barbra, her early albums were often medley-filled keepsakes of her television specials. Starting in 1969, she began attempting more contemporary material, but like many talented singers of the day, she found herself out of her element with rock. Her vocal talents prevailed, and she gained newfound success with the pop and ballad-oriented Richard Perry-produced album Stoney End in 1971. The title track, written by Laura Nyro, was a major hit for Streisand.
During the 1970s, she was also highly prominent on the pop charts, with Top 10 recordings such as The Way We Were (US No. 1), Evergreen (US No. 1), No More Tears (Enough Is Enough) (1979, with Donna Summer) Which as of 2010 is reportedly still the most commercially successful duet,(US No. 1), You Don't Bring Me Flowers (with Neil Diamond) (US No. 1) and The Main Event (US No. 3), some of which came from soundtrack recordings of her films.
As the 1970s ended, Streisand was named the most successful female singer in the U.S.—only Elvis Presley and The Beatles had sold more albums. In 1980, she released her best-selling effort to date, the Barry Gibb-produced Guilty. The album contained the hits Woman In Love (which spent several weeks atop the pop charts in the Fall of 1980), Guilty, and What Kind of Fool.
After years of largely ignoring Broadway and traditional pop music in favor of more contemporary material, Streisand returned to her musical-theater roots with 1985's The Broadway Album, which was unexpectedly successful, holding the coveted #1 Billboard position for three straight weeks, and being certified quadruple Platinum.
The album featured tunes by Rodgers & Hammerstein, George Gershwin, Jerome Kern, and Stephen Sondheim, who was persuaded to rework some of his songs especially for this recording. The Broadway Album was met with acclaim, including a nomination for Album of the Year and, ultimately, handed Streisand her eighth Grammy as Best Female Vocalist. After releasing the live album One Voice in 1986, Streisand was set to take another musical journey along the Great White Way in 1988.
She recorded several cuts for the album under the direction of Rupert Holmes, including On My Own (from Les Misérables), a medley of How Are Things in Glocca Morra? and Heather on the Hill (from Finian's Rainbow and Brigadoon, respectively), All I Ask of You (from Phantom of the Opera), Warm All Over (from The Most Happy Fella) and an unusual solo version of Make Our Garden Grow (from Candide). Streisand was not happy with the direction of the project and it was ultimately scrapped. Only Warm All Over and a reworked, Lite FM-friendly version of All I Ask of You were ever released—the latter appearing on Streisand's 1988 effort, Till I Loved You.
At the beginning of the 1990s, Streisand started focusing on her directorial efforts and became almost inactive in the recording studio. In 1991, a four-disc box set, Just for the Record, was released. A compilation spanning Streisand's entire career to date, it featured over 70 tracks of live performances, greatest hits, rarities and previously unreleased material.
The following year, Streisand's concert fundraising events helped propel former President Bill Clinton into the spotlight and into office. Streisand later introduced Clinton at his inauguration in 1993. Streisand's music career, however, was largely on hold. A 1992 appearance at an APLA benefit as well as the aforementioned inaugural performance hinted that Streisand was becoming more receptive to the idea of live performances.
A tour was suggested, though Streisand would not immediately commit to it, citing her well-known stage fright as well as security concerns. During this time, Streisand finally returned to the recording studio and released Back to Broadway in June 1993. The album was not as universally lauded as its predecessor, but it did debut at #1 on the pop charts (a rare feat for an artist of Streisand's age, especially given that it relegated Janet Jackson's Janet to the #2 spot). One of the album's highlights was a medley of I Have A Love / One Hand, One Heart a duet with the legendary Johnny Mathis, who Streisand said is one of her favorite singers.
In 1993, New York Times music critic Stephen Holden wrote that Streisand "enjoys a cultural status that only one other American entertainer, Frank Sinatra, has achieved in the last half century."
In September 1993, Streisand announced her first public concert appearances in 27 years. What began as a two-night New Year's event at the MGM Grand Hotel in Las Vegas eventually led to a multi-city tour in the summer of 1994. Tickets to the tour were sold out in under one hour. Streisand also appeared on the covers of major magazines in anticipation of what Time magazine named "The Music Event of the Century".
The tour was one of the biggest all-media merchandise parlays in history. Ticket prices ranged from US$50 to US$1,500 – making Streisand the highest paid concert performer in history. Barbra Streisand: The Concert went on to be the top grossing concert of the year, earned five Emmy Awards and the Peabody Award, and the taped broadcast on HBO is, to date, the highest rated concert special in HBO's 30 year history.
Following the tour's conclusion, Streisand once again kept a low profile musically, instead focusing her efforts on her acting and directing duties as well as her burgeoning romance with actor James Brolin. In 1997, Streisand finally returned to the recording studio, releasing Higher Ground, a collection of songs of a loosely-inspirational nature which also featured a duet with Celine Dion. The album received generally favorable reviews and, remarkably, once again debuted at #1 on the pop charts.
Following her marriage to Brolin in 1998, Streisand recorded an album of love songs entitled A Love Like Ours the following year. Reviews were mixed, with many critics carping about the somewhat syrupy sentiments and overly-lush arrangements; however, it did produce a modest hit for Streisand in the country-tinged If You Ever Leave Me, a duet with Vince Gill.
On New Year's Eve 1999, Streisand returned to the concert stage, giving the highest grossing single concert in Las Vegas history to date.[citation needed] At the end of the millennium, she was the number one female singer in the U.S., with at least two #1 albums in each decade since she began performing. A 2-disc live album of the concert entitled Timeless: Live in Concert was released in 2000. Streisand performed versions of the "Timeless" concert in Sydney and Melbourne, Australia in early 2000.
In advance of four concerts (two each in Los Angeles and New York) in September 2000, Streisand announced she was retiring from future paying public concerts. Her performance of the song People was broadcast on the Internet via America Online.
Streisand's most recent albums have been Christmas Memories (2001), a somewhat somber collection of holiday songs (which felt entirely—albeit unintentionally—appropriate in the early post-9/11 days), and The Movie Album (2003), featuring famous movie themes and backed by a large symphony orchestra. Guilty Pleasures (called Guilty Too in the UK), a collaboration with Barry Gibb and a sequel to their previous Guilty, was released worldwide in 2005.
Her first film was a reprise of her Broadway hit, Funny Girl (1968), an artistic and commercial success directed by Hollywood veteran William Wyler, for which she won the 1968 Academy Award for Best Actress, sharing it with Katharine Hepburn (The Lion in Winter), the first (and only) time there was a tie in this Oscar category. Her next two movies were also based on musicals, Jerry Herman's Hello, Dolly! directed by Gene Kelly (1969) and Alan Jay Lerner's and Burton Lane's On a Clear Day You Can See Forever directed by Vincente Minnelli (1970), while her fourth film was based on the Broadway play The Owl and the Pussycat (1970).
During the 1970s, Streisand starred in several screwball comedies, including What's Up, Doc? (1972) and The Main Event (1979), both co-starring Ryan O'Neal, and For Pete's Sake (1974) with Michael Sarrazin. One of her most famous roles during this period was in the drama The Way We Were (1973) with Robert Redford, for which she received an Academy Award nomination as Best Actress. She earned her second Academy Award for Best Original Song as composer (together with lyricist Paul Williams) for the song "Evergreen", from A Star Is Born in 1976; this was the first time a woman had received this award.
Along with Paul Newman, Sidney Poitier and later Steve McQueen, Streisand formed First Artists Production Company in 1969, so the actors could secure properties and develop movie projects for themselves. Streisand's initial outing with First Artists was Up the Sandbox (1972).
From a period beginning in 1969 and ending in 1980, Streisand appeared in the annual motion picture exhibitors poll of Top 10 Box Office attractions a total of 10 times, often as the only woman on the list. After the commercially disappointing All Night Long in 1981, Streisand's film output decreased considerably. She has only acted in five films since.
Streisand produced a number of her own films, setting up Barwood Films in 1972. For Yentl (1983), she was producer, director, and star, an experience she repeated for The Prince of Tides (1991) and The Mirror Has Two Faces (1996). There was controversy when Yentl received five Academy Award nominations, but none for the major categories of Best Picture, Actress, or Director.
Prince of Tides received even more Oscar nominations, including Best Picture, but the director was not nominated. Streisand is also the writer of Yentl, something she is not always given credit for. According to New York Times Editorial Page Editor Andrew Rosenthal in an interview (story begins at minute 16) with Allan Wolper, "the one thing that makes Barbra Streisand crazy is when nobody gives her the credit for having written Yentl."
In 2004, Streisand made a return to film acting, after an eight-year hiatus, in the comedy Meet the Fockers (a sequel to Meet the Parents), playing opposite Dustin Hoffman, Ben Stiller, Blythe Danner and Robert De Niro.
In 2005 Streisand's Barwood Films, Gary Smith Co. and Sonny Murray purchased the rights to Simon Mawer's book Mendel's Dwarf. As of December 2008, Streisand stated she is considering directing an adaptation of Larry Kramer's play The Normal Heart — a project Ms. Streisand has worked on since the mid-1990s Streisand has been seen shooting scenes for sequel to 2004's Meet the Fockers.
Andrew Lloyd Webber stated that Streisand is one of several actresses interested in playing the role of Norma Desmond in the film adaptation of Webber's musical version of Sunset Boulevard (Meryl Streep and Glenn Close were also interested), although Paramount Pictures has delayed the film.
Rob Marshall considered Streisand for the role of Lilli La Fluer in the movie musical Nine, a role that went to Judi Dench.
Related Articles