Pink (Singer/Songwriter/Dancer/Actress)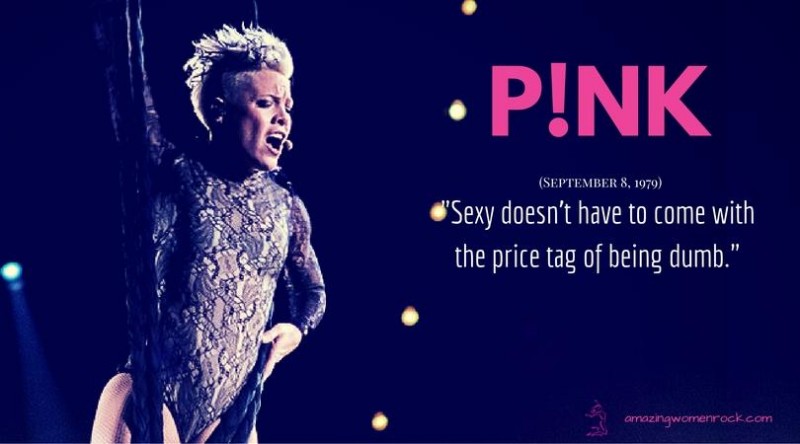 Alecia Beth Moore (born September 8, 1979), better known by her stage name Pink (stylized as P!nk), is an American contralto singer-songwriter, musician, acrobat, dancer and actress, who rose to fame in early 2000.
"Once you figure out what respect tastes like, it tastes better than attention. But you have to get there."
She released her first single "There You Go", on her first album, the R&B-oriented Can't Take Me Home, in 2000 via LaFace Records, which garnered commercial success.
Her more pop rock-oriented second studio album, Missundaztood, which began a marked shift in the sound of her music, was released in 2001 and was a huge success worldwide.
Pink released her third album, Try This, in November 2003, which although less successful commercially than her previous release, still managed to sell around 3 million copies and earned her a Grammy for Best Female Rock Vocal Performance for the single Trouble.
Her fourth album, called "I'm Not Dead", was released in April 2006. The album generated several hit singles, including "Stupid Girls", "U + Ur Hand" and "Who Knew". Both "U + Ur Hand" and "Who Knew" went to #1 on the pop chart.
Her fifth album, Funhouse, was released in late October 2008 and was preceded by her first solo number one on the Hot 100, "So What". The album notched three other Top 20 hits: "Sober", "Please Don't Leave Me" and "Glitter in the Air". On November 15, 2010, she released her first compilation, Greatest Hits... So Far!!!.
According to Billboard, Pink was rated #13 on the list of Artists Of The Decade and #1 Pop Song Artist of the Decade (2000–2009). She has also scored ten Billboard Hot 100 Top 10 US hits, including eight as a solo artist, and won two Grammy Awards, 5 MTV Music Awards and 2 Brit Awards. The People's Chart, announced through BBC Radio 1, declared Pink as the 11th Most Played Artist on UK Radio of the decade 2000 to 2009. Pink has sold over 34 million albums worldwide. Forbes Magazine in 2010 named Pink the 27th most powerful celebrity, with $44 million earned between June 2009 and June 2010.
P!nk was born September 8, 1979 in Doylestown, Pennsylvania, the daughter of Judith Moore (née Kugel), a nurse, and James Moore, Jr., a Vietnam veteran. Her father is Catholic and her mother is Jewish, and her ancestors immigrated from Ireland, Germany, and Lithuania. Pink grew up in Doylestown, where she attended Kutz Elementary School, Lenape Middle School, and Central Bucks West High School. Her father played guitar and sang songs for her, and from an early age she aspired to be a rock star. Pink has a brother, Jason Moore (born 1977).
In high school, Moore joined her first band, Middleground, the band folded upon losing a battle of the bands competition. P!nk developed her voice early in life. Although a healthy baby at birth, she quickly developed asthma that plagued her through her early years. When she was a teenager, she wrote lyrics as an outlet for her feelings, and her mother commented, "Her initial writings were always very introspective. Some of it was very black, and very deep, almost worrisome." She began performing in Philadelphia clubs when she was 14 years old, and went through phases as a skateboarder, hip-hopper and gymnast. At 16, together with two other teenage girls, she formed the R&B group Choice. They landed a deal with L.A. Reid and worked with various producers for two years, never releasing a record, before Reid persuaded Moore to go solo. Her stage name "Pink" was coined as a tribute to the character Mr. Pink from the film Reservoir Dogs.
In early September 2010 MTV Brazil stated that P!nk will be releasing a greatest hits album by the end of 2010. A few days later it was reported by director Colione, who earlier worked with P!nk on her outselling Funhouse Carnival Tour advert, that he was shooting a new video with P!nk. On 15 September, P!nk was seen on a photoshoot in LA and according to the photographer it is for her greatest hits album. Later that month a SONY representative confirmed that P!nk will be releasing a greatest hits album in November 2010 and is expected to release a new studio album in early 2011. This has been confirmed on P!nk's official site and the title given as "Greatest Hits... So Far!!!".
The album will contain 18 tracks spanning her entire career including the new single "Raise Your Glass" plus one other new song. The video for "Raise Your Glass" was directed by Dave Meyers in early October. According to hmv.com, a UK music retailer, Greatest Hits... So Far! is available for pre-order. It states the release date as November 16, 2010. There is a standard edition as well as a CD/DVD deluxe edition. The DVD will include many of her hits as well as some live video. On September 28, 2010, P!nk wrote on her twitter, "the studio has been amazing!!! i'm really happy with the new songs. f*ckin FUN!!!! new video shooting next week. better stop eating cupcakes", possibly referring to a new album.
The first single from her Greatest Hits is titled "Raise Your Glass", and is due to be released to radio the week beginning the 4th of October. 'Raise Your Glass' was released 6pm EST on P!nks website, www.pinkspage.com, along with the single cover, and album cover. On October 7, due to high demand, "Raise Your Glass" was released for digital download in the US. On November 2, P!nk released the video for "Raise Your Glass" via her official website: PinksPage.com. On November 3, P!nk released single "F**kin' Perfect" also through her website which is due to be released with her upcoming Greatest Hits... So Far!!! album.
Pink met professional motocross racer Carey Hart at the 2001 X Games in Philadelphia. Hart had previously been screened in Pink's early music video clip "Just Like a Pill". In 2005, Pink proposed to Hart during a Mammoth Lakes, California motocross race by holding up a "Will you marry me?" sign on his pit board. On the other side was written "I'm Serious!". They married in Costa Rica on January 7, 2006.
After months of speculation, Pink announced on February 19, 2008, that she and Hart had separated. The video for her 2008 hit "So What", in which Hart appears, deals with her separation and pending divorce. During their separation, in August 2008, Pink was supportive of her estranged husband when Hart's brother died due to injuries sustained in a motocross competition.[54][55] In March 2009, Hart said he and Pink were "dating".
He also said the couple was attempting to work things out, stating, "Sometimes you have to take a couple of steps back to move forward". In April 2009, Pink said the couple had gone to marriage counseling and were never divorced. On February 5, 2010, Pink confirmed she and her husband were back together. She said the separation taught her not to try to change him and that she also had to work on herself in order to save her marriage. In late 2010, it was rumored Pink and her husband Carey Hart are expecting their first.
Contrary to popular belief Pink is not a vegetarian. She eats fish (including stating that she "loves" sushi in an interview with Chris Moyles) and calls herself a pescetarian.
Pink is a prominent campaigner for PETA, contributing her voice toward causes such as protesting against KFC. She sent a letter to Prince William criticizing him for fox hunting, and one to Queen Elizabeth II protesting the use of real fur in the bearskins of the Foot Guards and the Honourable Artillery Company. In conjunction with PETA, she criticized the Australian wool industry over its use of mulesing. In January 2007, she stated that she had been misled by PETA about mulesing and that she had not done enough research before lending her name to the campaign. Her campaigning led to a headlining concert in Cardiff, Wales, UK, on August 21, 2007 called PAW (Party for Animals Worldwide).
Pink is involved with many charities including "Phoenix vert", Human Rights Campaign, ONE Campaign, Prince's Trust, New York Restoration Project, Run for the Cure Foundation, Save the Children, Take Back the Night, UNICEF and World Society for the Protection of Animals. As of May 2008 Pink has been officially recognized as an advocate for the RSPCA in Australia. On February 16, 2009, Pink announced she was donating $250,000 to the Red Cross Bushfire Appeal to aid the victims of the bushfires that swept through the Australian state of Victoria earlier that month (a total of 173 people died in the fires, with around 500 injured, and 4000 homes lost).[63] Pink stated that she wanted to make "a tangible expression of support".
Related Links:
I Don't Want To Be A Stupid Girl
Pink on Wikipedia
Pink's Page