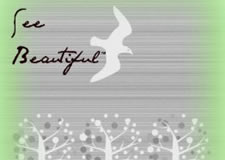 Guest blog post by Lydia Criss Mays, creator of See Beautiful.
In response to a survey question, "What sorts of things do you collect?," one beautiful woman wrote, "I collect dust."
She was referring to the busyness of life impeding her ability to keep up with dusting that top shelf in her living room. We get it. Life is busy. Life is also beautiful.
Is it possible that a thin layer of dust every now and then might be reminding us that we have better things to do with our lives than dust?