46 Pearls of Everyday Feminine Wisdom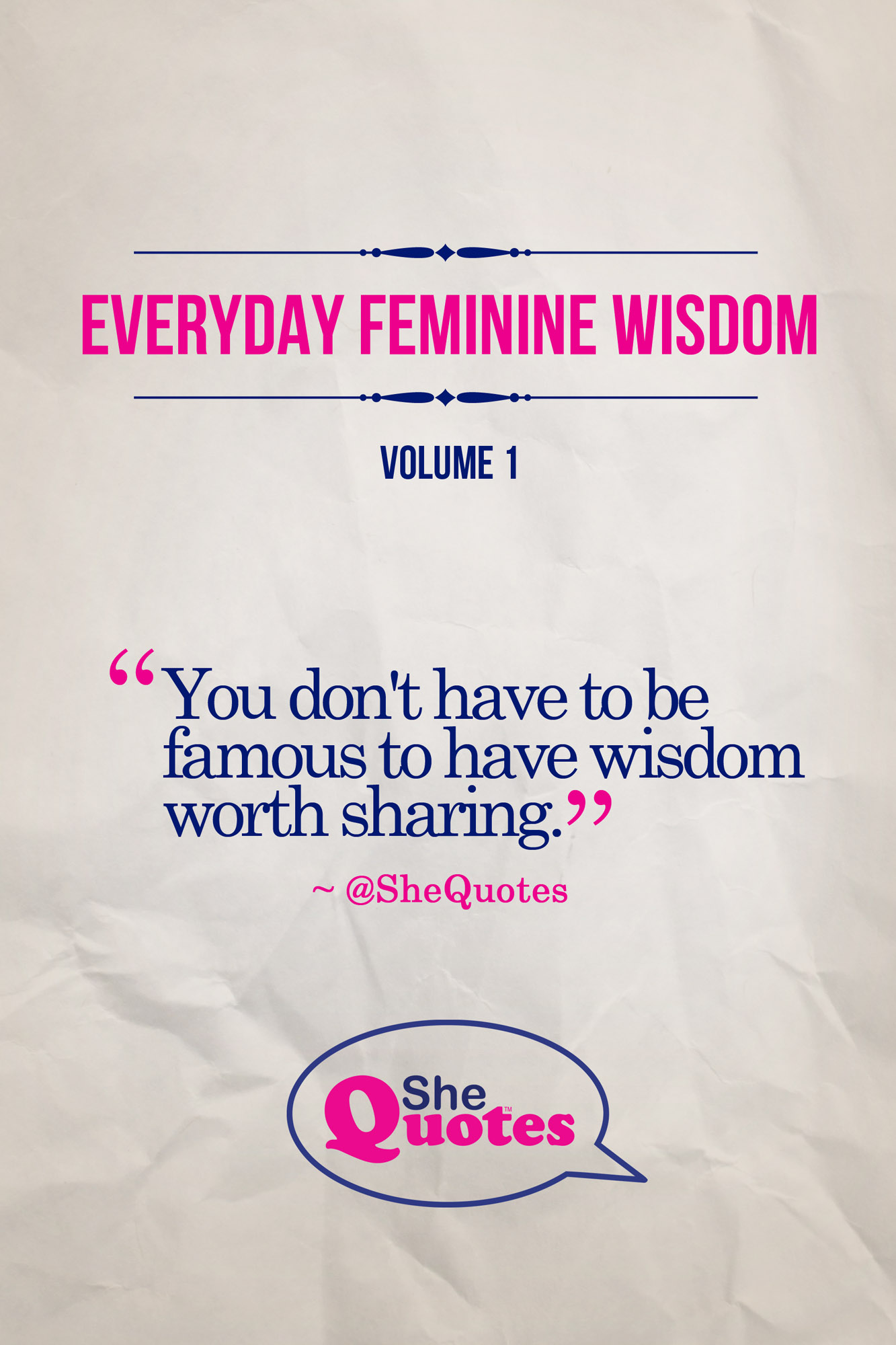 SheQuotes quotes women exclusively on Twitter and Facebook. This week's favourite quotes are listed below.
Get the best of SheQuotes 2011 <== Everyday Feminine Wisdom Vol 1.
If you use these quotes, please attribute them to the women who said them.
Submit your own feminine wisdom here.
"Never doubt a woman's strength, weakness is a foreign language to us." ~ @Subtrakation08
"If you realized how powerful your thoughts are, you would never think a negative thought." ~ @DreamMe_Forever
"Life is too short to care what people think of you. Always stay true to u & you'll be just fine!" ~ @Berealwthit
"Life's challenges r not supposed 2 paralyze u; they're supposed 2 help u discover who u are." ~ Bernice J. Reagon
"You wanna fly, you got to give up the shit that weighs you down." ~ Toni Morrison
"Sometimes the one who's been there for everyone else needs someone to be there for her." ~ @GIWIM
"There is only one person responsible for your happiness and she is reading this rule right now." ~ @chloelimm
"Great minds discuss ideas; average minds discuss events; small minds discuss people." ~ Eleanor Roosevelt
"Never believe that a few caring people can't change the world. For, indeed, that's all who ever have." ~ Margaret Mead
"A friend will never put u down, but in love tell u what u need to hear." ~ @amberbaker143
"Accept what you can't change, change what you can't accept." ~ @ash4hol
"When you know who you are, you don't take what others say about you as truth." ~ @DeeCMarshall
"Be perfectly imperfect and keep evolving..." ~ @unusual_spunk
"You can't change the music of your soul." ~ Katharine Hepburn / @bernieisagirl
"Grant me serenity 2 accept the people I cannot change, courage 2 change the one I can, & wisdom to know it's me." @kickofftopic
"Don't forget to listen. Nothing u say can make a child feel more important than when he truly feels heard." ~ @DrRobyn
"I have the potential to be brilliant but i'll probably get bored on the way." ~ @VivienLafferty
"Life is about forward motion not backwards thinking." ~ @StalactiteJones
"Smile. Let others see the radiance within your soul." ~ @Ashika_Ramatar
"Sometimes courage is the quiet voice at the end of the day saying, 'I will try again tomorrow.'" - Mary Anne Radmache
"Reality is the leading cause of stress among those in touch with it." ~ Lily Tomlin
"A successful woman is one who can build a firm foundation w bricks others have thrown at her." ~ @AAPremlall
"Real integrity is doing the right thing, knowing that nobody will know that you did." ~ @Oprah / @cakey
"There can be no spring unless there is first a winter. Spring is the promise of fruit to come." ~ @RobynMCinc
"Men will always sell u dreams! Real men make ur dreams come true!" ~ @SagPhoenix
"Feelings are like waves. We can't stop them from coming, but we can choose which ones to surf." ~ @LettuceBHealthy
"The little things in life can be our biggest treasures. Don't overlook these moments." ~ @URHealthURChoic
"Women are meant to be loved, not understood." ~ @DidaNadira
"Never assume that you deserve something. Earn it instead." ~ @MadeWomanMag
"Men cause women's mental breakdowns & then blame it on hormones." ~ @spiceclay
"Perhaps the greatest freedom is to be free of the opinion of others." ~ @AnieBelton
"I don't want to 'fit in.' I want to stand out. I want the world to know I was here. That I made a difference." ~ @MsLulu70
"Give yourself a break. Be your own best friend." ~ @jocameron
"If u want to have what u've never had, u gotta start doing what u never did." ~ @ImanBenChaibah / @RawanAlbina
"The best way to show u are thankful that u have dreams, is to live them." ~ @21CGRuby
"Never argue with an idiot!" ~ @VM_DesigNut
"Don't ever think I fell for you, or fell over you. I didn't fall in love, I rose in it." ~ Toni Morrison
"I'm busy learning from life. That is, making mistakes." ~ @viggia
"Talk less. Do more." ~ @ClaraNovK
"Change is inevitable. If nothing ever changed, there'd be no butterflies." ~ @kickofftopic
"Don't raise your voice. Improve your argument." ~ @ponchuply
"Life is an orgasm. Don't fake it, make it." ~ @WhatLifeIsNow
"Money, if it does not bring you happiness, will at least help you be miserable in comfort." ~ Helen Gurley Brown
"Don't ever change urself for someone, if they don't appreciate the way u are, find someone who will. Unknown
"You find out who your real friends are when you're involved in a scandal." ~ Elizabeth Taylor
"We must walk with the right people because the wrong people drag us down." ~ @therr_
Related Articles