50 #TEDxWomen Quotable #Quotes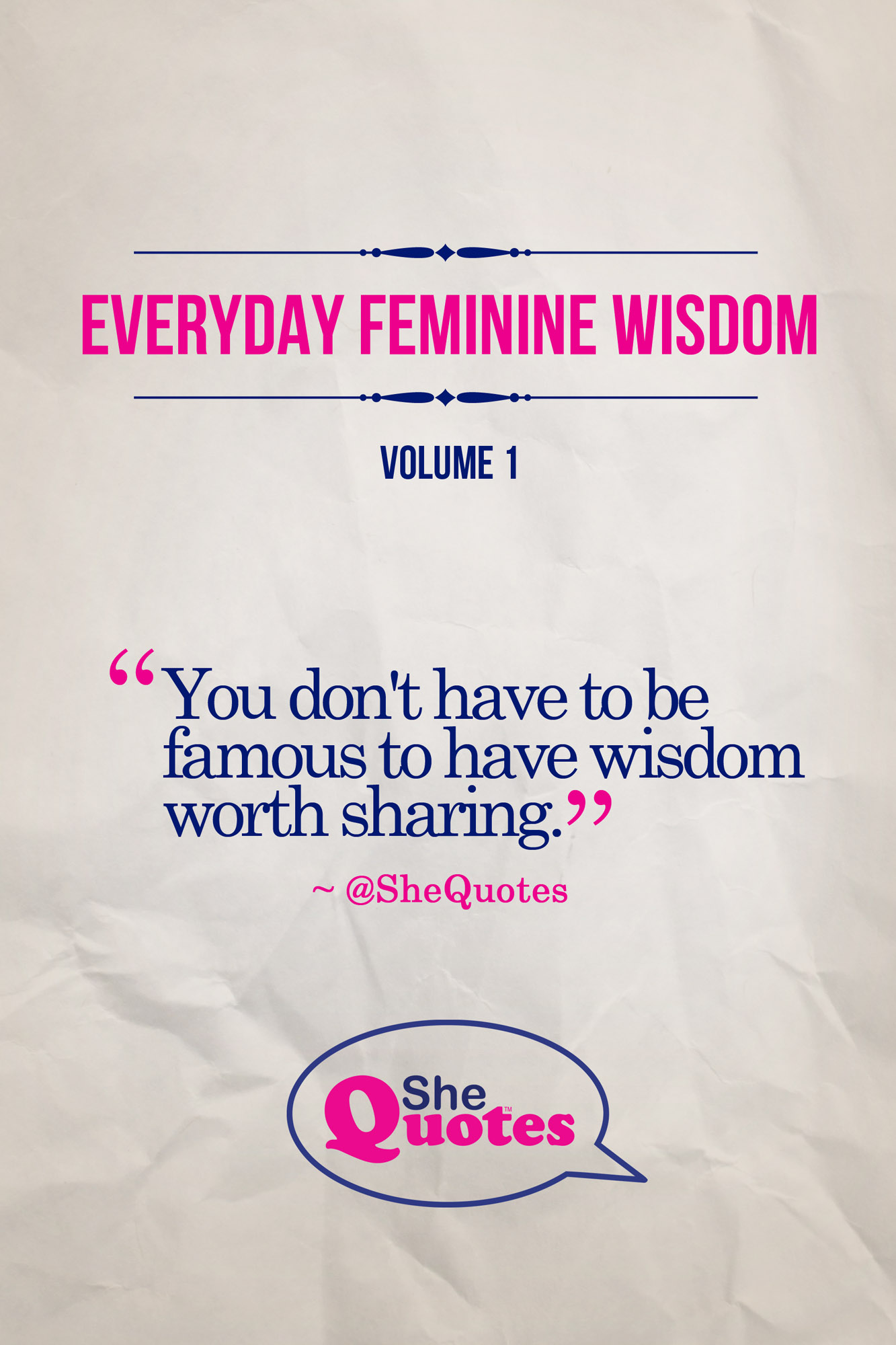 SheQuotes quotes women exclusively on Twitter and Facebook. Fifty quotable quotes from TEDxWomen 2011 are listed below. If you use these quotes, please attribute them to the women who said them.
Get the best of SheQuotes 2011 <== Everyday Feminine Wisdom Vol 1. Submit your own feminine wisdom here.
"It's life-changing to know there is a second chance out there." ~ @HomegirlCafe
"If you don't want it for yourself no one will want it for you." ~ @HomegirlCafe
"The solution to being stuck is being still." ~ @SuzanneBLevine
"Sooner or later every woman says 'I don't care what people think.' I call that the Fuck You 50s." ~ @suzanneblevine
"I am most certainly in my Fuck You 40s. Not waiting another 6 years." ~ @monaeltahawy

"We're doing this because while you may see a girl, we see a FUTURE." ~ @GirlUp
"Take a moment to think about how valuable YOUR freedom is, and how you can use it to help someone living without." ~ Shamila Kohestani
"Imagine living in a country where 90% of women face violence, and 75% are married before age 16?" ~ Shamila Kohestani
"The hardest thing was playing in the stadium where women used to be executed for disobeying their husbands." ~ Shamila Kohestani
"Soccer gave me confidence for a situation that demanded I be strong in spirit: being a woman in Afghanistan." ~ Shamila Kohestani
"We can't have peace & democrcy in world w/out having women involved." ~ Shamila Kohestani
"I found courage and hope in soccer and used it as a weapon to achieve my dreams." ~ Shamila Kohestani
"If you hang on too long opportunities are gone." ~ @nancybrook #tedxcpark
"Within 3 weeks of burning the old love's letters – a new love showed up – make space." ~ @nancybrook #tedxcpark
"When the universe calls you to make a change, pay attention!" ~ @nancybrook #tedxcpark
"I found love in the streets." ~ @Homegirlcafe
"The energy is there, momentum has started. We need to build on what is started. Women in Egypt are no longer taking back seat." ~ @Shahira_Amin
Women are the future of the new #Egypt. They will lead and the men will follow. ~ @Shahira_Amin
"We see in #Egypt what people power is capable of." ~ @Shahira_Amin / @johncary
"Now that I'm smack-dab in the middle of my third act, I realize: I've never been happier." ~ @JaneFonda
Perfection: "It´s not having experiences which makes us wise, it´s reflecting on those experiences." ~ @JaneFonda
"My generation thought that life was over at 30.Your generation feels they have to be successful by 30. Neither is true." ~ @GloriaSteinem
"I was in a taxi the other day and I didn't have my iPhone so I tried thinking instead..." ~ @GloriaSteinem
"Men need to raise kids--makes 'em whole people rather than falling for the cult of masculinity." ~ @GloriaSteinem
"We put movements in silos. In fact they are a world view which is all connected." ~@GloriaSteinem
"We individualize way too much in this culture. It is a movement. It is huge." ~ @GloriaSteinem
"The most important things are ones we can uniquely do as our authentic selves." ~ @GloriaSteinem
"Totally shocked to find I'm a 77 year old person. And I'm happy...I don't want anything I don't have." ~ @GloriaSteinem
"My funeral will be a fundraiser." ~ @GloriaSteinem
"Sometimes aging itself feels like an athletic feat." ~ @JaneFonda
"If there is one person that characterizes the fight for equality in the United States, it's @GloriaSteinem." ~ @JaneFonda
"It's not having experiences that makes us wise, it's reflecting on those experiences that make us wise." ~ @JaneFonda
"There have been many revolutions over the last century but perhaps none as big as the longevity revolution." ~ @Janefonda
"In order to know where you are going, you have to know where you have been!" ~ @Janefonda
"Perhaps the purpose of the third act is to look back and change our relationship with the past." ~ @JaneFonda
"What is the appropriate new metaphor for aging? I think it's a staircase, bringing us into wisdom." ~ @JaneFonda
"The heart doesn't just pump, it listens." Barbra Streisand
"3% of media decisions are made by women, leaving 97% made by men...And media creates culture." ~ @JenSiebelNewsom
"There is too much at stake to not consume responsibly. We, all of us, are in the driver's seat." ~ @JenSiebelNewsom
"Media is the other parent in the room; the most powerful cultural messenger of all." ~ @JenSiebelNewsom
"We raise our daughters to manipulate their bodies and sons to master their environments." ~ https://twitter.com">@JenSiebelNewsom
"Innocent acts and non-acts send messages to our sons and daughters about who they can and cannot be." ~ https://twitter.com/#!/JenSi">@JenSiebelNewsom
"If you have not hung out with a 6 year old girl lately, I highly recommend it. They're fierce." ~ @RachelJSimmon
"If we want girls to be resilient, we've got to give them the skills to navigate relationships." ~ @RachelJSimmons
"My mom gave me the script to ask for what I need. Moral of the story: Embarrass your daughters." ~ @RachelJSimmons
"We are not worried about our future; we know we can do anything after doing this." ~ Lamis Zein, on bomb-clearer work
"My team is effectively working ourselves out of the job. We are happy to know that our children will play freely." ~ Lamis Zein
"For far too long, women have underestimated ourselves and been undervalued by others." ~ @GayleLemmon
"We must move beyond microhopes for women." ~ @GayleLemmon
"Women can no longer be half the population and a special interest group." ~ @GayleLemmon
Thanks to all in the #TEDxWomen stream, especially @JohnCary

Related Articles