20 Pearls of Everyday Feminine Wisdom (17)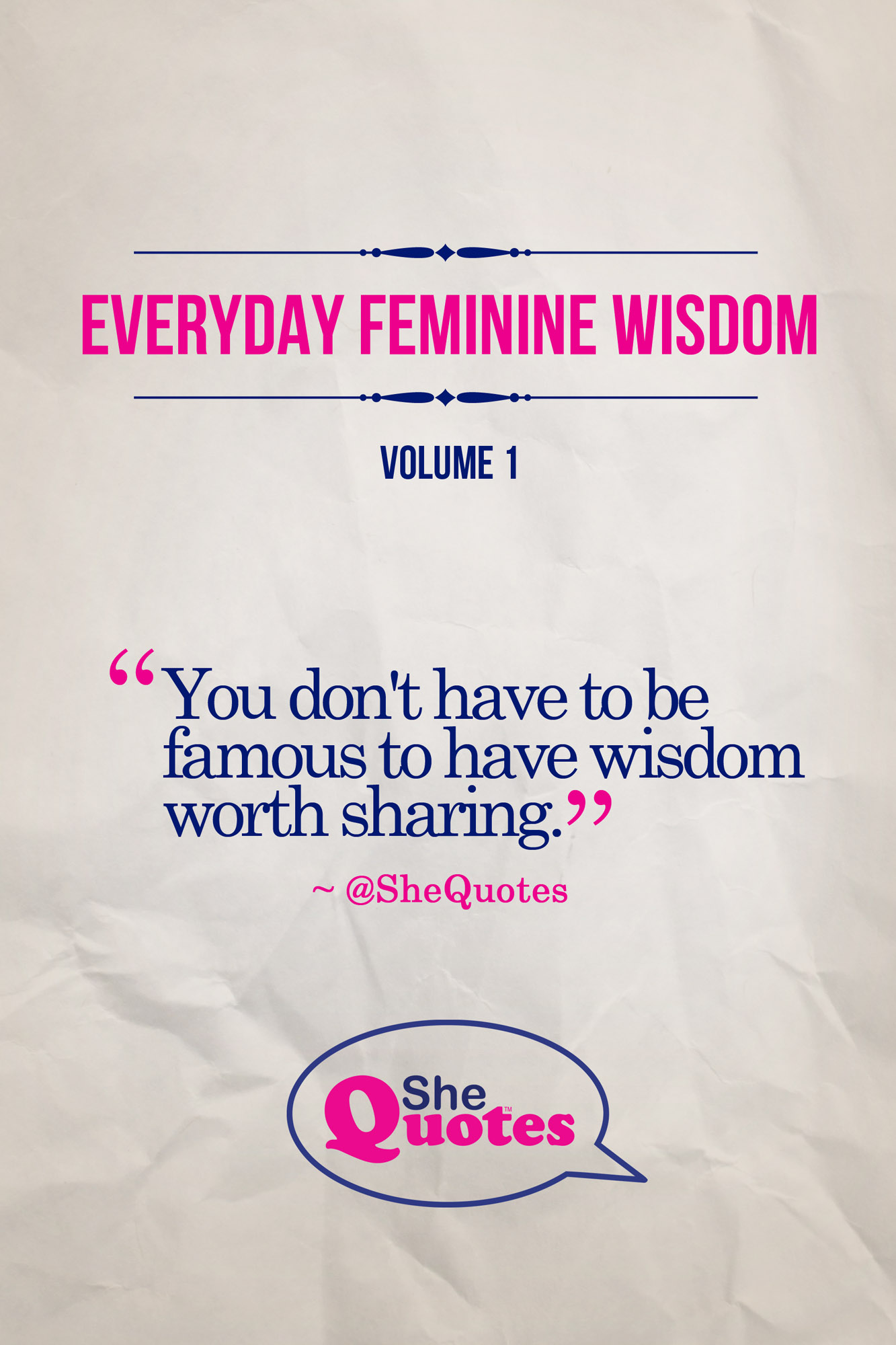 SheQuotes quotes women exclusively on Twitter and Facebook. This week's favourite quotes are listed below. If you use these quotes, please attribute them to the women who said them.
Get the best of SheQuotes 2011 <== Everyday Feminine Wisdom Vol 1. Submit your own feminine wisdom here.
"If we love too much, we loose ourselves. If we love too little, we never find ourselves." ~ @JanetNestor
"Don't be afraid of change. You may loose something good, but you may gain something better." ~ @Quote_to_Quote
"Women aren't a special interest group. We're half the human race." ~ @AmazingSusan
"I'm proud of my heart. It's been played, stabbed, cheated, burned and broken, but somehow still works." ~ @PKurjama
"Sometimes courage is the quiet voice saying,'I'll try again tomorrow'." ~ Unknown/ @annaaa_k
"You're not a pretty girl if you have an empty mind.." ~ @_haifa
"Happiness doesn't mean everything is perfect, it means you've decided to see beyond the imperfections." ~ @juliestump
"Women have the power to control the world with their votes & purchasing power." ~ @ShaistaGohir
"Practicing gratitude is easy when life is good. It's even more powerful when life is hard." ~ @juliejeske
"If you judge people, you have no time to love them." ~ Mother Teresa of Calcutta / @laurirose
"A man who treats a woman like a queen was probably raised by one." ~ Unknown / @xmasri
"Women r like d police.They can hv all the evidence in the world, but they still want the confession." ~ @Quote_to_Quote
"Don't forget the value of your story. It can change lives." ~ @tabbybiddle
"Distance should never affect friendship." ~ @GeordieArmani
"Women's issues are not women's issues, they are human issues." ~ @AmazingSusan
"A woman has got to love a bad man once or twice in her life to be thankful for a good one." ~ @ash4hol
"One woman can change anything, many women can change everything." ~ Christine Karumba, @womenforwomenUK / @Congo_Now
"Humility is a state of acceptance that everything is perfect just the way it is." ~ @authenticpower
"Powerful women need powerful men with whom to create a better world." ~ @AmazingWomen
"You don't have to be anti-men to be pro-women." ~ @AmazingWomen
Related Articles