22 Amazing Women Make Mainstage History at TED 2014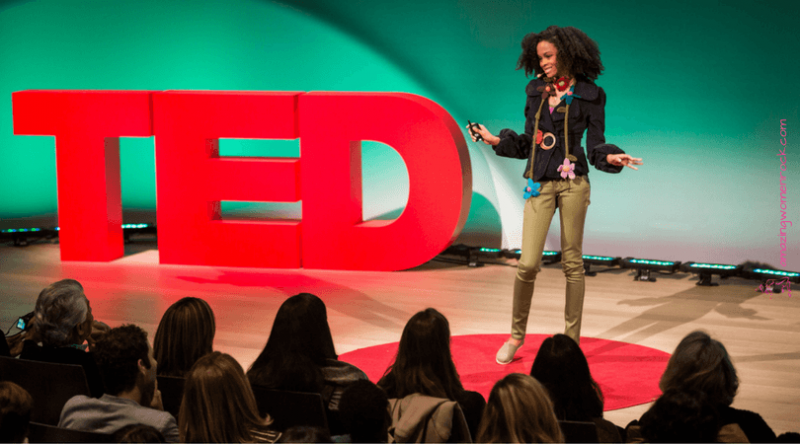 One third of the speakers on the TED 2014 main stage will be women. An additional 16 will participate in the "All Star" sessions, which again represents about one third of the sessions' speakers.
I believe stages everywhere (including those at TED and TEDx conferences) should reflect the ratio of women to men in the world's population (i.e. about 50:50).
I will continue to advocate for gender parity. One day it will be achieved.
In the meantime, I salute all TED and TEDx speakers and celebrate in particular the women who make their voices on TED stages worldwide and thus also make history.
These amazing TED 2014 women speakers are listed in alphabetical order by first name because that's the quirky way I've always done it. Enjoy!
1) Amanda Burden
 (Urban planner)
Amanda Burden
 was New York's chief city planner during the Bloomberg administration.
She led the revitalization of some of the city's most familiar features.
2) Charmian Gooch 
(Anti-corruption activist)
Global Witness co-founder Charmian Gooch is the 2014 TED Prize winner.
At her NGO she exposes how a global architecture of corruption is woven into the extraction and exploitation of natural resources.
See her TED Global 2013 talk here.

3) Deborah Gordon
 (Ecologist)
Gordon studies how ant colonies work without any one leader. She has identified striking similarities in how ant colonies, brains, cells and computer networks regulate themselves.

I wonder how much like them we are?
4) Del Harvey
 (Security maven)

Harvey is the VP of Trust & Safety at Twitter. #EnufSaid
(In case you want to follow ME on Twitter, I'm here: @AmazingWomen, @SheQuotes, @MyAlzStory, and @AmazingSusan.)

5) Elizabeth Gilbert (
Writer)
Gilbert
 is the author of 'Eat, Pray, Love,' (adored it!!!) and Committed. Gilbert latest fascination: genius, and how we ruin it.
She's a superb speaker. Here's her TED 2009 talk on nurturing creativity.
6) Gabby Giffords (Law activist)
Gabby Giffords and Mark Kelly 
Gun are raising funds iand building bipartisan, grassroots support for sensible gun laws in the US.

7) Geena Rocero
 (Model and activist)
Geena Rocero is a professional model for fashion and beauty companies around the world.
She uses her platform to share a powerful story.
8) Isabel Allende (Writer)
Allende writes stories of passion.
Her novels and memoirs
, including The House of the Spirits and Eva Luna, tell the stories of women and men who live with passionate commitment -- to love, to their world, to an ideal.
Watch her spellbinding TED 2007 talk here.
9) Jennifer Senior (
Writer)
In her new book "All Joy and No Fun," Jennifer Senior explores how children reshape their parents' lives -- for better and worse.
(I wonder if she can help me take care of my Alzheimer's Mom?)
10) Julia Sweeney (Actor, comedian, playwright)
Sweeney is, in a word, hilarious. She creates comedic works that tackle deep issues: cancer, family, faith. Her latest book is "If It's Not One Thing, It's Your Mother," on parenting and being parented.
Previous TED talks on: The Facts of Live, and Letting Go of God.
11) Keren Elazari
 (Cybersecurity expert)
Keren Elazari charts the transformation of hackers from cyberpunk protagonists to powerful hacktivists, lone rangers and digital robin hoods who are the unsung heroes of the digital frontier.
Here she talks at TEDxTransmedia.
12) Margaret Gould Stewart
 (User experience master)
At Facebook, Margaret Gould Stewart leads the design of experiences that touch the lives of billions of people.
She also writes a thought-provoking blog on design and other stuff - well worth a visit!
13) Masarat Daud (
Rural education campaigner)
Rural education campaigner
 Masarat Daud founded the 8-Day Academy, creating short, accessible courses to educate those in remote villages and communities.
She's also, as she puts it "the accidental ambassador of the Burqa."
See her TEDxDubai talk here.
14) Melinda Gates (Philanthropist)
Gates is co-chair of the Bill & Melinda Gates Foundation.
See her TEDxChange talk on birth control here. (She is an amazing speaker...)
annualletter.gatesfoundation.org
15) Mellody Hobson
 (Investment expert)
Hobson is president of Ariel Investments, a values-driven money management firm.
She is also an advocate for financial literacy and investor education.
16) Nancy Kanwisher
 (Brain researcher)

Using cutting-edge fMRI technology as her lens, Nancy Kanwisher zooms in on the brain regions responsible for some surprisingly specific elements of cognition.
(I hope her talk will better help me understand brain function and Alzheimer's behaviour.)
17) Peggy Liu
 (Sustainability catalyst)
Peggy Liu is one of the leading green voices in China.
She is a key player in the race for green growth and for fostering international collaboration with China.
18) Sarah Lewis
 (Art historian and critic)
Sarah Lewis celebrates creativity and shows how it can lead us through fear and failure to ultimate success.
In this video trailer, she talks about failure and her new book The Rise.
19) Sara Lewis
 (Firefly specialist)
Lewis digs deep into firefly mating rituals to uncover a world of secret languages and strange gifts in these silent sparks.
ase.tufts.edu/biology/labs/lewis/
20) Sarah Jones (Polymorphic playwright)
Tony Award-winning monologist, UNICEF ambassador, firebrand and FCC-fighting poet -- Sarah Jones assumes as many roles offstage as on.
Here she is being a One Woman Global Village at TED 2009.

21) Wendy Chung (
Geneticist)
Chung is working to characterize behavior, brain structure and function in people with genetic variations that may relate to autism.
22) Yoruba Richen
 (Documentary filmmaker)
In her documentary films, Yoruba Richen unites African-American, feminist and LGBTQ voices in a renewed cry for civil rights for all.
Here's the trailer for her latest documentary The New Black.
Each and every one of us makes history in her own special way. You don't have to be famous to have wisdom worth sharing. Share YOUR wisdom on your own personal stage.
Speak up, speak out, be amazing.
Related Articles