Isabel Allende Tells Tales of Passion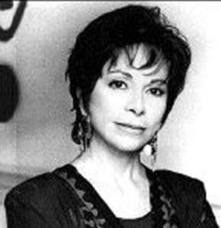 This spellbinding 2007 TED Talk by world-renowned writer and feminist Isabel Allende alternately made me laugh, cry, and reflect.
So much of what she says revolves around themes that I've recently been exploring in my own life. It truly resonated with me, as I hope it will with you.
Entitled Tales of Passion, it's 20 minutes of non-stop tenderness in which Allende shares powerful stories of her personal experiences of passion, poverty and hope.

She speaks from her heart about her life, her beliefs and her commitment to changing the world by changing the lot of women and girls.

Of the characters in her books she says:
"That is what I need for my characters in my books: a passionate heart. I need mavericks, dissidents, adventurers, outsiders, and rebels who ask questions, bend the rules and take risks… Nice people with common sense do not make interesting characters – they only make good former spouses."
Of our responsibility to young girls she says:
"Women my age, as elders of the village, have a duty to care for the young, especially girls. If the world is ever going to heal, it will be women who will make it so. Today's girls are tomorrow's women. We cannot leave them to fend for themselves. Each of us must act without delay to empower girls to take control of their lives, even if they stumble and fall a hundred times. With our help, they can succeed."
This talk is one of the most beautiful pieces of spoken writing I've ever heard. Make sure you have tissues handy, and enjoy.
Tales of Passion: A TED Talk with Isabel Allende
Related Articles