Isabel Allende (Writer/Feminist)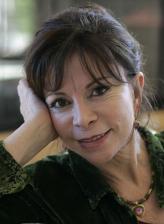 Isabel Allende is a master storyteller in the genre of magical realism. Her novels have been translated into 30 languages, and have sold more than 51 million copies worldwide.

Her list of honours, awards and accomplishments is truly staggering. But none of this, according to her, reflects who she is, or what has been important in her life.
Rather, she says: "My most significant achievements are not my books, but the love I share with a few people, especially my family, and the ways in which I have tried to help others."
Allende is a beautiful as she is brilliant and witty. She is fiesty, funny and single-minded in her support of women's issues, as you will see in the TED Talk below.
She was once reportedly fired from a literary translation job for boldly making unauthorized changes to the dialogue of the female characters in the stories she was translating to make the women sound more intelligent, more independent and more charitable than they had originally been portrayed to be.
She was born in Peru in 1942, and lived variously in Chile, Bolivia, Venezuela, Lebanon and parts of Europe before settling in United States. She married twice, and had two children, a girl and a boy. Her daughter Paula Frias, died tragically at the age of 28 after being in a coma resulting from complications of the disease porphyria. Allende wrote her book Paula, a memoir, while caring for her comatose daughter, and later created a charitable foundation in her honour.
In 2006, Allende was one of the eight flag bearers at the Opening Ceremony of the Winter Olympics in Turin, Italy, and in 2008, she received the honorary degree Doctor of Humane Letters from San Francisco State University for her "distinguished contributions as a literary artist and humanitarian."
Related Articles