Posted by Sue Munroe
July 10, 2009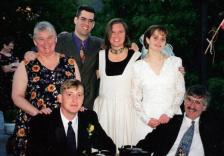 Hi everyone, I have never written a tribute before, but I thought I would start with writing about my mother.
(She's the one smiling on the left in this family photo.)
My mother died from cancer at age 54 in 1999. This event changed my life and my family's life. I have always been amazed how she never lost her spirit to live even at the darkest moments of her illness.
My mother was a nurse in a very small hospital in a very small town in a very small province of Canada. She knew almost all of the staff who worked there and treated everyone with love and respect.