A Tribute to Roberta Munroe
Posted by Sue Munroe
July 10, 2009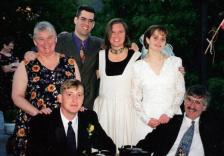 Hi everyone, I have never written a tribute before, but I thought I would start with writing about my mother.
(She's the one smiling on the left in this family photo.)
My mother died from cancer at age 54 in 1999. This event changed my life and my family's life. I have always been amazed how she never lost her spirit to live even at the darkest moments of her illness.
My mother was a nurse in a very small hospital in a very small town in a very small province of Canada. She knew almost all of the staff who worked there and treated everyone with love and respect.
In her school years, she voted 'most likely to become a nurse'. Ironically, she was working in a hospital when she met my father! Perhaps if she hadn't been an nurse, they wouldn't have met. It is interesting to wonder the 'what ifs' in our lives!

She loved her life dearly and was thankful for every moment. She managed to find balance in her life by being a loving wife and mother and be dedicated in her profession. She sacrificed her profession when my brother and I were born and stayed home until we started school. She had a very positive impact on my brother and I. To this day because she was home with us, this helped us become the decent people we are today.

She always had a story to tell, whether it be a 'much too detailed' story about someone loosing a limb in the emergency room (usually told to us at dinner!) to sharing a 'not so clean joke' with the produce manager at the local supermarket, she always held her head high and loved to laugh.

I am the person I am today because of her caring and inspiration. I miss her greatly, especially when I go home to Canada to visit my family and I still often expect to see her there. But I feel her spirit living through my family members and my beloved friends!

I am thankful to have had such a wonderful relationship with her. I dedicate these words to you mom, I love you!