Shania Twain (Singer/Songwriter)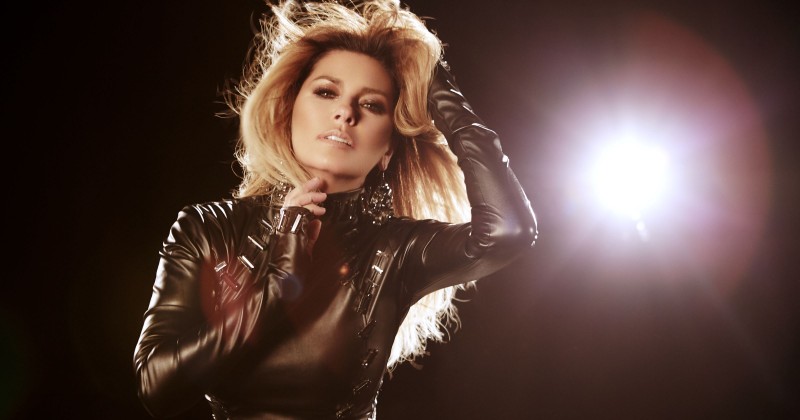 Shania Twain, OC (born Eilleen Regina Edwards; August 28, 1965) is a Canadian country pop singer and songwriter. She rose to fame in the early 1990s with her self-titled debut album Shania Twain (1993), and achieved worldwide success with her 1997 album Come On Over, which became the best-selling album of all time by a female musician, and the best selling country album of all time.
Shania's newest CD and DVD compilation released in 2015 features the recording of her live show in Las Vegas:
The Album Come on Over has sold over 20 million records in the U.S. and more than 15 million copies sold worldwide. Come on Over is also the 9th bestselling album in the U.S.
A five-time Grammy Award winner, Twain has also achieved major success as a songwriter, winning 27 BMI Songwriter awards. Twain is one of the first country artists to achieve major crossover success in pop music.
She is the only female musician to have three albums certified Diamond by the Recording Industry Association of America and is also the second best-selling artist in Canada, behind fellow Canadian Céline Dion, with three of her studio albums being certified double diamond by the Canadian Recording Industry Association.
Twain has sold over 65 million albums worldwide to date, iincluding 48 million in the U.S. She is ranked as the 10th best-selling artist of the Nielsen SoundScan era, with approximately 33.5 million in sales through April 2008, Twain was ranked the 72nd Artist of the 2000–10 decade by Billboard.
Shania Twain "Man! I Feel Like A Woman!" Lyrics
I'm going out tonight-I'm feelin' alright
Gonna let it all hang out
Wanna make some noise-really raise my voice
Yeah, I wanna scream and shout
No inhibitions-make no conditions
Get a little outta line
I ain't gonna act politically correct
I only wanna have a good time

The best thing about being a woman
Is the prerogative to have a little fun (fun, fun)

Oh, oh, oh, go totally crazy-forget I'm a lady
Men's shirts-short skirts
Oh, oh, oh, really go wild-yeah, doin' it in style
Oh, oh, oh, get in the action-feel the attraction
Color my hair-do what I dare
Oh, oh, oh, I wanna be free-yeah, to feel the way I feel
Man! I feel like a woman!

The girls need a break-tonight we're gonna take
The chance to get out on the town
We don't need romance-we only wanna dance
We're gonna let our hair hang down

The best thing about being a woman
Is the prerogative to have a little fun (fun, fun)

Oh, oh, oh, go totally crazy-forget I'm a lady
Men's shirts-short skirts
Oh, oh, oh, really go wild-yeah, doin' it in style
Oh, oh, oh, get in the action-feel the attraction
Color my hair-do what I dare
Oh, oh, oh, I wanna be free-yeah, to feel the way I feel
Man! I feel like a woman!

The best thing about being a woman
Is the prerogative to have a little fun (fun, fun)

Oh, oh, oh, go totally crazy-forget I'm a lady
Men's shirts-short skirts
Oh, oh, oh, really go wild-yeah, doin' it in style
Oh, oh, oh, get in the action-feel the attraction
Color my hair-do what I dare
Oh, oh, oh, I wanna be free-yeah, to feel the way I feel
Man! I feel like a woman!

I get totally crazy
Can you feel it
Come, come, come on baby
I feel like a woman
Related Articles