Dolly Parton (Singer/Songwriter/Actress)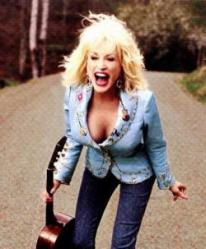 Dolly Rebecca Parton was born January 19, 1946, the fourth of 12 children.
She is an American singer-songwriter, author, multi-instrumentalist, actress and philanthropist, best-known for her work in country music, her distinctive soprano voice, "big hair," voluptuous figure, flamboyant style and sometimes bawdy sense of humour.
In the five decades since her national-chart début, she remains one of the most-successful female artists in the history of the country genre.
She is known by many as 'The Queen of Country Music,' with twenty-five number-one singles, and a record forty-one top-10 country albums.
She also has the distinction of having performed on a top-five country hit in each of the last five decades and is tied with Reba McEntire as the only country artists with No. 1 singles in four consecutive decades.
Here she performs 9 to 5, from the movie of the same name, in which she starred with Jane Fonda, Lily Tomlin, and Dabney Coleman :
There's an absolute tonne more about her on the Wikipedia below....
Related Articles