Feist (Singer / Songwriter)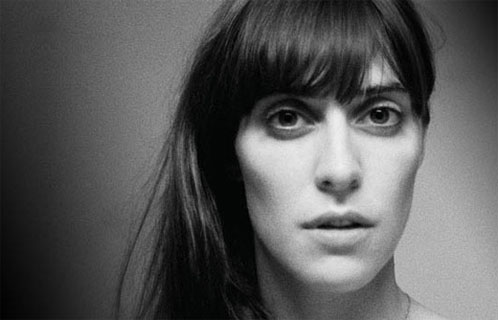 Leslie Feist (born 13 February 1976), known professionally as Feist, is a Canadian singer-songwriter, both as a solo artist and as a member of the indie rock group Broken Social Scene.
Feist launched her solo music career in 1999 with the release Monarch (Lay Your Jewelled Head Down). Her albums, Let It Die and The Reminder, were critically acclaimed and sold over 2.5 million copies.
Her song "1234" was featured in a Apple iPod commercial, named by Time magazine as one of the second best song of 2007, and a Canadian Juno Award Song of the Year winner.
The Reminder earned Feist four Grammy nominations, including a nomination for Best New Artist. She was the top winner at the 2008 Juno Awards in Calgary with five awards, including Songwriter of the Year, Artist of the Year, Pop Album of the Year, Album of the Year and Single of the Year. Her fourth studio album, Metals, was released on 30 September 2011.
Leslie Feist was born on 13 February 1976 in Amherst, Nova Scotia, Canada. Her parents are both artists. Her father, Harold Feist, is an American-Canadian abstract expressionist painter who taught at both the Alberta College of Art and Design and Mount Allison University in Sackville, New Brunswick. Her mother, Lyn Feist, was a student of ceramics from Saskatchewan. After their first child, Ben, was born, the family moved to Sackville.
Her parents divorced soon after she was born and Feist, Ben, and their mother moved to Regina, Saskatchewan where they lived with her grandparents. They later moved to Calgary. She aspired to be a writer, and spent much of her youth singing in choirs.[1] At the age of twelve Feist performed as one of 1000 dancers in the opening ceremonies of the Calgary Winter Olympics, which she cites as inspiration for the video "1234."
Because her father is American, Feist has dual Canadian-U.S. citizenship, joking later that she was given U.S. citizenship as part of a deal with Apple.
In 1991, at age 15, Feist got her start in music when she founded and was the lead vocalist for a Calgary punk band called Placebo (not to be confused with the English band Placebo).[1] She and her bandmates won a local Battle of the Bands competition and were awarded the opening slot at the festival Infest 1993, featuring the Ramones. At this concert she met Brendan Canning, whose band hHead performed immediately before hers, and with whom she joined in Broken Social Scene ten years later. In October 1993, Placebo opened a Radiohead concert in Alberta.[5]
In 1995, Feist was forced to take time off from music to recover from vocal cord damage. She moved from Calgary to Toronto in 1996. That year she was asked by Noah Mintz of hHead to play bass in his solo project Noah's Arkweld. She played the bass guitar in Noah's Arkweld for a year despite never having played bass before. In 1998, she became the rhythm guitarist for the band By Divine Right and toured with them throughout 1998, 1999, and 2000.
In 1999, Feist moved in with a friend of a friend, Merrill Nisker, who then began to perform as electro-punk musician Peaches. Feist worked the back of the stage at Peaches' shows, using a sock puppet and calling herself "Bitch Lap Lap". The two also toured together in England from 2000–2001, staying with Justine Frischmann of Elastica and M.I.A.[7] Feist appeared as a guest vocalist on The Teaches of Peaches.
Feist appears in Peaches' video for the song "Lovertits", suggestively rubbing and licking a bike. Later, Feist covered this song with Gonzales (whom she met while touring with Peaches) on her album "Open Season." In 2006, Feist contributed backup vocals on a track entitled "Give 'Er", which appeared on Peaches' album Impeach My Bush.
Related Articles