Salma Hayek (Actress/Director/Producer)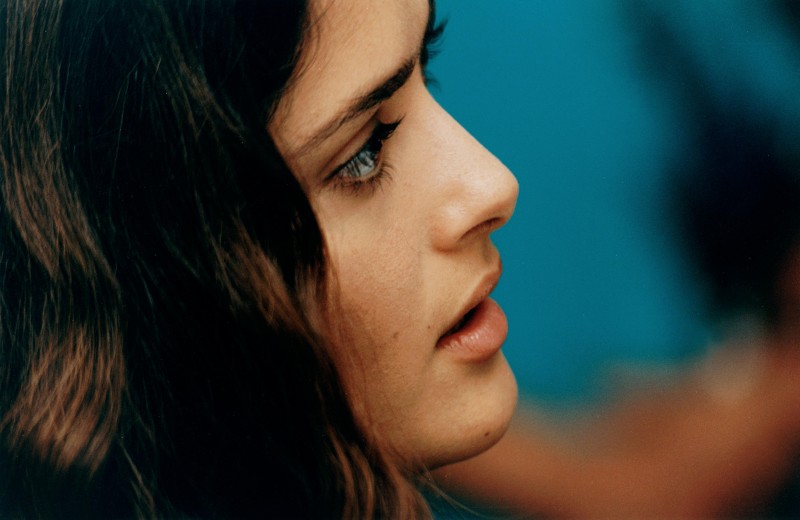 Salma Valgarma Hayek Jiménez-Pinault (born September 2, 1966) is a Mexican-born American actress of Lebanese descent; she is also a director and producer.
Hayek is the first Mexican national to be nominated for an Academy Award for Best Actress. She is one of the most prominent Mexican figures in Hollywood.
She is also, after Fernanda Montenegro, the second of three Latin American actresses (the other being Catalina Sandino Moreno) to achieve a Best Actress Oscar nomination.
Hayek was born in Coatzacoalcos, Veracruz, Mexico, the daughter of Diana Jiménez Medina, an opera singer and talent scout and Sami Hayek Dominguez, an oil company executive who once ran for mayor of Coatzacoalcos.
Hayek's father is of Lebanese descent, while her mother is of Spanish descent. Her first given name, Salma, is Arabic for "peace". Raised in a wealthy, devoutly Roman Catholic family, she was sent to the Academy of the Sacred Heart, New Orleans, Louisiana, at the age of twelve.
While there, she was diagnosed with dyslexia. She attended college in Mexico City, where she studied International Relations at the Universidad Iberoamericana.
At the age of 23, Hayek landed the title role in Teresa (1989), a successful Mexican telenovela that made her a star in Mexico. In 1994, Hayek starred in the film El Callejón de los Milagros (Miracle Alley), which has won more awards than any other movie in the history of Mexican cinema. For her performance, Hayek was nominated for an Ariel Award.
Hayek moved to Los Angeles, California in 1991 to study acting under Stella Adler. She had limited fluency in English, which was attributed to her suffering from dyslexia. Robert Rodriguez and his producer wife Elizabeth Avellan soon gave Hayek a starring role opposite Antonio Banderas in 1995's Desperado.
The movie caught Hollywood's attention, as moviegoers proved to be dazzled by Hayek as Rodriguez had been. Due to Hayek's loyalty to the director, she would later decline playing the role Catherine Zeta-Jones eventually took in The Mask of Zorro after Rodriguez abandoned the project. She also appeared in the Spy Kids trilogy.
Hayek had a starring part opposite Matthew Perry in the romantic comedy Fools Rush In. She followed her success in Desperado with a brief but memorable role as a vampire queen in From Dusk Till Dawn, in which she performed a table-top snake dance. In 1999, she co-starred in Will Smith's big-budget Wild Wild West, and played a supporting role in Kevin Smith's Dogma. In 2000, Hayek had an uncredited acting part opposite Benicio del Toro in Traffic. In 2003, she reprised her role from Desperado by appearing in Once Upon a Time in Mexico, the final film of the Mariachi Trilogy.
Around 2000, Hayek founded film production company Ventanarosa, through which she produces film and television projects. Her first feature as a producer was 1999's El Coronel No Tiene Quien Le Escriba, Mexico's official selection for submission for Best Foreign Film at the Oscars.
Frida, co-produced by Hayek, was released in 2002. Starring Hayek as Frida Kahlo, and Alfred Molina as her unfaithful husband, Diego Rivera, the film was directed by Julie Taymor and featured an entourage of stars in supporting and minor roles (Valeria Golino, Ashley Judd, Edward Norton, Geoffrey Rush) and cameos (Antonio Banderas).
She earned a Best Actress Academy Award nomination for her performance. This made Hayek, along with Katy Jurado and Adriana Barraza, one of only three Mexican actresses to have been nominated for an Academy Award.
In the Time of the Butterflies is a 2001 feature film based on the Julia Álvarez book of the same name, covering the lives of the Mirabal sisters. In the movie, Salma Hayek plays one of the sisters, Minerva, and Edward James Olmos plays the Dominican dictator Rafael Leónidas Trujillo whom the sisters opposed. Marc Anthony plays a brief role as Minerva's first love, and as the motivation for her later revolutionary activities.
In 2003, Hayek produced and directed The Maldonado Miracle, a Showtime movie which won her a Daytime Emmy Award for Outstanding Directing in a Children/Youth/Family Special. In December 2005, she directed a music video for Prince, titled "Te Amo Corazon" ("I love you, sweetheart") that featured her good friend Mia Maestro.
Hayek is an executive producer of Ugly Betty, a television series airing around the world since September 2006. Hayek adapted the series for American television with Ben Silverman, who acquired the rights and scripts from the Colombian telenovela Yo Soy Betty La Fea in 2001. Originally intended as a half hour sitcom for NBC in 2004, the project would later be picked up by ABC for the 2006–2007 season with Silvio Horta also producing.
Hayek guest-starred on Ugly Betty as Sofia Reyes, a magazine editor. She also had a cameo playing an actress in the telenovela within the show. The show won a Golden Globe Award for Best Comedy Series in 2007. Hayek's performance as Sofia resulted in a nomination for Outstanding Guest Actress in a Comedy Series at the 59th Primetime Emmy Awards.
In April 2007, Hayek finalized negotiations with MGM to become the CEO of her own Latin themed film production company, Ventanarosa. The following month, she signed a two year deal with ABC to develop projects for the network through her production company, Ventanarosa.
Hayek is developing and producing La Banda, a Spanish-language romantic comedy set in Mexico, written by Issa Lopez.
Hayek recently had a guest stint on 30 Rock as Elisa, the nurse for Jack Donaghy's mother, for whom Jack falls.
Hayek stars as the wife of Adam Sandler in Grown Ups, which also co-stars Chris Rock and Kevin James. Salma is set to co-star with Antonio Banderas in the Shrek spin-off film Puss in Boots as the voice of the character Kitty, who serves as Puss' female counterpart and love interest.
Hayek has been credited as a song performer in three movies. The first was Desperado for the song Quedate Aquí. In Frida she performed with band Los Vega the Mexican folk song La Bruja. She also recorded Siente mi amor, which played during the end credits of Once Upon a Time in Mexico. She also contributed to Happiness is a Warm Gun in "Across the Universe" as the singing nurses.
Hayek is a naturalized United States citizen. In 1994, Hayek was romantically linked with boxing champion Julio César Chávez. She dated actor Edward Norton between 1999 and 2003, and then Josh Lucas in 2003. She is a good friend of Spanish actress Penélope Cruz and co-starred with her in the 2006 film Bandidas. Hayek studied at Ramtha's School of Enlightenment. Her brother, Sami Hayek, is a designer with his own line of products at Target and clients that include Louis Vuitton, Brad Pitt, and the Mexican Government.
On March 9, 2007, Hayek confirmed she was expecting her first child with PPR CEO François-Henri Pinault. On September 21, 2007, she gave birth to daughter Valentina Paloma Pinault at Cedars-Sinai Medical Center in Los Angeles, California. On July 18, 2008, Hayek and Pinault announced the end of their engagement. They later reconciled and were married on Valentine's Day, 2009 in Paris. On April 25, 2009, they were married a second time in Venice. Salma Hayek is also a practitioner of yoga.
Hayek's charitable work includes increasing awareness on violence against women and discrimination against immigrants. On July 19, 2005, Hayek testified before the U.S. Senate Committee on the Judiciary supporting reauthorizing the Violence Against Women Act. In February 2006, she donated $25,000 to a Coatzacoalcos, Mexico, shelter for battered women and another $50,000 to Monterrey based anti-domestic violence groups. Hayek is a board member of V-Day, the charity founded by playwright Eve Ensler.
Since the birth of her daughter, Hayek has worked to help mothers in developing nations worldwide, teaming up with Pampers and UNICEF to help stop the spread of life-threatening maternal and neonatal tetanus. She is a global spokesperson for the Pampers/UNICEF partnership 1 Pack = 1 Vaccine to help raise awareness of the program.
Hayek also advocates breastfeeding, because of its benefits, including building stronger infant immune systems. During a UNICEF fact-finding trip to Sierra Leone, she breastfed a hungry week-old baby whose mother could not produce milk.
In 2010, Hayek's humanitarian work earned her a nomination for the VH1 Do Something Awards. The awards show, produced by VH1, is dedicated to honoring people who do good and recognized Hayek's various efforts to support women internationally. The awards are powered by Do Something, an organization that aims to empower, celebrate, and inspire young people.
Related Articles