Geena Davis (Actress/Feminist/Advocate)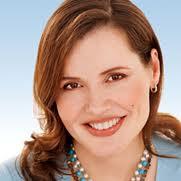 Virginia Elizabeth "Geena" Davis (born January 21, 1956)is an American actress, film producer, writer, former fashion model, and a women's Olympics archery team semi-finalist.
She is known for her roles in Stuart Little,The Fly, Beetlejuice, Thelma & Louise, A League of Their Own, The Long Kiss Goodnight and The Accidental Tourist, for which she won the 1988 Academy Award for Best Supporting Actress.
In 2005, she won the Golden Globe Award for Best Actress – Television Series Drama for her role in Commander in Chief.
Davis was born in Wareham, Massachusetts. Her mother, Lucille (née Cook), was a teacher's assistant, and her father, William F. Davis, was a civil engineer and church deacon; her parents had both been from small towns in Vermont.
She has a brother named Danforth ("Dan"). At an early age, she became interested in music. She learned piano and flute and played organ well enough as a teenager to serve as an organist at her Congregationalist church in Wareham.
Davis attended Wareham High School and was an exchange student in Sandviken, Sweden, becoming fluent in Swedish.Enrolling at New England College, she eventually graduated with a bachelor's degree in drama from Boston University in 1979. Davis is a member of Mensa, a social organization whose members are in the top 2% of intelligence as measured by an IQ test entrance exam.
Related Articles