Cher (Singer/Actress/Director/)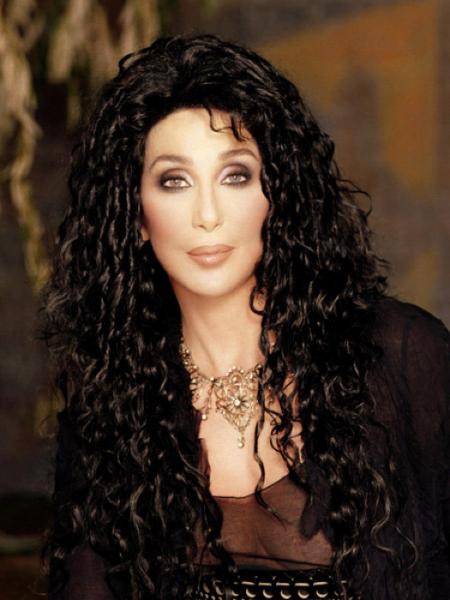 Cher (born Cherilyn Sarkisian, May 20, 1946) is an American recording artist, actress, director, and record producer.
Referred to as the Goddess of Pop, she has won an Academy Award, a Grammy Award, an Emmy Award, three Golden Globes and a Cannes Film Festival Award among others for her work in film, music and television.
Cher began her career as a backup singer and later came to prominence as one half of the pop rock duo Sonny & Cher with the success of their song "I Got You Babe" in 1965.
She subsequently established herself as a solo recording artist, and became a television star in 1971 with The Sonny and Cher Comedy Hour, a variety show for which she won a Golden Globe.
A well received performance in the film Silkwood earned her a nomination for the Academy Award for Best Supporting Actress in 1984. In the following years, Cher starred in a string of hit films including Mask, The Witches of Eastwick, and Moonstruck, for which she won the Academy Award for Best Actress in 1988.

Cher is the only artist to reach the number one on the Billboard charts in each of the previous six decades. Her hit dance single "Believe" is her biggest-selling recording and was the best-selling single of 1999, having sold over 10 million copies worldwide.
Here she is singing her hit single Believe:
She holds the Hot 100 record for the longest hit-making career span, with 33 years between the release of her first and most recent #1 singles, in 1965 and 1999. Cher ended her 3-year-long "Farewell Tour" in 2005 as the most successful tour by a female solo artist of all time. With a career lasting over 45 years, Cher has sold over 100 million records worldwide. After a three-year hiatus and retirement from touring, Cher returned to the stage in 2008 at Caesars Palace in Las Vegas where she is currently performing her show Cher at the Colosseum. Cher has a deep contralto vocal range.
Cher was born Cherilyn Sarkisian in El Centro, California, on May 20, 1946, at 7:25 a.m. Her father, John Paul Sarkisian, was Armenian American and worked as a truck driver. Her mother, Georgia Holt (born Jackie Jean Crouch in Sharp County, Arkansas on June 9, 1927), an aspiring actress and occasional model, is of Cherokee, English and French descent. Cher's half sister is actress Georganne LaPiere. Cher's parents divorced and she was raised primarily by her mother, who at one time was married to Gilbert LaPiere, a banker who adopted Cher. Due to financial problems, Cher's mother temporarily placed her in foster care. Later, her mother provided money for acting lessons to help further her career. Due to severe, undiagnosed dyslexia, she left Fresno High School at age 16. In those years, Cher had a brief relationship with actor Warren Beatty.
Sonny Bono, 11 years her senior, was working for record producer Phil Spector at Gold Star Studios in Hollywood. Sonny and Cher became inseparable friends, eventual lovers, and later married. Through Sonny, Cher started as a session singer in 1963, and sang backup on several of Spector's classic recordings, including The Righteous Brothers' "You've Lost That Loving Feeling", Darlene Love's "A Fine, Fine Boy," The Crystals' "Da Doo Ron Ron" and The Ronettes' "Be My Baby".
In the composition by Darlene Love, the listener can clearly hear Cher and Sonny close to the microphone (along with Love, who recorded her own backing vocals). Her first solo recording was the unsuccessful single "Ringo, I Love You", released under the pseudonym of Bonnie Jo Mason and produced by Phil Spector. Her second attempt was "Dream Baby," released under the name "Cherilyn" and written and produced by Sonny Bono. Both were released in 1964. With Sonny continuing to write, arrange and produce the songs, Sonny and Cher's first incarnation was as the duo "Caesar and Cleo." They received little attention, despite releasing the single "The Letter" in late 1964 which featured the B-side "Baby Don't Go".
Before being known as Sonny and Cher, the duo released an album under the name of "Caesar and Cleo." The first "Sonny and Cher" album, Look At Us, was released in the summer of 1965. This album contained the overnight smash single "I Got You Babe" which reached #1 on the Billboard Hot 100 in August 1965. Cher was 19 years old, Sonny 30. A re-released "Baby Don't Go" peaked at #8. Several more mid-level hits followed, notably "Just You," "But You're Mine", "What Now My Love" and "Little Man", before "The Beat Goes On" returned the duo to the Top 10. Sonny and Cher charted eleven Billboard Top 40 hits between 1965 and 1972, including six Top 10 hits.
The duo became a sensation, traveling and performing around the world. Following an appearance on The Ed Sullivan Show in the fall of 1965 in which Sullivan had infamously mispronounced her name 'Chur' during their introduction, the singer began spelling her name with an acute accent mark: Chér—a typographical feature she maintained through 1974. The couple soon appeared on other hit television shows of the era including American Bandstand, Top of the Pops, Hollywood A Go-Go, Podunk, Hollywood Palace, Hullabaloo, Beat Club, Ready Steady Go! and Shindig!!.
While initially perceived as the slightly awkward and less important half of the popular singing duo, Cher disguised her stage fright and nervousness with quick-witted barbs directed at her partner. She soon rose to prominence as the more outspoken, daring and provocative half of the team. With her dark, exotic looks, she became a fashion trendsetter, helping to popularize fashions such as bellbottoms and incorporating eccentric gowns, "hippie" attire and elaborate costumes into live shows.
Later in 1965, Cher released her debut solo album, All I Really Want to Do, which reached #16 on the Billboard 200 album chart. The album's cover of the Bob Dylan song "All I Really Want to Do" peaked at #15 on the Billboard Hot 100. In 1966, Cher released her second solo album on the Imperial Records label, The Sonny Side of Chér. It peaked at #26 in the U.S. charts, and #11 in the UK chart. The album contained the singles "Where Do You Go (#25 on the Billboard Hot 100), as well as "Bang Bang (My Baby Shot Me Down)" (#2 on the Billboard Hot 100); both hits written and produced by Sonny Bono. In the United States, the latter was Cher's biggest solo hit of the 1960s. Her third solo album Chér, also released in 1966, was not as successful as its predecessors, but did include the European Top 10 hit "Sunny".
In 1970, Sonny and Cher starred in their first television special, The Sonny and Cher Nitty Gritty Hour. A mixture of slapstick comedy, skits and live music, the appearance was a critical success, which led to numerous guest spots on other television shows. Sonny and Cher caught the eye of CBS head of programming Fred Silverman while guest-hosting The Merv Griffin Show, and Silverman offered the duo their own variety show. The Sonny and Cher Comedy Hour debuted in 1971 as a summer replacement series. The show returned to prime time later that year and was an immediate hit, quickly reaching the Top 10. The show received 15 Emmy Award nominations during its run, winning one for direction.
Among the many guests who appeared on The Sonny and Cher Comedy Hour were Tina Turner, Chuck Berry, Carol Burnett, George Burns, Glen Campbell, Dick Clark, Tony Curtis, Bobby Darin, Phyllis Diller, Farrah Fawcett, Merv Griffin, The Jackson Five, Jerry Lee Lewis, Liberace, Steve Martin, Ronald Reagan, Burt Reynolds, Lynn Anderson, The Righteous Brothers, Neil Sedaka, Dinah Shore, Sally Struthers, The Supremes, and Raquel Welch. The duo revived its recording career, releasing four more albums for Kapp Records and MCA Records that included two more Top 10 hits: "All I Ever Need Is You" in 1971, and "A Cowboy's Work Is Never Done" in 1972.
From 1975 to 1978, Cher released a series of unsuccessful albums: Stars, I'd Rather Believe in You and Cherished. On February 2, 1976, The Sonny and Cher Show debuted with a Top 10 rating and high expectations. Some of the guests who appeared on The Sonny and Cher Show included Frankie Avalon, Muhammed Ali, Raymond Burr, Ruth Buzzi, Charo, Barbara Eden, Farrah Fawcett, Terri Garr, Bob Hope, Don Knotts, Jerry Lewis, Tony Orlando, The Osmonds, Debbie Reynolds, The Smothers Brothers, Tina Turner, Twiggy, and Betty White. However, ratings soon fell, and the show was cancelled after its second season. In 1976, Mego Toys released a line of toys and dolls in the likeness of Sonny & Cher. The release of these fashion dolls coincided with the popularity of The Sonny & Cher Show. Their overall television success, though brief, was unique because variety programming in general, other than The Carol Burnett Show, was no longer attracting viewers.
She made a brief return to prime time starring in the television specials Cher... Special, in 1978 (for which guest star Dolly Parton was nominated for an Emmy Award) and Cher ... and Other Fantasies in 1979. One highlight for her fans was a song and dance number based on the classic musical West Side Story in which Cher portrayed each of the main characters. In 1979, she legally changed her name to Cher, with no surname or middle name. Sonny and Cher performed together for the last time on The Mike Douglas Show in the spring of 1979 (until their much-discussed 1987 Letterman appearance), singing a medley of "United We Stand" and "Without You".
With album sales and hit singles again at a standstill, Cher decided to expand her career into serious film acting. Her earliest entertainment ambitions had always lain in film, as opposed to music. Her earlier films, like Good Times and Chastity, had been poorly received. She soon found herself in an uphill battle trying to land credible roles for a woman now in her mid-30s with little acting experience. At the time, she was quoted as saying that she didn't really care if she ever made another record. In 1982, Cher landed her first major role in a Broadway production of Come Back to the Five and Dime, Jimmy Dean, Jimmy Dean.
That same year, she was cast in the film version, which was directed by Robert Altman and earned her a Golden Globe nomination. She was next cast alongside Meryl Streep and Kurt Russell in the drama Silkwood (1983) in which she played Streep's blue-collar lesbian roommate. She received her first Academy Award nomination, as Best Supporting Actress. She also won the Golden Globe Award for Best Supporting Actress - Motion Picture for her performance.
Cher's next film was a starring role in Mask in 1985, directed by Peter Bogdanovich. The film also starred Eric Stoltz, Laura Dern, Estelle Getty and Sam Elliott. It opened at #3 at the box office and was considered her first critical and commercial success as a leading actress. For her role as a mother of a severely disfigured boy, Cher won the Best Actress prize at the Cannes Film Festival and received a Golden Globe nomination for Best Actress in a Motion Picture Drama. In 1985, Cher was honored with Harvard University's Hasty Pudding Woman of the Year Award.
In 1987, Cher revived her recording career after a five-year hiatus, under the coordination of rock producer and A&R man John Kalodner. Now with Geffen Records, Cher released the first of three highly successful rock albums, featuring songwriting contributions from the likes of Diane Warren, Jon Bon Jovi, Richie Sambora, Desmond Child, Mark Mangold and Michael Bolton. Darlene Love and Bonnie Tyler provided guest vocals. Cher was released in 1987, and featured the comeback single "I Found Someone" written by Michael Bolton and Mark Mangold (previously a minor hit for Laura Branigan), as well as "We All Sleep Alone" (#14, 1988). The album was a big hit, being certified Platinum in the U.S. and selling seven million copies worldwide. In 1987, she also released her first fragrance, Uninhibited.
In 1990, Cher starred in the modest box office success Mermaids with Bob Hoskins, Winona Ryder, and Christina Ricci. The film received many positive reviews from critics. Cher contributed two songs to its soundtrack. "Baby I'm Yours" and the album's second single, "The Shoop Shoop Song (It's in His Kiss)", charted low on the U.S. Billboard Hot 100 (at #33), but became a smash hit elsewhere, reaching #1 in the UK, #3 in Germany and France, and #5 in Australia. Around the globe, it became her most successful single to date, selling more than six million copies worldwide.
In 1991, Cher completed her Geffen recording contract by releasing the album Love Hurts. This album had a big impact in Europe and in the rest of the world, particularly in the UK where it debuted at #1 and stayed there for six consecutive weeks. Unlike her previous two records, Love Hurts received less attention in the United States where it was certified gold; in European countries, the album was certified multi-platinum. The European cover of the album was different from the American release, featuring Cher lying on a white background wearing a red wig.
The European release also included the worldwide hit "The Shoop Shoop Song (It's in His Kiss)". The album also sparked another hit single, "Love and Understanding", a number 10 hit in UK as well as the album's only major hit in her native U.S., entering the Top 20. The follow-ups "Save Up All Your Tears", "Love Hurts", and "Could've Been You" were minor hits in Europe. The album Love Hurts has sold more than 14 million copies worldwide becoming her 2nd biggest-selling album of her career.
In Germany, Cher received the prestigious ECHO award for the most successful female singer of the year. Cher embarked on the Love Hurts Tour throughout 1992. In the same period Cher released two VHS fitness programs, Cherfitness: A New Attitude and Cherfitness: A Body Confidence. In 1992, the European compilation Greatest Hits: 1965-1992 became a huge success, again peaking at #1 in the United Kingdom for seven non-consecutive weeks, and charting in the Top 10 in several other countries. The album, which contained three newly-recorded tracks ("Oh No Not My Baby", "Many Rivers to Cross" and "Whenever You're Near") was available in the United States only as an import. The album has sold 4.9 million copies world-wide.


Related Articles