Angelina Jolie (Actress/UNHCR Goodwill Ambassador)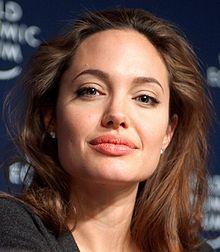 Angelina Jolie (born Angelina Jolie Voight; June 4, 1975) is an American actress. She has received an Academy Award, two Screen Actors Guild Awards, and three Golden Globe Awards.
Jolie promotes humanitarian causes, and is noted for her work with refugees as a Goodwill Ambassador for the United Nations High Commissioner for Refugees (UNHCR).
She has been cited as one of the world's most attractive people, as well as the world's "most beautiful" woman, titles for which she has received substantial media attention. She was named Hollywood's highest-paid actress by Forbes in 2009 and 2011.
Though she made her screen debut as a child alongside her father Jon Voight in the 1982 film Lookin' to Get Out, Jolie's acting career began in earnest a decade later with the low-budget production Cyborg 2 (1993).
Her first leading role in a major film was in Hackers (1995). She starred in the critically acclaimed biographical films George Wallace (1997) and Gia (1998), and won an Academy Award for Best Supporting Actress for her performance in the drama Girl, Interrupted (1999).
Jolie achieved wider fame after her portrayal of video game heroine Lara Croft in Lara Croft: Tomb Raider (2001), and since then has established herself as one of the best-known and highest-paid actresses in Hollywood. She has had her biggest commercial successes with the action-comedy Mr. & Mrs. Smith (2005) and the animated film Kung Fu Panda (2008).
Divorced from actors Jonny Lee Miller and Billy Bob Thornton, Jolie currently lives with actor Brad Pitt, in a relationship that has attracted worldwide media attention. Jolie and Pitt have three adopted children, Maddox, Pax, and Zahara, as well as three biological children, Shiloh, Knox, and Vivienne.
Jolie first became personally aware of worldwide humanitarian crises while filming Tomb Raider in Cambodia. She eventually turned to UNHCR for more information on international trouble spots. In the following months she visited refugee camps around the world to learn more about the situation and the conditions in these areas. In February 2001, Jolie went on her first field visit, an 18-day mission to Sierra Leone and Tanzania; she later expressed her shock at what she had witnessed. In the coming months she returned to Cambodia for two weeks and later met with Afghan refugees in Pakistan where she donated $1 million for Afghan refugees in response to an international UNHCR emergency appeal.
She insisted on covering all costs related to her missions and shared the same rudimentary working and living conditions as UNHCR field staff on all of her visits. As a result of assistance rendered to their former subjects the Royal family of Swat (princely state) have awarded her the honor Khanum Sahiba the equivalent of being made a lady. Jolie was named a UNHCR Goodwill Ambassador on August 27, 2001 at UNHCR headquarters in Geneva.
Jolie has been on field missions around the world and met with refugees and internally displaced persons in more than 20 countries. Asked what she hoped to accomplish, she stated, "Awareness of the plight of these people. I think they should be commended for what they have survived, not looked down upon." In 2002, Jolie visited the Tham Hin refugee camp in Thailand and Colombian refugees in Ecuador. Jolie later went to various UNHCR facilities in Kosovo and paid a visit to Kakuma refugee camp in Kenya with refugees mainly from Sudan. She also met with Angolan refugees while filming Beyond Borders in Namibia.
In 2003, Jolie embarked on a six-day mission to Tanzania where she traveled to western border camps hosting Congolese refugees, and she paid a week-long visit to Sri Lanka. She later concluded a four-day mission to Russia as she traveled to North Caucasus. Concurrently with the release of her movie Beyond Borders she published Notes from My Travels, a collection of journal entries that chronicle her early field missions (2001–2002). During a private stay in Jordan in December 2003 she asked to visit Iraqi refugees in Jordan's eastern desert and later that month she went to Egypt to meet Sudanese refugees.
On her first U.N. trip within the United States, Jolie went to Arizona in 2004, visiting detained asylum seekers at three facilities and the Southwest Key Program, a facility for unaccompanied children in Phoenix. She flew to Chad in June 2004, paying a visit to border sites and camps for refugees who had fled fighting in western Sudan's Darfur region. Four months later she returned to the region, this time going directly into West Darfur. Also in 2004, Jolie met with Afghan refugees in Thailand and on a private stay to Lebanon during the Christmas holidays, she visited UNHCR's regional office in Beirut, as well as some young refugees and cancer patients in the Lebanese capital.
In 2005, Jolie visited Pakistani camps containing Afghani refugees, and she also met with Pakistan's President Pervez Musharraf and Prime Minister Shaukat Aziz; she returned to Pakistan with Brad Pitt during the Thanksgiving weekend in November to see the impact of the 2005 Kashmir earthquake. In 2006, Jolie and Pitt flew to Haiti and visited a school supported by Yéle Haïti, a charity founded by Haitian-born hip hop musician Wyclef Jean.
While filming A Mighty Heart in India, Jolie met with Afghan and Burmese refugees in New Delhi. She spent Christmas Day 2006 with Colombian refugees in San José, Costa Rica where she handed out presents. In 2007, Jolie returned to Chad for a two-day mission to assess the deteriorating security situation for refugees from Darfur; Jolie and Pitt subsequently donated $1 million to three relief organizations in Chad and Darfur. Jolie also made her first visit to Syria and twice went to Iraq, where she met with Iraqi refugees as well as multi-national forces and U.S. troops.
Over time, Jolie became more involved in promoting humanitarian causes on a political level. She has regularly attended World Refugee Day in Washington, D.C., and she was an invited speaker at the World Economic Forum in Davos in 2005 and 2006. Jolie also began lobbying humanitarian interests in the U.S. capital, where she met with members of Congress at least 20 times from 2003. She explained in Forbes: "As much as I would love to never have to visit Washington, that's the way to move the ball."
In 2005, Jolie took part at a National Press Club luncheon, where she announced the founding of the National Center for Refugee and Immigrant Children, an organization that provides free legal-aid to asylum-seeking children with no legal representation which Jolie personally funded with a donation of $500,000 for its first two years. Jolie also pushed for several bills to aid refugees and vulnerable children in the Third World.
In addition to her political involvement, Jolie began using her public profile to promote humanitarian causes through the mass media. She filmed an MTV special, The Diary Of Angelina Jolie & Dr. Jeffrey Sachs in Africa, portraying her and noted economist Dr. Jeffrey Sachs on a trip to a remote group of villages in Western Kenya. In 2006, Jolie announced the founding of the Jolie/Pitt Foundation which made initial donations to Global Action for Children and Doctors Without Borders of $1 million each. Jolie also co-chairs the Education Partnership for Children of Conflict, founded at the Clinton Global Initiative in 2006, which helps fund education programs for children affected by conflict.
Jolie has received wide recognition for her humanitarian work. In 2003, she was the first recipient of the newly created Citizen of the World Award by the United Nations Correspondents Association, and in 2005, she was awarded the Global Humanitarian Award by the UNA-USA. Cambodia's King Norodom Sihamoni awarded Jolie Cambodian citizenship for her conservation work in the country on August 12, 2005; she has pledged $5 million to set up a wildlife sanctuary in the north-western province of Battambang and owns property there. In 2007, Jolie became a member of the Council on Foreign Relations, and she received the Freedom Award by the International Rescue Committee.
After she and Pitt donated $1 million to relief efforts in Haiti following a devastating 2010 earthquake, Jolie visited Haiti and the Dominican Republic to discuss the future of relief efforts. She also donated $100,000 to the United Nations for the 2010 August flood relief operations in Pakistan.
Related Articles