Michaelle Jean (Former Governor General of Canada)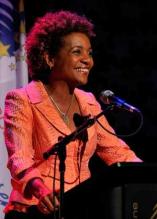 Michaëlle Jean was born in Port-au-Prince, Haiti, in 1957.
She immigrated to Canada with her family in 1968, fleeing the dictatorial regime of the time.
She earned a Bachelor of Arts degree in Italian and Hispanic languages and literature at the University of Montréal.
Later, she pursued her master's studies in comparative literature and taught at the university's Faculty of Italian Studies.
Three scholarships allowed her to pursue her studies at the University of Perugia, the University of Florence, and the Catholic University of Milan. She is fluent in five languages: French, English, Italian, Spanish and Creole.
During her studies, Ms. Jean worked for eight years with Quebec shelters for battered women, while actively contributing to the establishment of a network of emergency shelters throughout Quebec and elsewhere in Canada.

She later ventured into journalism and became a highly regarded journalist, and anchor of information programs at Radio-Canada and CBC Newsworld.

She served as Governor General of Canada from 2005 to 2010.
Related Articles