Angela Merkel (Politician/World Leader)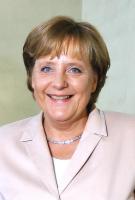 Merkel is the first female Chancellor of Germany. From 2006 to 2009, Forbes Magazine has named her the most powerful woman in the world.
A physical chemist by professional background, Merkel entered politics in the wake of the Revolutions of 1989 and briefly served as the deputy spokesperson for Lothar de Maizière's democratically elected East German government prior to the German reunification.
Following reunification in 1990, she was elected to the Bundestag, where she has represented the state of Mecklenburg-Vorpommern since. She served as Federal Minister for Women and Youth 1991–1994 and as Federal Minister for the Environment, Nature Conservation and Nuclear Safety 1994–1998 in Helmut Kohl's fourth and fifth cabinets.
She was Secretary General of the CDU 1998–2000, and was elected chairperson in 2000. From 2002 to 2005, she was also chair of the CDU/CSU parliamentary coalition.
After her election as Chancellor following the 2005 federal election, she led a grand coalition consisting of her own CDU party, its Bavarian sister party, the Christian Social Union (CSU), and the Social Democratic Party of Germany (SPD), until 2009. In the 2009 federal election, the CDU obtained the largest share of the votes, and formed a coalition government with the CSU and the liberal Free Democratic Party (FDP).

In 2007, Merkel was President of the European Council and chaired the G8, the second woman (after Margaret Thatcher) to do so.
She played a central role in the negotiation of the Treaty of Lisbon and the Berlin Declaration. One of her priorities was also to strengthen transatlantic economic relations by signing the agreement for the Transatlantic Economic Council on 30 April 2007. Merkel is seen as playing a crucial role in managing the financial crisis at the European and international level, and has been referred to as "the decider."
In domestic policy, health care reform and problems concerning future energy development have been major issues of her tenure.
Angela Merkel has for several years been described as the world's most powerful woman and as "the de facto leader of the European Union".

Chancellor Merkel is a member of the Council of Women World Leaders, an International network of current and former women presidents and prime ministers whose mission is to mobilize the highest-level women leaders globally for collective action on issues of critical importance to women and equitable development.
Related Articles