Michelle Bachelet (Politician/Mother)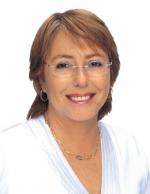 Verónica Michelle Bachelet Jeria is a center-left politician who was the President of Chile from March 2006 to March 2010 — the first woman to hold this position in the country's history. She won the 2006 presidential election in a runoff, beating center-right billionaire businessman and former senator Sebastián Piñera, with 53.5% of the vote.
A moderate Socialist, she campaigned on a platform of continuing Chile's free market policies, while increasing social benefits to help reduce the country's gap between rich and poor, one of the largest in the world. She was inaugurated on March 11, 2006.
Bachelet — a pediatrician and epidemiologist with studies in military strategy — served as Health Minister and Defense Minister under President Ricardo Lagos. She is a separated mother of three and a self-described agnostic.
A polyglot, she speaks Spanish, English, German, Portuguese and French. In 2008, Forbes magazine ranked her as 25th in the list of the 100 most powerful women in the world (she was #27 in 2007, and #17 in 2006). In 2008, TIME magazine ranked her 15 on its list of the world's 100 most influential people.
Related Links:
Wikipedia
The World's Most Powerful Women 2009