Gro Harlem Brundtlan (Politician/Diplomat/Physician)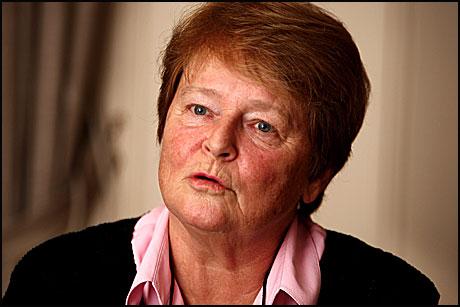 Gro Harlem Brundtland (born Gro Harlem, 20 April 1939) is a Norwegian Social democratic politician, diplomat, and physician, and an international leader in sustainable development and public health.
She served three terms as Prime Minister of Norway (1981, 1986-89, 1990-96), and has served as the Director General of the World Health Organization.
She now serves as a Special Envoy on Climate Change for the United Nations Secretary-General Ban Ki-moon. In 2008 she became the recipient of the Thomas Jefferson Foundation Medal in Architecture.
Born in Oslo as a daughter of Gudmund Harlem, Brundtland was educated as a Medical Doctor (cand.med.) at the University of Oslo in 1963, and Master of Public Health at Harvard University in 1965.
From 1966 to 1969, she worked as a physician at the Directorate of Health (Helsedirektoratet), and from 1969 she worked as a doctor in Oslo's public school health service.
She was Norwegian Minister for Environmental Affairs from 1974 to 1979, and became Norway's first — and to date only — female Prime Minister. She served as Prime Minister from February to October in 1981.
Brundtland became Norwegian Prime Minister for two subsequent terms from 9 May 1986 until 16 October 1989 (This cabinet was internationally renowned for its large percentage of female ministers.
Eight of the eighteen total were female) and from 3 November 1990 until 25 October 1996, when she resigned and retired from Norwegian politics, and was succeeded by Thorbjørn Jagland. She resigned as leader of the Norwegian Labour Party in 1992.
Gro Harlem Brundtland is a member of Human-Etisk Forbund, the Norwegian Humanist Association.
She is a member of the Norwegian Academy of Science and Letters.
In 1983, Brundtland was invited by then United Nations Secretary-General Javier Pérez de Cuéllar to establish and chair the World Commission on Environment and Development (WCED), widely referred to as the Brundtland Commission, developing the broad political concept of sustainable development in the course of extensive public hearings that were distinguished by their inclusiveness and published its report Our Common Future in April 1987.
The Brundtland Commission provided the momentum for the 1992 Earth Summit/UNCED, that was headed by Maurice Strong, who had been a prominent member of the Brundtland Commission. The Brundtland Commission also provided momentum for Agenda 21.
Brundtland was elected Director-General of the World Health Organization in May 1998. In this capacity, Brundtland adopted a far-reaching approach to public health, establishing a Commission on Macroeconomics and Health, chaired by Jeffrey Sachs, and addressing violence as a major public health issue. Brundtland spearheaded the movement, now worldwide, to achieve the abolition of cigarette smoking by education and persuasion.
Under her leadership, the World Health Organization was one of the first major employers to require freedom from tobacco addiction as a condition of employment. Brundtland was recognized in 2003 by Scientific American as their Policy Leader of the Year for coordinating a rapid worldwide response to stem outbreaks of SARS. Brundtland was succeeded on 21 July 2003 by Jong-Wook Lee. In 1994. Brundtland was awarded the Charlemagne Prize of the city of Aachen.
In 2006 Brundtland was a member of the Panel of Eminent Persons who reviewed the work of UNCTAD (United Nations Conference on Trade and Development.) In May 2007, the UN Secretary-General Ban Ki-moon named Brundtland, as well as Ricardo Lagos (the former president of Chile), and Han Seung-soo (the former foreign minister of South Korea), to serve as UN Special Envoys for Climate Change.
Brundtland's hallmark political activities have been chronicled by her husband, Arne Olav Brundtland, in his two bestsellers, Married to Gro (ISBN 82-516-1647-6) and the sequel, Still married to Gro (ISBN 82-05-30726-1).
Brundtland now works for Pepsi as a consultant.
Gro Harlem Brundtland is a member of the Council of Women World Leaders, an International network of current and former women presidents and prime ministers whose mission is to mobilize the highest-level women leaders globally for collective action on issues of critical importance to women and equitable development.
On 18 July 2007 in Johannesburg, South Africa, Nelson Mandela, Graça Machel, and Desmond Tutu convened a group of world leaders to contribute their wisdom, independent leadership and integrity to tackle some of the world's toughest problems. Nelson Mandela announced the formation of this new group, The Elders, in a speech he delivered on the occasion of his 89th birthday.
Archbishop Tutu will serve as the Chair of The Elders. The founding members of this group include Brundtland, Graça Machel, Kofi Annan, Ela Bhatt, Jimmy Carter, Li Zhaoxing, Mary Robinson and Muhammad Yunus.
"This group can speak freely and boldly, working both publicly and behind the scenes on whatever actions need to be taken," Mandela commented. "Together we will work to support courage where there is fear, foster agreement where there is conflict, and inspire hope where there is despair."
The Elders will be independently funded by a group of Founders, including Richard Branson, Peter Gabriel, Ray Chambers; Michael Chambers; Bridgeway Foundation; Pam Omidyar, Humanity United; Amy Robbins; Shashi Ruia, Dick Tarlow; and the United Nations Foundation.
Gro Harlem Brundtland has attended the Bilderberg meetings, and she is a member of the Club of Madrid.
She married Arne Olav Brundtland on 9 December 1960. A humanist family, they have four children. They own a house in the south of France. Brundtland has claimed to suffer from electrical sensitivity.
Brundtland received an operation for uterine cancer in 2002 at Ullevål University Hospital.[8] In 2008 it became known that during 2007 she had received two treatments at Ullevål, paid for by Norwegian public expenditures. Since she had previously notified the Norwegian authorities that she had changed residence to France, she was no longer entitled to benefits of Norwegian social security.
Following intense media attention surrounding the matter, Brundtland decided to change residence once more, back to Norway, and she also announced that she would be paying for the treatments herself.
Related Links:
Gro Harlem Brundtland on Wikipedia