Susanna M. Salter (Politician/Activist)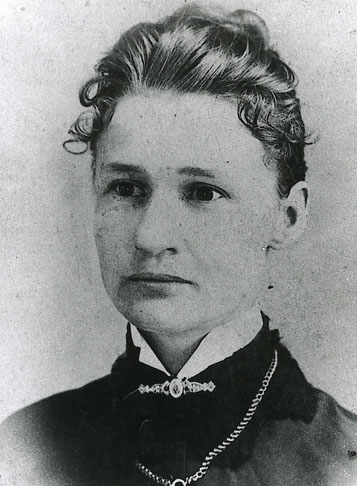 Susanna Madora "Dora" Salter (March 2, 1860 – March 17, 1961) was a U.S. politician and activist. She served as mayor of Argonia, Kansas, becoming the first woman elected as mayor and the first woman elected to any political office in the United States.
Susanna Madora Kinsey was born near the unincorporated community of Lamina in Smith Township, Belmont County, Ohio, was the daughter of Oliver Kinsey and Terissa Ann White Kinsey, the descendants of Quaker colonists from England.
At age 12, she moved to Kansas with her parents. Eight years later, she entered Kansas State Agricultural College (present-day Kansas State University) in Manhattan, and was able to skip her freshman year, having taken college-level courses in high school, but was forced to drop out six weeks short of graduation due to illness.
While a student, she met Lewis Allison Salter, an aspiring attorney and the son of former Kansas Lt. Governor Melville J. Salter. They married soon thereafter and moved to Argonia, where she was active in the local Woman's Christian Temperance Union organization, and became acquainted with nationally-known temperance activist Carrie A. Nation.
In 1883, she gave birth to the first baby born in Argonia, Francis Argonia Salter. Lewis and Susanna Salter had a total of nine children, one of whom was born during her tenure as mayor and died in infancy. Following the city's incorporation in 1885, her father and husband were elected as the city's first mayor and city clerk, respectively.
Susanna Salter was elected mayor of Argonia on April 4, 1887. Although her term was uneventful, her election generated worldwide interest from the press, sparking a debate regarding the feasibility of other towns following Argonia lead, which ranged from objections to a "petticoat rule" to a "wait-and-see" attitude.
After only a year in office, she declined to seek reelection. As compensation for her service, she was paid one dollar. The house she lived in during her tenure as mayor was added to the National Register of Historic Places in September, 1971.
Following her term as mayor, Salter and her family continued to live in Argonia, until 1893 when her husband acquired land on the Cherokee Strip in Alva, Oklahoma. Ten years later, they moved to Augusta, Oklahoma, where her husband practiced law and established the Headlight newspaper.
They eventually joined the town's settlers in moving to Carmen, Oklahoma. Following her husband's death in 1916, she moved to Norman, Oklahoma, accompanying her youngest child at the University of Oklahoma. She lived in Norman for the remainder of her life and maintained an interest in religious and political matters, although she never again sought elected office.
She died two weeks after her 101st birthday, and was buried in Argonia.
Related Links:
Susanna M. Salter on Wikipedia