Katharine Graham (Publisher)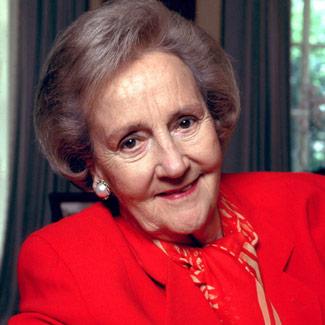 Katharine Meyer Graham (June 16, 1917 – July 17, 2001) was an American publisher.
She led her family's newspaper, The Washington Post, for more than two decades, overseeing its most famous period, the Watergate coverage that eventually led to the resignation of President Richard Nixon.
Her memoir, Personal History, won the Pulitzer Prize in 1998.
Graham's father, Eugene Meyer, was a financier and, later, a public official. He bought The Washington Post in 1933 at a bankruptcy auction. Her mother, Agnes Ernst, was a bohemian intellectual, art lover and political activist in the Republican Party, who shared friendships with people as diverse as Auguste Rodin, Marie Curie, Albert Einstein and Eleanor Roosevelt, and worked as a newspaper reporter at a time when journalism was an uncommon profession among women.
Graham lived a privileged childhood. Her parents owned several homes across the country, but primarily lived between a veritable 'castle' in Mount Kisco, New York and a smaller home in Washington, D.C.
Graham often did not see much of her parents during her childhood, as both traveled and socialized extensively, and was raised in part by nannies, governesses and tutors. As a young adult, Graham felt she had been sheltered by such privilege.

Her elder sister Florence Meyer (1911–1962) was a successful photographer and wife of actor Oscar Homolka.

Graham was an alumna of The Madeira School (to which her father had donated much land) and attended Vassar College before transferring to the University of Chicago. In Chicago, she became quite interested in labor issues and shared friendships with people from walks of life very different from her own. After graduation, she worked for a short period at a San Francisco newspaper where, among other things, she helped cover a major strike by wharf workers.

Her father's sister, Florence Meyer Blumenthal founded the Prix Blumenthal, given to painters, sculptors, decorators, engravers, writers, and musicians during the period of 1919-1954.

Graham began working for the Post in 1938. While in Washington, D.C., she met a former schoolmate, Will Lang Jr. The two dated, but broke off the relationship due to conflicting interests.

On June 5, 1940, she married Philip Graham, a graduate of Harvard Law School and a clerk for Supreme Court Justice Felix Frankfurter. They had a daughter, Lally Morris Weymouth (born 1943), and three sons: Donald Edward Graham (born 1945), William Welsh Graham (born 1948) and Stephen Meyer Graham (born 1952).

Philip Graham became publisher of the Post in 1946, when Meyer left that position to become head of the World Bank. Meyer left that position only six months later; he was Chairman of the Washington Post Company until his death in 1959, when Philip Graham took that position and the company expanded with the purchases of television stations and Newsweek magazine.

After several years of suffering from manic depression, Philip Graham had a nervous breakdown.

At a newspaper conference in Phoenix, Arizona, Graham had a nervous breakdown. Katharine and Phil's daughter Lally and son Don flew to Arizona to retrieve him by private jet, and her sedated husband was flown back to Washington. Philip was taken to the private Chestnut Lodge psychiatric facility near Washington, D.C.
Around this time, Katharine discovered her husband had been cheating on her with Robin Webb, an Australian stringer for Newsweek. Graham declared that he would divorce his wife for Robin and he made motions to divide up the couple's assets.
Graham was released from the psychiatric facility after five days, but began suffering from depression and returned to the facility. During a weekend release from Chestnut Lodge on August 3, 1963, Graham committed suicide with a 28-gauge shotgun at the couple's Glen Welby home.

Katharine Graham assumed the reins of the company, and of the Post, after Philip Graham's suicide. Graham was de facto publisher of the newspaper from 1963 onward, formally assuming the title in 1979, and chairman of the board from 1973 to 1991. As the only woman to be in such a high position at a publishing company, she had no female role models and had difficulty being taken seriously by a many of her male colleagues and employees.

Graham outlined in her memoir her lack of confidence and distrust in her own knowledge. The convergence of the women's movement with Graham's ascension to power at the Post brought about changes in Graham's attitude, and also led her to promote gender equality within her company.

Her memoir, Personal History, won the Pulitzer Prize in 1998.
Graham hired Benjamin Bradlee as editor and cultivated Warren Buffett for his financial advice; he became a major shareholder and something of an eminence grise in the company. Her son Donald was publisher from 1979 to 2000.
Related Articles