Joan Rivers (Comedian/Actress)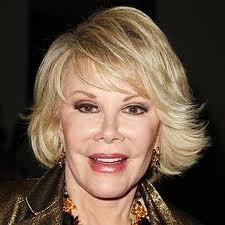 Joan Rosenberg aka Joan Rivers (born Joan Alexandra Molinsky; June 8, 1933 - September 4, 2014) was an American comedian, television personality and actress.
She was known for her brash manner, her loud, raspy voice with a heavy New York accent, as well as her numerous cosmetic surgeries.
Rivers' comic style relied heavily on poking fun at herself and other celebrities, mostly about their fashion sense.
Here she is live at the Apollo in 2007:
A documentary film about Rivers, Joan Rivers: A Piece of Work, premiered at the San Francisco International Film Festival at the Castro Theatre on May 6, 2010. She was born in Brooklyn, New York, the daughter of Russian Jewish immigrants Beatrice (née Grushman) and Meyer C. Molinsky, a doctor.
She was reared in Brooklyn, New York, and her family later moved to Larchmont, in Westchester County, NY. She attended Connecticut College between 1950 and 1952 and graduated from Barnard College in 1954 with a bachelor-of-arts degree in English literature and anthropology.
Before entering show business, Rivers worked at various jobs such as a tour guide at Rockefeller Center, a writer/proofreader at an advertising agency and as a fashion consultant at Bond Clothing Stores. During this period, an agent named Tony Rivers told her to change her name, so she suggested Joan Rivers as her new name.
Her first marriage was in 1955 to James Sanger, the son of a Bond Clothing Stores merchandise manager. The marriage lasted six months and was annulled on the basis that Sanger did not want children and had not informed Rivers before the wedding. Her second marriage was on July 15, 1965 to Edgar Rosenberg, who committed suicide in 1987. Their only child, Melissa Warburg Rosenberg (now known as Melissa Rivers), was born on January 20, 1968.
In her book, Bouncing Back (1997), she described how she developed bulimia and contemplated suicide. Eventually she recovered with counseling and the support of her family.
In 2002, Rivers told the Montreal Mirror that she is a Republican.
During the late 1950s, Rivers appeared in a short-run play, Seawood, playing a lesbian with a crush on a character played by a then-unknown Barbra Streisand. The play ran for six weeks. Rivers performed in numerous comedy clubs in the Greenwich Village area of New York City in the early 1960s, including The Bitter End and The Gaslight Cafe, before making her first appearances as a guest on the TV program The Tonight Show. (The program, then originating from New York, was hosted by Jack Paar.
By 1965, Rivers had a stint on Candid Camera as a gag writer and participant; she was "the bait" to lure people into ridiculous situations for the show. She also made her first appearance on The Tonight Show with new host, of course, Johnny Carson, on February 17, 1965. During the same decade, Rivers made other appearances on The Tonight Show as well as The Ed Sullivan Show, while hosting the first of several talk shows.
She had a brief role in The Swimmer (1968), starring Burt Lancaster. A year later, she had a short-lived syndicated daytime talk show; Johnny Carson was her first guest.In the middle of the 1960s, she released at least two comedy albums, The Next to Last Joan Rivers Album and Joan Rivers Presents Mr. Phyllis & Other Funny Stories.
By the 1970s, Rivers was appearing on various television comedy and variety shows, including The Carol Burnett Show and a semi-regular stint on Hollywood Squares. From 1972 to 1976, she narrated The Adventures of Letterman, an animated segment for The Electric Company. In 1978, Rivers wrote and directed the film Rabbit Test, starring her friend Billy Crystal. During the same decade, she was the opening act for singer Helen Reddy on the Las Vegas Strip, becoming a Strip headliner herself in the 1980s.
Rivers has spoken of her primary Tonight Show life as having been Johnny Carson's daughter, a reference to his longtime mentoring of her and, during the 1980s, establishing her as his regular guest host by August 1983. It was not her only work, however. On April 9, 1983, she hosted Saturday Night Live. In the same period, she released a best-selling comedy album on Geffen Records, What Becomes a Semi-Legend Most? The album reached No. 22 on the U.S. Billboard 200 and was nominated for a Grammy Award for Best Comedy Album.
Also in 1984, Rivers published a best-selling humor book, The Life and Hard Times of Heidi Abramowitz, a mock memoir of her brassy, loose comedy character. A television special based on the character, a mock tribute called Joan Rivers and Friends Salute Heidi Abramowitz, was not successful with the public.
The decade was controversial for Rivers. She sued female impersonator Frank Marino for $5,000,000 in 1986, after discovering he was using her real stand-up material in the impersonation of her that he included in his popular Las Vegas act. The two comics reconciled, even appearing together on television in later years.
Also in 1986 came the move that cost Rivers her longtime friendship with Carson, who had first hired her as a Tonight Show writer. The soon-to-launch Fox Television Network announced that it was giving her a late night talk show, The Late Show Starring Joan Rivers. The new network planned to broadcast the show 11:00 p.m. to 12:00 a.m. Eastern Time, making her a Carson competitor. Carson claimed he learned of the show from Fox and not from Rivers herself. In 2008, during an interview with Dr. Pamela Connolly on television's Shrink Rap, Rivers claimed she did call Carson, but he hung up on her at once and repeated the jesture when she called again.
The Late Show Starring Joan Rivers turned out to be flecked by tragedy. When Rivers challenged Fox executives, who wanted to fire her husband Edgar Rosenberg as the show's producer, the network fired them both. On May 15, 1987, three months later, Rosenberg committed suicide in Philadelphia; Rivers blamed the tragedy on his "humiliation" by Fox. Fox attempted to continue the show with a new name (The Late Show) and rotating guest hosts.
A year after the Late Show debacle, Rivers was a guest on TV's Pee-Wee's Playhouse Christmas Special. By 1989, she tried another daytime TV talk show, The Joan Rivers Show, which ran for five years.
In 1994, Rivers and daughter Melissa first hosted the E! Entertainment Television pre-awards show for the Golden Globe Awards. Beginning in 1995, they hosted the annual E! Entertainment Television pre-awards show for the Academy Awards. Beginning in 1997, Rivers hosted her own radio show on WOR in New York.
Related Articles