Roseanne Barr (Actress/Comedian/Writer/Producer/Director)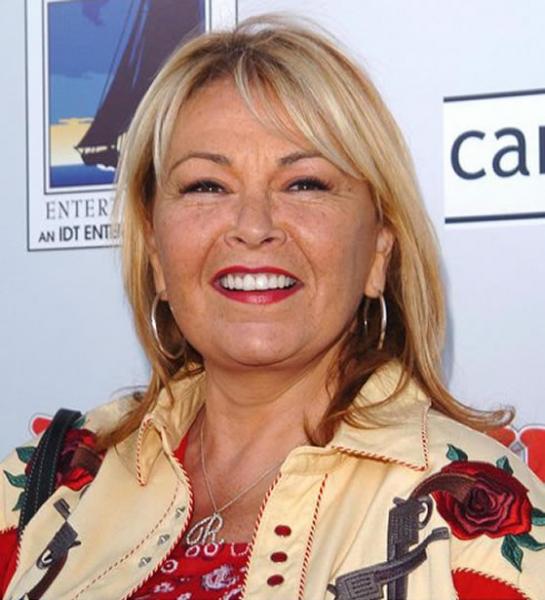 Roseanne Cherie Barr (born November 3, 1952) is an American actress, comedian, writer, television producer and director.
Barr won both an Emmy Award and a Golden Globe Award for Best Actress for her work on Roseanne. In addition, she has won six People's Choice Awards, three American Comedy Awards, a Kids Choice Award, a GLAAD Media Award, and the TV Land Innovator Award.
The oldest of four children, she was born in Salt Lake City to a working-class Jewish family. Her mother, Helen (née Davis), was a bookkeeper and cashier. Her father, Jerome Hershel "Jerry" Barr, worked in sales as a door-to-door salesman of household goods.
Barr's grandparents and great-grandparents were immigrants from Ukraine, Russia, Lithuania and Austria-Hungary, and her paternal grandfather changed his surname from "Borisofsky" to "Barr" upon entering the United States.
Barr's parents kept their Jewish heritage secret from their neighbors and were partially involved in The Church of Jesus Christ Of Latter-day Saints. Barr has stated, "Friday, Saturday, and Sunday morning I was a Jew; Sunday afternoon, Tuesday afternoon, and Wednesday afternoon we were Mormons"; her Jewish upbringing was influenced by her devoutly Orthodox Jewish maternal grandmother.
Barr's real-life brother and sister are gay, which is what later inspired her to introduce gay characters into her sitcom, Roseanne. Barr has publicly stated that she supports gay marriage.
In 1970, while residing in Denver, Barr had a daughter named Brandi; whom she put up for adoption. In 1989, Brandi reunited with Barr. On February 4, 1974, Barr married Bill Pentland. They had three children, Jessica, Jennifer, and Jake.
Roseanne became famous in the early 1980s with her stand-up comedy routine, receiving critical acclaim for her unglamorized portrayal of the typical American working-class housewife. In her routine she popularized the phrase, "domestic goddess," to refer to a homemaker or housewife. The success of her act led to her own series on ABC, called Roseanne.
The show ran from 1988 to 1997, and co-starred Emmy winners Laurie Metcalf and John Goodman. Roseanne won an Emmy, a Golden Globe, a Kids Choice Award, and three American Comedy Awards for her part in the show. For the final season Roseanne earned $650,000 an episode. During the show's final season, Roseanne was in negotiations between Carsey-Werner Productions and ABC executives on continuing to play Roseanne Conner in a new spin-off of Roseanne.
However, ABC had withdrawn from negotiations with Carsey-Werner and Roseanne and after failed discussions with CBS and Fox, Carsey-Werner and Roseanne agreed to not go on with the negotiations. After the end of her sitcom's run, she portrayed the Wicked Witch of the West in a production of The Wizard of Oz at Madison Square Garden.
In 1994, Barr became the first female comedian to ever host the MTV Video Music Awards on her own. She remained the only to have done so until comedienne Chelsea Handler hosted in 2010.
She went on to host her own talk show, The Roseanne Show, which ran for two years before it was canceled in 2000. In the summer of 2003, she took on the dual role of hosting a cooking show (called Domestic Goddess) and starring in a reality show (called The Real Roseanne Show) about hosting a cooking show. Although 13 episodes were in production; a hysterectomy brought a premature end to both projects.
In 2005, she returned to stand-up comedy, touring the world. In February 2006, Roseanne performed her first-ever live dates in Europe as part of the Leicester Comedy Festival in Leicester, England. The shows took place at De Montfort Hall. She released her first kids' DVD, Rockin' with Roseanne: Calling All Kids, that month.
Roseanne has a star on the Hollywood Walk of Fame at 6767 Hollywood Blvd.
Roseanne's return to the stage culminated in an HBO Comedy Special Roseanne Barr: Blonde N Bitchin', which aired November 4, 2006, on HBO. Two nights earlier, Roseanne returned to prime-time network TV with a guest spot on NBC's My Name Is Earl, playing a crazy trailer park manager.
On January 11, 2007, TV Land announced that Roseanne would be the host of season three of The Search for the Funniest Mom in America on Nick at Nite. The show aired in spring 2007.
In 2008, she headlined an act at the Sahara Hotel and Casino on the Las Vegas Strip.
From 2009 to 2010, she hosted a politically-themed radio show on KPFK. She currently hosts a weekly radio show Sundays on KCAA in the Los Angeles area.
On March 23, 2009 it was announced that Roseanne would be returning to primetime with a new sitcom, where she would once again play the matriarch. Jim Vallely, of Arrested Development, has been tapped to pen the series. She later stated on her website that the project had been cancelled, and it is unknown if she will pursue developing another sitcom.
2009 also saw Roseanne creating a pilot, entitled "The Tipping Point", for Free Speech TV. No other episodes were filmed, and the pilot can be viewed at Free Speech TV's website.
On April 15, 2009 Barr made an appearance on Bravo's 2nd Annual A-List Awards in the opening scenes. She played Kathy Griffin's fairy godmother, granting her wish to be on the A-List for one night only.
Roseanne headlined the inaugural Traverse City Comedy Arts Festival in February 2010, a project of the Traverse City Film Festival, founded by Academy Award-winning filmmaker Michael Moore. Moore developed the comedy fest with Emmy-winning comedian Jeff Garlin.
On January 4, 2011, Roseanne will release her third book, entitled "Roseannearchy: Dispatched from the Nut Farm".
In August 2010, Roseanne announced her candidacy for President of the United States in 2012 on the new "Green Tea Party" ticket.
On February 4, 1974 Barr married Bill Pentland. The couple had three children before divorcing on January 16, 1990. Later that year, Barr married fellow comedian Tom Arnold. This relationship lasted until 1994, when they sought a highly publicized divorce. On February 14, 1995 Roseanne married Ben Thomas, her one time personal security guard. They stayed together until 2002, and had one son (Buck).
Barr told James Rampton of The Independent that fame went to her head. Barr, who had worked as a window dresser and waitress in Denver, said she had become famous quickly and lost touch with reality. "I was in a sound studio for almost a decade. At the end of it, like Rip van Winkle, I came back and found that everything had changed. Suddenly there were computers and e-mails, and it took me another 10 years to catch up with regular people. But the TV show is over. What am I going to do?"
Barr returned to stand-up comedy but with a notably different appearance: she has lost some weight, dyed her hair blonde, and had plastic surgery, which she does not recommend – "Now I realize that everyone has to get old and die, but it was still a very bad experience.... No one looks better after plastic surgery. Just pink and shiny. At the end of it, you look like an idiot." Barr claims that some of her surgery was for health reasons; she had a rhinoplasty to correct sleep apnea; while her breast reduction surgery was to reduce back pain.
Barr has written that she considers herself a kabbalist and a follower of Jesus Christ
On July 25, 1990, Barr performed "The Star-Spangled Banner" before a baseball game between the San Diego Padres and Cincinnati Reds at Jack Murphy Stadium. As she later claimed, she was initially having trouble hearing herself over the public-address system, so she was singing as loudly as possible, and her rendition of the song sounded "screechy".
Following her rendition, she mimicked the often-seen actions of players by spitting and grabbing her crotch as if adjusting a protective cup. Barr claimed she had been encouraged by baseball officials to "bring humor to the song". The song and the closing routine received heavy media attention and offended many, including President George H.W. Bush, who called her rendition "disgraceful."
Related Links:
Roseanne Barr on Wikipedia
Roseanne World