Lily Tomlin (Actress/Comedian/Writer/Producer)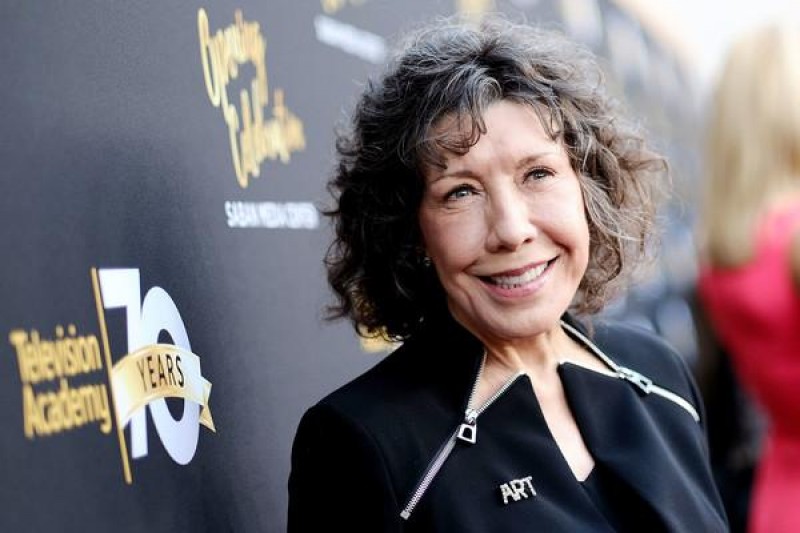 Mary Jean "Lily" Tomlin (born September 1, 1939) is an American actress, comedian, writer and producer. She has won multiple awards from many quarters, including Tony Awards, Emmy Awards, and a Grammy Award and has also been nominated for an Academy Award. Tomlin was born in Detroit, Michigan, the daughter of Lillie Mae (née Ford), a housewife and nurse's aide, and Guy Tomlin, a factory worker. Tomlin's parents were Southern Baptists who moved to Detroit from Paducah, Kentucky, during the Great Depression.
She is a 1957 graduate of Cass Technical High School. Tomlin attended Wayne State University, where her interest in the theater and performing arts began.
Here she is doing a satire on infomercials (for vibrators!):
After college, Tomlin began doing stand-up comedy in nightclubs in Detroit and later in New York City. Her first television appearance was on The Merv Griffin Show in 1965.
In 1969, after a brief stint as a hostess on the ABC network's Music Scene, Tomlin joined NBC's sketch comedy show Laugh-In. Some characters from this show have been associated with her throughout her career, including the wisecracking, snorting telephone operator, Ernestine; the bratty five-year-old Edith Ann, seated in an over-sized rocking chair making rude noises while telling stories about her baby brother and pet dog Buster; and the Tasteful Lady, who lives a gracious, naive life of entitlement in the upper class and shades of whom show up in Tomlin's film role in All of Me.
Additional characters include Susie the Sorority Girl, who appeared on Tomlin's album Modern Scream and in her 1975 appearance on Saturday Night Live.
Tomlin was also one of the first female comedians to break out in male drag with her characters Tommy Velour and Rick. Though drag had been around in Hollywood for some time by men, Tomlin broke new ground by not only crossing gender stereotypes, but racial ones as well. In 1982, she premiered Pervis Hawkins, a black rhythm-and-blues soul singer (patterned after Luther Vandross), with a mustache, beard and close-cropped afro hairstyle, dressed in a three-piece suit. Tomlin used very little if any skin-darkening cosmetics (it usually depended on stage lighting) as part of the character.
AT&T offered Tomlin US$500,000 to play her character Ernestine in a commercial, but she declined saying it would compromise her artistic integrity. In 1976 she appeared as Ernestine in a parody of a commercial on Saturday Night Live, in which she proclaimed, "We don't care, we don't have to...we're the phone company." The character later made a guest appearance at The Superhighway Summit at UCLA, January 11, 1994, interrupting a speech being given on the information superhighway by then-Vice President Al Gore. In 2003, she made two commercials as Ernestine for WebEx.
Tomlin is noted for her versatility. In Robert Altman's Nashville, for which she was nominated for an Academy Award for Best Supporting Actress, she played Linnea Reese, a straitlaced, gospel-singing, mother of two deaf children who has an affair with a womanizing country singer (played by Keith Carradine). The Oscar that year went to Lee Grant for her role in Shampoo. She was also a secretary named Violet Newstead in Nine to Five, performed several comedic roles in the 1981 film The Incredible Shrinking Woman, and was a sickly heiress in the Steve Martin comedy All of Me.
She and Bette Midler played two pairs of identical twins who were switched at birth in the 1989 comedy Big Business. Tomlin also played chain-smoking waitress Doreen Piggott in Altman's 1993 ensemble film Short Cuts, and, in two films by director David O. Russell; she appeared as a peacenik Raku artist in Flirting with Disaster and later, as an existential detective in I ? Huckabees. In 2007, a video recording surfaced showing Tomlin and Russell in a heated exchange over the shooting of a scene in Huckabees.
Tomlin voiced Ms. Frizzle on the animated television series The Magic School Bus from 1994 to 1997. Also, in the 1990s, Tomlin appeared on the popular sitcom Murphy Brown as the title character's boss. In 2005 and 2006, she had a recurring role as Will Truman's boss Margot on Will & Grace. She appeared on the dramatic series The West Wing for four years (2002-2006) in the recurring role of presidential secretary Deborah Fiderer.
Tomlin was the first woman to appear solo in a Broadway show with her premiere of "Appearing Nitely" at the Biltmore theatre in April, 1977. The same month, she made the cover of "Time" magazine with the headline "America's New Queen of Comedy." Her solo show then toured the country and was made into a record album titled "On Stage."
In 1985, Tomlin starred in another one-woman Broadway show The Search For Signs of Intelligent Life in the Universe, written by her long-time life partner, writer/producer Jane Wagner. The show won her a Tony Award, and was made into a feature film in 1991. Tomlin revived the show for a run on Broadway in 2000 which then toured the country through mid-2002. In 1989, she won the Sarah Siddons Award for her work in Chicago theatre.
She collaborated again with director Robert Altman, starring in Altman's last film A Prairie Home Companion, playing Rhonda Johnson, one half of a middle-aged Midwestern singing duo with Meryl Streep.
In the 2008-2009 fifth season of Desperate Housewives she has a recurring role as Roberta, the sister of Mrs. McCluskey (played by Kathryn Joosten, who coincidentally had played Tomlin's secretarial predecessor on The West Wing). During the 2008 Emmy Awards, Tomlin appeared as part of a tribute to the influential 1960s television series Laugh-In. Tomlin voiced Tammy in the 2005 The Simpsons episode, "The Last of the Red Hat Mamas". Tomlin provided a voice for the film Ponyo on the Cliff by the Sea, which was released in August 2009.
Since its launch in 2008, Tomlin has been a contributor for wowOwow.com, a website for women to talk culture, politics and gossip.
Tomlin and Kathryn Joosten have been in talks to star in a Desperate Housewives spin-off, which was given the green light in May 2009. Tomlin premiered her one-woman show "Not Playing with a Full Deck" at the MGM Grand in Las Vegas in November, 2009. It was her first appearance in that city, though she did tape an Emmy-winning TV special, a spoof of Las Vegas called "Lily: Sold Out" which premiered on CBS in January 1991. Tomlin guest starred as Marilyn Tobin in the third season of Damages on FX in 2010.
Throughout her career, there is rarely a time when Tomlin has not been performing her evolving show somewhere.
Related Articles