Shappi (Shaparak) Khorsandi (Comedienne)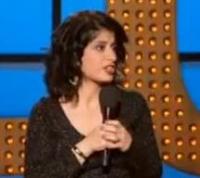 Shaparak "Shappi" Khorsandi (Persian: شاپرک خرسندی) is an Iranian-born, UK-raised comedian.

She was born in Tehran, but fled to London from post-revolutionary Iran at the age of three and a half with her family, after her father Hadi Khorsandi published a satirical poem perceived as being critical of the revolutionary regime.
Described as a "secular" Iranian Muslim who was raised without any religion, comedienne Khorsandi is reported to have been called an anarchist by her own father.
When confronted by male audiences surprised to see a woman comedienne, she says she explains her presence with: "Some of us get on the stage now without a pole...."
As for the helping people understand the difference between Iran and Iraq, she says: "We're the ones WITH weapons of mass destruction."
Whatever labels anyone else might put on her, and based on the clips I've seen, I can only describe her as being amazingly witty and VERY funny.
One man, interviewed coming out of one of her shows said: "The fact that she can make such fantastic comedy out of horrendous family circumstances, I thought was just amazing. We were sitting there and I thought, I'm not sure I should be laughing at this because it's just horrible, but she's got such charm that we just went with it and I thought she was wonderful."
Here she is at The Apollo:
Related Articles