Warning: Wildly Funny Comedienne Wanda Sykes Uses Foul Language
Susan warns: Wanda Sykes' brand of humour isn't for everybody: ­ her monologues are filled with "bad words," sexual innuendo and blunt comments on taboo subjects and current events. However, if foul language doesn't bother you, and you have a slightly twisted sense of humour, you'lll LOVE her.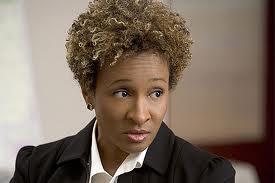 Wikipedia says: Wanda Sykes is an American writer, stand-up comedian and actress. She is known for her blunt comedic observations on current events, the differences between the sexes and races, and the human condition.
She is known for her role as Barb on The New Adventures of Old Christine, on HBO's Curb Your Enthusiasm as herself and numerous cameo appearances.
In 2004 Entertainment Weekly named her as one of the 25 funniest people in America. She has won four Emmy Awards for her writing as well as numerous other awards. If you're easily shocked, don't watch this bit called "detachable pussy." On the other hand, if you are OK with ribald humour, go for it and ROFL!
Related links: