Heather Knight Introduces A Robotic Stand-up Comedian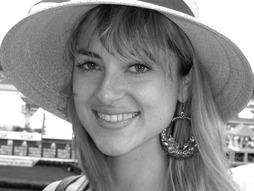 In this first-of-its-kind demo, Heather Knight introduces Data, a robotic stand-up comedian that does much more than rattle off one-liners -- it gathers audience feedback (using software co-developed with Scott Satkin and Varun Ramakrishna at CMU) and tunes its act as the crowd responds. Is this thing on?

Heather Knight runs Marilyn Monrobot, which creates socially intelligent robot performances and sensor-based electronic art. (and she helped build the amazing Rube Goldberg machine for OK Go's "This Too Shall Pass.")

Heather Knight is conducting her doctoral research at the intersection of robotics and entertainment at Carnegie Mellon's Robotics Institute.

She runs Marilyn Monrobot in New York, where she and her cohort create "charismatic machine performances."

As she describes it: "In one example, robot and human actors will perform the same script and basic set of actions, but each time vary the emotional and social content of those interactions. This variation will ... allow the general public to craft and hone robot personalities."
Her installations have been featured at the Smithsonian-Cooper Hewitt Design Museum, LACMA, SIGGRAPH, PopTech and the Fortezza da Basso in Florence, Italy.
Her past work also includes robotics and instrumentation at NASA's Jet Propulsion Laboratory, interactive installations with Syyn Labs (including the award- winning Rube Goldberg machine music video with OK Go), and sensor design at Aldebaran Robotics.
She was recently named Assistant Director of Robotics at Humanity+.
Susan notes: Thanks to TED for making TED Talks downloadable and embeddable, and for providing the biographical information that goes along with them.
Related Articles