Graca Machel (Women's Advocate/Activist)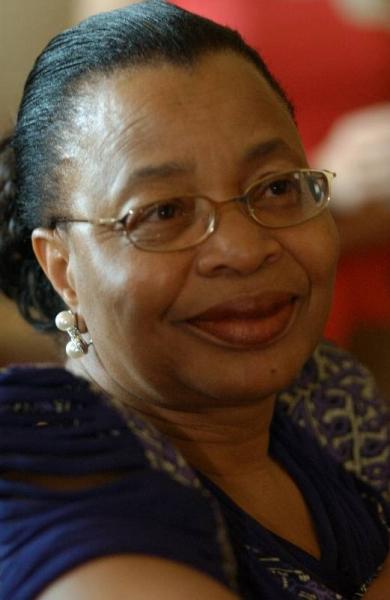 Graça Machel, DBE (born Graça Simbine; 17 October 1945) is a Mozambican politician, humanitarian and international advocate for women's and children's rights.
She was the third wife and now the widow of former South African president Nelson Mandela, as well as the widow of the late Mozambican president Samora Machel.
She is the only woman in the world to have served as the First Lady of two different nations.
Born in rural Incadine, Gaza Province, Mozambique (Portuguese East Africa Colony), she attended Methodist Mission schools before gaining a scholarship to attend University of Lisbon in Portugal, where she first became involved in independence issues.
In that university, she got a scholarship from Romance Languages. She is fluent in French, Spanish, Italian, and Portuguese, as well as English and her native Tsonga. She returned to Mozambique in 1973, joined the Mozambican Liberation Front (FRELIMO) and became a schoolteacher.
Following Mozambique (Republic of Mozambique) independence in 1975, Machel was appointed Minister for Education and Culture. She married Samora Machel the same year. Following her retirement from the Mozambique ministry, Machel was appointed as the expert in charge of producing the groundbreaking United Nations. Her first husband died in a plane crash over South Africa in 1986.
Machel received the 1995 Nansen Medal from the United Nations in recognition of her longstanding humanitarian work, particularly on behalf of refugee children.
She was thrust back into the international spotlight in July 1998 when she married Nelson Mandela.
In 1998, she was one of the two winners of the North-South Prize.
Machel currently serves as the chair of the Association of European Parliamentarians with Africa (AWEPA) Executive Committee.
On 18 July 2007 in Johannesburg, South Africa, Nelson Mandela, Graça Machel, and Desmond Tutu convened "The Global Elders, a group of world leaders to contribute their wisdom, leadership and integrity to tackle some of the world's toughest problems. Mandela announced its formation in a speech on his 89th birthday. Archbishop Tutu is to serve as its Chair. Other founding members include Kofi Annan, Ela Bhatt, Gro Harlem Brundtland, Jimmy Carter, Li Zhaoxing, Mary Robinson and Muhammad Yunus.
"This group can speak freely and boldly, working both publicly and behind the scenes on whatever actions need to be taken," Mandela commented. "Together we will work to support courage where there is fear, foster agreement where there is conflict, and inspire hope where there is despair."
The Elders will be independently funded by a group of Founders, including Richard Branson, Peter Gabriel, Ray Chambers, Michael Chambers, Bridgeway Foundation, Pam Omidyar, Humanity United, Amy Robbins, Shashi Ruia, Dick Tarlow and the United Nations Foundation.
In April of 2010, in an interview with the Guardian in Johannesburg, she raised anger amongst Zimbabwean activists opposed to ZANU-PF's continued influence in Zimbabwe's political situation when she said: "Can I be a little bit provocative?...the more the British shout, the worse the situation will be in terms of relationship with Zimbabwe.
That's why sometimes I really question, when something happens in Zimbabwe and Britain shouts immediately. Can't they just keep quiet? Sometimes you need just to keep quiet. Let them do their own things, let SADC (Southern African Development Community) deal with them, but keep quiet, because the more you shout, the worse [it is]." At the time she gave this interview, Zimbabwe's shaky coalition government of ZANU-PF and two MDC formations was still engaged in unproductive conciliatory talks with SADC as mediator.
Related Articles