Sarah Palin (Politician/Author/Speaker)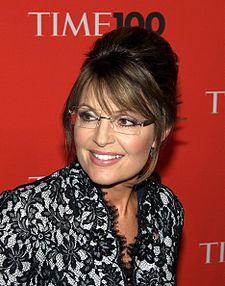 Sarah Louise Palin (born February 11, 1964) is an American politician, author, speaker, and political news commentator who was the youngest person and the first woman elected Governor of Alaska.
She served as governor from 2006 until she resigned in 2009. Chosen by Republican Party presidential candidate John McCain in August 2008 to be his running mate in that year's presidential election, she was the first Alaskan on the national ticket of a major party, as well as the first female vice-presidential nominee of the Republican Party.
On July 3, 2009, Palin announced she would not seek re-election as governor and that she was resigning effective July 26, 2009, eighteen months before the completion of her term.
She cited ethics complaints that had been filed following her selection as running mate to John McCain as one of the reasons for her resignation, saying the resulting investigations had affected her ability to govern the state.
Speculation that she will run for the Republican Party presidential nomination in 2012 began prior to the defeat of the McCain–Palin ticket in 2008.
Before she was elected governor, she was a member of the Wasilla, Alaska City Council from 1992 to 1996, and the city's mayor from 1996 to 2002. After an unsuccessful campaign for lieutenant governor of Alaska in 2002, she chaired the Alaska Oil and Gas Conservation Commission from 2003 until she resigned in 2004.
In November 2009, her autobiography Going Rogue: An American Life was released and it quickly became a best-seller, selling more than two million copies. In January 2010, Palin began providing political commentary to the Fox News Channel under a multi-year contract. It was announced in March 2010 that she was to host her own TV show, called Sarah Palin's Alaska. Palin authored a second book, America by Heart, which was released on November 23, 2010.
Palin was born in Sandpoint, Idaho, the third of four children (three daughters, one son) to Charles R. "Chuck" Heath, a science teacher and track coach, and Sarah "Sally" (née Sheeran), a school secretary. She is of English, Irish and German descent. Her siblings are Chuck Jr. (born February 7, 1962), Heather (Bruce) (born January 28, 1963), and Molly (McCann) (born November 26, 1966).
While Palin was an infant, the family moved to Skagway, Alaska, where her father worked as a teacher. After five years, the family moved to Eagle River, but relocated to Wasilla in 1972, when she was 8 years old. Palin played flute in the junior high band, then attended Wasilla High School where she was the head of the Fellowship of Christian Athletes, and a member of the girls' basketball and cross country running teams. During her senior year, she was co-captain and point guard of the basketball team that won the Alaska state championship, earning the nickname "Sarah Barracuda" for her competitive streak.
In 1984, Palin won the Miss Wasilla beauty pageant. She finished third in the Miss Alaska pageant, playing flute in the talent portion of the contest, and receiving both the Miss Congeniality award and a college scholarship.
After graduating from high school, Palin enrolled at the University of Hawaii in Hilo. Shortly after arriving in Hawaii, Palin switched to Hawaii Pacific University for a semester in the fall of 1982 and then North Idaho College in the spring and fall of 1983. In June 2008, the Alumni Association of North Idaho College gave her its Distinguished Alumni Achievement Award.
She attended the University of Idaho in the fall of 1984 and spring of 1985, and attended Matanuska-Susitna College in the fall of 1985. Palin returned to the University of Idaho in the spring of 1986, receiving her bachelor's degree in communications with an emphasis in journalism in 1987.
After graduating, she worked as a sportscaster for KTUU-TV and KTVA-TV in Anchorage, and as a sports reporter for the Mat-Su Valley Frontiersman, fulfilling an early ambition.
On August 29, 1988, she eloped with her high school sweetheart Todd Palin; according to her later account, this was to spare her parents the expense of a "big white wedding". After the marriage, she helped in her husband's commercial fishing business.
Motivated by concerns that revenue from a new Wasilla sales tax would not be spent wisely, Palin ran for mayor of Wasilla in 1996, defeating incumbent mayor John Stein 651 to 440 votes. Her biographer has described her campaign as targeting wasteful spending and high taxes; her opponent Stein has said that Palin introduced abortion, gun rights, and term limits as campaign issues.
The election was nonpartisan, but the state Republican Party took the unprecedented step of running advertisements for Palin. Palin ran for re-election against Stein in 1999 and won, 909 votes to 292. In 2002, she completed the second of the two consecutive three-year terms she was allowed to serve by the city charter. She was elected president of the Alaska Conference of Mayors in 1999.
In 2002, Palin ran for the Republican nomination for lieutenant governor, coming in second to Loren Leman in a five-way Republican primary. Following her defeat, she campaigned throughout the state for the Republican governor-lieutenant governor ticket of Frank Murkowski and Loren Leman. Murkowski and Leman won, Murkowski resigned from his long-held U.S. Senate seat in December 2002 to assume the governorship. Palin was said to be on the "short list" of possible appointees to Murkowski's U.S. Senate seat, but Murkowski ultimately appointed his daughter, State Representative Lisa Murkowski, as his successor in the Senate.
Governor Murkowski offered a number of other jobs to Palin, and in February 2003, she accepted an appointment to the Alaska Oil and Gas Conservation Commission, which oversees Alaska's oil and gas fields for safety and efficiency. Although she had little background in the area, she said she wanted to learn more about the oil industry, and was named chair of the commission and ethics supervisor.
By November 2003 she was filing non-public ethics complaints with the state attorney general and the governor against a fellow commission member, Randy Ruedrich, a former petroleum engineer and the current chair of the state Republican Party. Palin had observed Ruedrich doing Party business on the state's time, and leaking confidential information to oil industry insiders. He was forced to resign in November 2003.
Palin resigned in January 2004 and put her protests against Ruedrich's "lack of ethics" into the public arena by filing a public complaint against Ruedrich, who was then fined $12,000. She also joined with Democratic legislator Eric Croft in complaining that Gregg Renkes, a former Alaskan Attorney General, had a financial conflict of interest in negotiating a coal exporting trade agreement. Renkes also resigned his post.
From 2003 to June 2005, Palin served as one of three directors of "Ted Stevens Excellence in Public Service, Inc.," a 527 group designed to provide political training for Republican women in Alaska. In 2004, Palin told the Anchorage Daily News that she had decided not to run for the U.S. Senate that year against the Republican incumbent Lisa Murkowski because her teenage son opposed it. Palin said, "How could I be the team mom if I was a U.S. Senator?"
In 2006, running on a clean-government platform, Palin defeated incumbent Governor Frank Murkowski in the Republican gubernatorial primary. Her running mate was State Senator Sean Parnell.
In the November election, Palin was outspent but victorious, defeating former Democratic governor Tony Knowles by a margin of 48.3% to 40.9%. She became Alaska's first female governor, at the age of 42, the youngest governor in Alaskan history, the state's first governor to have been born after Alaska achieved U.S. statehood, and the first not to be inaugurated in Juneau (she chose to have the ceremony held in Fairbanks instead).
She took office on December 4, 2006, and for most of her term was very popular with Alaska voters. Polls taken in 2007 showed her with 93% and 89% popularity among all voters, which led some media outlets to call her "the most popular governor in America." A poll taken in late September 2008 after Palin was named to the national Republican ticket showed her popularity in Alaska at 68%. A poll taken in May 2009 showed Palin's popularity among Alaskans was at 54% positive and 41.6% negative.
Palin declared that top priorities of her administration would be resource development, education and workforce development, public health and safety, and transportation and infrastructure development. She had championed ethics reform throughout her election campaign. Her first legislative action after taking office was to push for a bipartisan ethics reform bill. She signed the resulting legislation in July 2007, calling it a "first step", and declaring that she remained determined to clean up Alaska politics.
Palin frequently broke with the state Republican establishment. For example, she endorsed Sean Parnell's bid to unseat the state's longtime at-large U.S. Representative, Don Young, and she publicly challenged then-Senator Ted Stevens to come clean about the federal investigation into his financial dealings. Shortly before his July 2008 indictment, she held a joint news conference with Stevens, described by The Washington Post as intended to "make clear she had not abandoned him politically."
Palin promoted oil and natural gas resource development in Alaska, including drilling in the Arctic National Wildlife Refuge (ANWR). Proposals to drill for oil in ANWR have been the subject of a national debate.
In 2006, Palin obtained a passport and in 2007 traveled for the first time outside of North America on a trip to Kuwait. There she visited the Khabari Alawazem Crossing at the Kuwait–Iraq border and met with members of the Alaska National Guard at several bases. On her return trip, she visited injured soldiers in Germany.
Several conservative commentators met Palin in the summer of 2007. Some of them, such as Bill Kristol, later urged McCain to pick Palin as his vice presidential running mate, arguing that her presence on the ticket would provide a boost in enthusiasm among the Religious Right wing of the Republican party, while her status as an unknown on the national scene would also be a positive factor.
On August 24, 2008 during a general strategy meeting, Steve Schmidt and a few other senior advisers to the McCain Campaign, discussed potential vice presidential picks with the consensus settling around Palin. The following day, the strategists advised McCain of their conclusions and he personally called Palin who was at the Alaska State Fair.
On August 27, she visited McCain's vacation home near Sedona, Arizona, where she was offered the position of vice-presidential candidate. According to Jill Hazelbaker, a spokeswoman for McCain, he had previously met Palin at the National Governors Association meeting in Washington in February 2008 and had come away "extraordinarily impressed."
Palin was the only prospective running mate who had a face-to-face interview with McCain to discuss joining the ticket that week. Nonetheless, Palin's selection was a surprise to many as speculation had centered on other candidates, such as Minnesota Governor Tim Pawlenty, Louisiana Governor Bobby Jindal, former Massachusetts Governor Mitt Romney, U.S. Senator Joe Lieberman of Connecticut, and former Pennsylvania Governor Tom Ridge. On August 29, in Dayton, Ohio, McCain announced that he had chosen Palin as his running mate.
Palin is the first Alaskan and the second woman to run on a major U.S. party ticket.
Since Palin was largely unknown outside Alaska before her selection by McCain, her personal life, policy positions, and political record drew intense media scrutiny. On September 1, 2008, Palin announced that her daughter Bristol was pregnant and that she would marry the father, Levi Johnston.
During this period, some Republicans felt that Palin was being unfairly attacked by the media. Timothy Noah of Slate magazine predicted that Palin's acceptance speech would be "wildly overpraised" and might end speculation that she was unqualified for the job of vice president because the press had been beating her up for "various trivial shortcomings" and had lowered the expectations for her speech.
On September 3, 2008, Palin delivered a 40-minute acceptance speech at the Republican National Convention that was well-received and watched by more than 40 million people. A Rasmussen poll taken immediately after the Convention found that 51% of Americans believed that the media was "trying to hurt" Palin with negative coverage, and 40% believed Palin to be ready for the Presidency.
During the campaign, controversy erupted over alleged differences between Palin's positions as a gubernatorial candidate and her position as a vice-presidential candidate. After McCain announced Palin as his running mate, Newsweek and Time put Palin on their magazine covers, as some of the media alleged that McCain's campaign was restricting press access to Palin by allowing only three one-on-one interviews and no press conferences with her.
Palin's first major interview, with Charles Gibson of ABC News, met with mixed reviews. Her interview five days later with Fox News' Sean Hannity went more smoothly and focused on many of the same questions from Gibson's interview. Palin's performance in her third interview, with Katie Couric of CBS News, was widely criticized; her poll numbers declined, Republicans expressed concern that she was becoming a political liability, and some conservative commentators called for Palin to resign from the Presidential ticket.
Other conservatives remained ardent in their support for Palin, accusing the columnists of elitism. Following this interview, some Republicans, including Mitt Romney and Bill Kristol, questioned the McCain campaign's strategy of sheltering Palin from unscripted encounters with the press.
Palin reportedly prepared intensively for the October 2 vice-presidential debate with Democratic vice-presidential nominee Joe Biden at Washington University in St. Louis. Some Republicans suggested that Palin's performance in the interviews would improve public perceptions of her debate performance by lowering expectations. Polling from CNN, Fox and CBS found that while Palin exceeded most voters' expectations, they felt that Biden had won the debate.
Upon returning to the campaign trail after her debate preparation, Palin stepped up her attacks on the Democratic candidate for President, Illinois Senator Barack Obama. At a fundraising event, Palin explained her new aggressiveness, saying, "There does come a time when you have to take the gloves off and that time is right now."
Palin appeared on Saturday Night Live's "Weekend Update" segment on October 18. Prior to her appearance, she had been parodied several times by Tina Fey, who was noted for her physical resemblance to the candidate. In the weeks leading up to the election, Palin was also the subject of amateur parodies posted on YouTube.
Controversy arose after it was reported that the Republican National Committee (RNC) spent $150,000 of campaign contributions on clothing, hair styling, and makeup for Palin and her family in September 2008. Campaign spokespersons stated the clothing would be going to charity after the election. Palin and some media outlets blamed gender bias for the controversy. At the end of the campaign, Palin returned the clothes to the RNC.
The election took place on November 4, and Obama was projected as the winner at 11:00 PM EST. In his concession speech McCain thanked Palin, calling her "one of the best campaigners I've ever seen, and an impressive new voice in our party for reform and the principles that have always been our greatest strength."
While aides were preparing the teleprompter for McCain's speech, they found a concession speech written for Palin by George W. Bush speechwriter Matthew Scully. Two members of McCain's staff, Steve Schmidt and Mark Salter, told Palin that there was no tradition of Election Night speeches by running mates, and that she would not be speaking. Palin appealed to McCain, who agreed with his staff.
Related Articles